June 26, 2017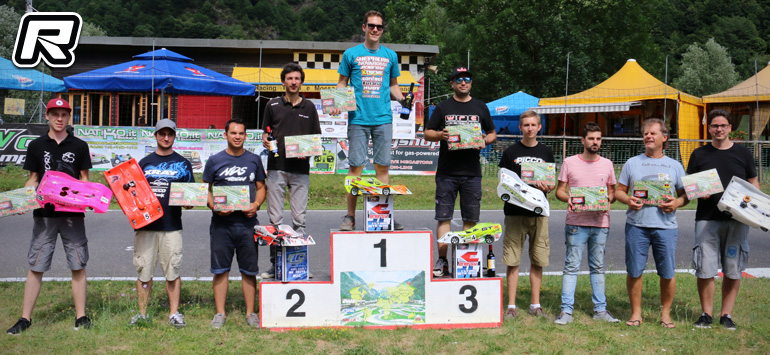 The final day of round 2 of the EFRA GP Series started off wet due to a huge overnight rain. Race director Ernesto Camponovo would delay the official start of the day until 10.00 as the rain stopped at about 9.00. Half an hour of practice was then used to clear the track and to allow the drivers to adapt to the new conditions with the race program continuing with the lower finals at 10.30. After the semis, Kyle Branson, Daniele Ielasi, Maximilian Vogl, Stefan Hanauer, Mattia Pesenti, Nicola Marrone, Marco Vanni and Louis Christophe would bump up to the main final that was completed by reigning IFMAR World Champion, Simon Kurzbuch and 9-times IFMAR World Champion, Lamberto Collari.
The two were the dominating drivers so far but others were also looking for their opportunity to win the event. Right from the start Kurzbuch set the pace and tried to open a gap on Collari. Being on different tyre and fuel strategies meant both drivers swapped positions several times, although still with a slight advantage for Kurzbuch. The battle for the final podium spot was on between Daniele Ielasi, Kyle Branson, who just came back to 1/8th IC after 9 months, and local driver Mattia Pessenti. After the final fuel stop Lamberto had a bit of an advantage on fresher tyres and he caught Simon which was followed by a nice battle until the final minute of the race when Collari had a small mishap that cost him about three seconds. This was enough for Kurzbuch to take the victory. Behind the two, Daniele Ielasi brought home the final podium spot and with it the 2017 EFRA GP Series title. Kyle Branson in 4th suffered mechanical issues in the closing stages which led to a lost place and also Mattia in 5th had to cope with mechanical gremlins. Overall in the series and behind Daniele, Simon Kurzbuch would obtain the vice-championship from Lamberto Collari 3rd.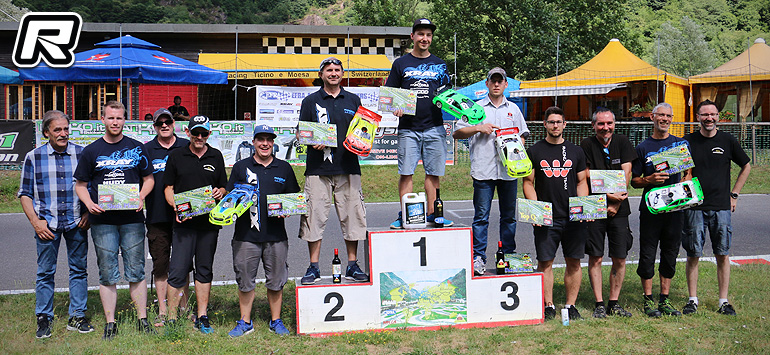 In the 1/10th 200mm Touring class it looked like TQ holder Toni Gruber would be set for a clean sweep but technical problems at about the 27-minute mark meant a halt for his ambitions. This promoted Michael Schäfer into the lead that he would hold onto until the checkered flag. Overall in the series it was Alessio Mateo who took the title from Dominic Greiner 2nd and Mario Spinello 3rd.
Source: EFRA [efra.ws]
---