June 23, 2017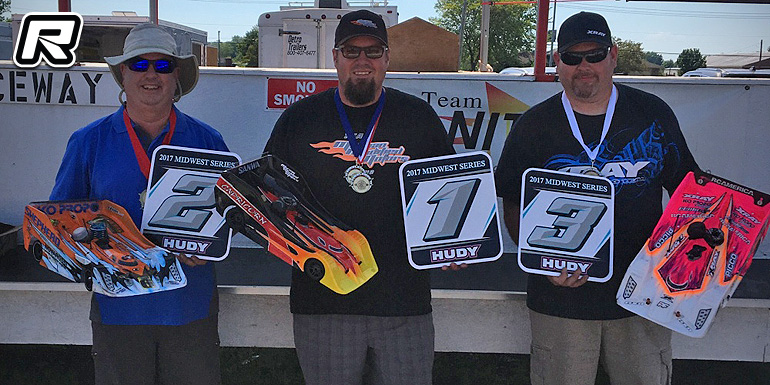 The Midwest Nitro Cup, round 2 of the 48th annual Midwest Series was hosted by Team Nitro in Lynwood, Illinois. The event kicked off the weekend with open practice on Friday. Unlike round 1, the weather was working in everyone's favour and was supposed to be dry and warm all weekend. Entries came in from as far away as Ontario Canada, Iowa, Wisconsin, Michigan, Pennsylvania and Texas. Following the Saturday morning practice session, round 1 of qualifying kicked off with Brian Jucha setting the early pace in 1/10th Sedan with Tom Esposito in P1 in Sedan Masters. Ralph Burch was quickest in 1/8th Open while Don Jones locked in the early TQ for 1/8th Open Masters. Rounds 2 and 3 were completed and the only change saw Lon Burling II taking the P1 position in 1/8th Open.
Sunday morning, the strong winds the competitors saw all day Saturday were gone and everyone was ready to hit the track for the final round of qualifying. Based on the lap times from the morning practice it looked like the pace was up so locking into the mains was going to be up for grabs. As expected, some fast runs were put together and the main lineups got shuffled. The Top Qualifiers remained unchanged except in 1/8th Open Masters where Dwight Smith put in a solid run to take the top spot.
In the 1/8th Open A-main, Lon Burling II (Capricorn) jumped out to an early lead. Dwight Smith (Xray) got past Ted Hammer (Shepherd) and Mike Pulfer (Xray) on lap one and settled into 2nd. Don Jones (Mugen) had a drive line failure at the start and dropped out. Ten minutes into the race, P7 starter Brian Berry (Serpent) also retired. A loose tyre during a fuel stop dropped Smith back into the field. Burling continued to run up front while Hammer and Pulfer were working their way through the field. As time expired, Lon Burling II would win the race flag to flag with Ted Hammer in 2nd and Mike Pulfer in 3rd.
1/8th Open/Open Masters final results:
1. Lon Burling II – Capricorn
2. Ted Hammer – Shepherd
3. Mike Pulfer – Xray
4. Dwight Smith – Xray
5. Jason Conley – Xray
6. Mike McBride – Serpent
7. Brian Berry – Serpent
8. Don Jones – Mugen
The Sedan A-main started off with a close battle between the top four cars of Brian Jucha (Capricorn), Ted Hammer (Shepherd), Tom Esposito (Xray) and Brad Mergy (Xray). They would each take a turn at the point throughout the race and in the end, Jucha would bring home the win with Hammer 2nd and Esposito finishing 3rd.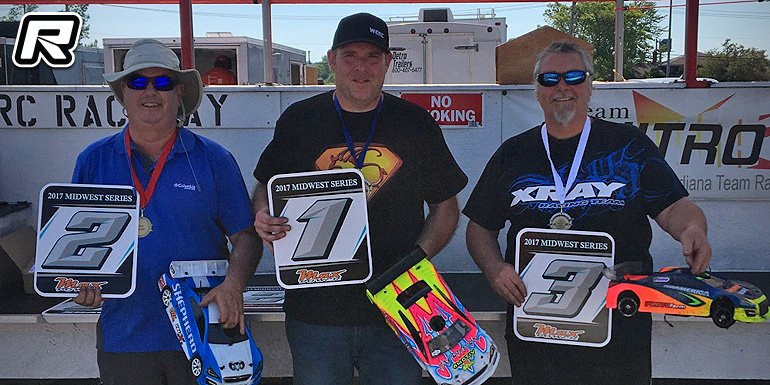 1/10th Sedan/Sedan Masters final results:
1. Brian Jucha – Capricorn
2. Ted Hammer – Shepherd
3. Tom Esposito – Xray
4. Brad Mergy – Xray
5. Patrick Morris – Capricorn
6. Mario Leiberman – Serpent
7. David Dunn – Serpent
8. Kurt Beiberstein – Serpent
9. Elliot Hart – Serpent
10.Chris Doseck – Xray
Source: Xray [teamxray.com]
---