June 29, 2017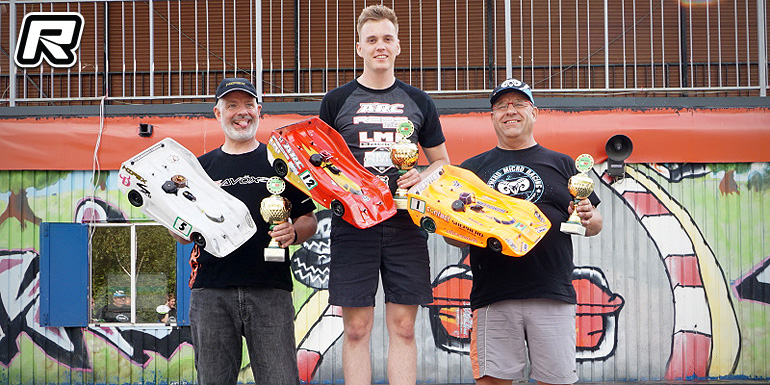 Round 3 of the popular Nitro-West-Masters took place at the Dueren track near Aachen with a total of 51 entries. Perfect weather conditions – only on Sunday morning a few rain drops came down during the first heat – and the 232 metre track with its fluent layout and high grip level set the stage for some spectacular racing on Sunday. In the premier 1/8th Open class, Tobias Hepp captured the pole position as he did at round 1 at Hamm. Other direct qualifiers included ARC fellow Philipp Roemer and the two Mugen drivers Christian Wurst and Daniel Toennessen.
Unfortunately for the 30-minutes finale, Roemer even didn't make it to the starting line because of a broken clutch. Although Ralf Vahrenkamp (Mugen) suffered clutch problems while Toennessen once again had to retire with a broken pulley. Hepp was in a class of his own and brought home the silverware on home soil with 122 laps. Like Hepp, Wurst showed a concentrated performance on the challenging circuit to come in 2nd just three laps down. Third spot on the podium went to Uwe Baldes (Shepherd).
1/8th Open final results:
1. Tobias Hepp – ARC – 122L
2. Christian Wurst – Mugen – 119L
3. Uwe Baldes – Shepherd – 114L
4. Christoph Loose – Serpent – 108L
5. Ralf Vahrenkamp – Mugen – 88L
6. Daniel Toennessen – Mugen – 65L
7. Fedor Eskes – Motonica – 10L
8. Edwin Busschers – Xray – 4L
After three of six rounds of the 2017 Nitro-West-Masters, Ralf Vahrenkamp is leading the ranking by 350 points in front of reigning champion Uwe Baldes (346) and Daniel Toennessen (345).
Melvin Diekmann was able to continue his impressive series of victories in the 1/10th 200mm Open class. With six races in Western Germany and six wins he is leaving his rivals with lots of frustration. René Puepke in his first Nitro-West attendance of the 2017 season gave Diekmann a hard time but finally the TQ and victory were in the hand of young Diekmann. Fighting for 2nd place, Puepke had to watch into his mirrors too as Majuran Tharmalingam was pushing all the time. At the checkered flag the Serpent of Tharmalingam was about ten seconds behind Puepke's Shepherd.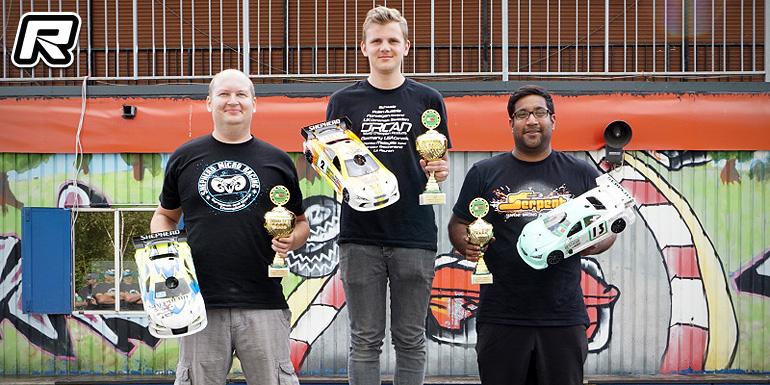 1/10th Open final results:
1. Melvin Diekmann – Shepherd – 114L
2. René Puepke – Shepherd – 113L
3. Majuran Tharmalingam – Serpent – 113L
4. Marco Nenner – Shepherd – 111L
5. Faehd Labik – Shepherd – 107L
6. Dieter Fleischer – Mugen – 106L
7. Joerg Kleineberg – Mugen – 66L
8. Georg Goehlich – KM – 59L
9. Thorsten Lewandowski – Shepherd – 39L
10.Dirk Zschaebitz – Serpent – 13L
Following three wins Melvin Diekmann leads with the maximum of 363 point ahead of Marco Nenner (355) and Faehd Labik (346).
The two cost-efficient nitro stock classes, the Hobby Cup, enjoyed once again the highest attendance and extreme close racing. The 1/8th Stock class saw a battle between youth and experience. Waldemar Liedke (Mugen) took the TQ in front of his permanent rival, reigning champion Ingo Braun (Serpent). But already in qualifying two rookies showed their potential claiming 3rd and 4th in the heats ranking: the two Shepherd boys David Kroeger and Pieter Beekman. With Bas Aalders (Serpent), three young talents made it into the finale. Unfortunately, Kroeger was stopped by a broken axial bearing of the clutch during warm-up so he lost valuable time and joined the race about 1.40 minutes after the lights went green. But Kroeger fought hard, passed competitor by competitor and caught back lap by lap to secure his sixth podium finish in his six races of the 2017 season – an impressive performance. The battle for the winner's trophy was decided between Waldemar Liedke and Ingo Braun to turn out well for "Waldi". Pieter Beekman came 5th just behind his Dutch country-fellow Roy Visser (Shepherd).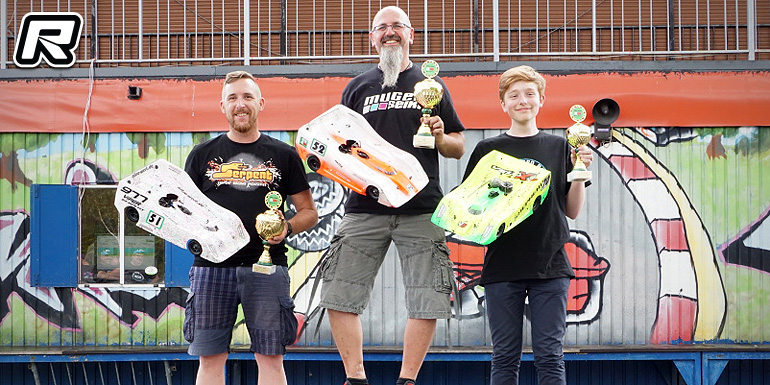 1/8th Stock final results:
1. Waldemar Liedke – Mugen – 113L
2. Ingo Braun – Serpent – 112L
3. David Kroeger – Shepherd – 109L
4. Roy Visser – Shepherd – 104L
5. Pieter Beekman – Shepherd – 103L
6. Heinz Kroezemann – Mugen – 97L
7. Markus Friedrich – Shepherd – 81L
8. Jens Kopetzki – Serpent – 79L
9. Heinz Faigle – ARC – 69L
10.Bas Aalders – Serpent – 11L
Two young drivers are leading the ranking with David Kroeger second to none with 358 and Pieter Beekman with 338 points. Ralf Wacker (Mugen/334) is listed 3rd.
The 1/10th Stock class also meant round three of the Western German Championship to promote a basic class for 1/10 scale nitro racing. Following his TQ, Hermann-Josef Fuchs (Shepherd) became the third different winner in three races even he ran out of fuel in the last lap. He was joined on the podium by Shepherd fellow Florian Dueppe and old dude Werner Vogel (Kyosho) with all three drivers completing 97 laps in the 30-minutes main race. One lap down was Roland Karduck (Capricorn) who led the race for most of the time but lost valuable time because of a broken glow plug.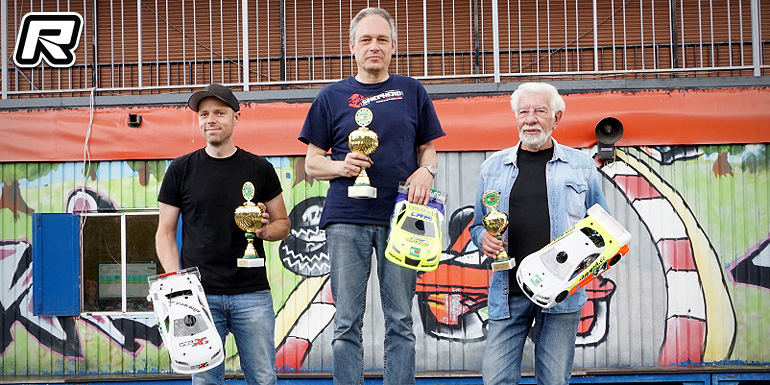 1/10th Stock final results:
1. Hermann-Josef Fuchs – Shepherd – 97L
2. Florian Dueppe – Shepherd – 97L
3. Werner Vogel – Kyosho – 97L
4. Roland Karduck – Capricorn – 96L
5. Hans-Werner Dietz – Xray – 93L
6. Ursus Lieder – KM – 92L
7. Marcel Beekman – Shepherd – 92L
8. Philipp Wisniewski – Mugen – 91L
9. Emil Kwasny – Mugen – 77L
10.Matthias de Keyser – Shepherd – 71L
After round 3 it is 71-years old Werner Vogel who became the new leader with 351 points, followed by Florian Dueppe (349) and Hans-Werner Fuchs (346).
At halftime of the 2017 championship a total of 84 nitro racers have collected points. The fourth round will take place on the 5th and 6th of August at the Motodrom MCC-Rhein-Ahr at Bad Breisig, located between Bonn and Koblenz at the river Rhine. This race means also the official warm-up for the 1/8th scale German Nationals, which will take place from 24th to 27th August on the 264 metre MCC track. Before, the fourth and final round of the Western German Championship will be run at Velp near Arnheim (NL) on July 15th and 16th July.
Source: Nitro-West [nitro-west.de]
---