June 26, 2017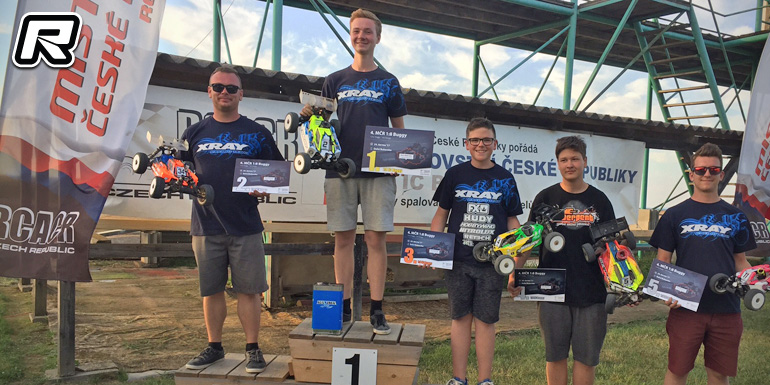 Round 3 of the Czech 1/8th Off-road Nationals was held in Dolni Bukovsko on a huge track and in hot weather conditions, making it a real challenge for man and machine. In the 1/8th Nitro Buggy class it was a 3-horse battle for the overall TQ with Kaja Novotny coming out on top from Martin Bayer 2nd and Jiri Mara 3rd. In 1/8th E-Buggy things were super close and thanks to TQs in Q3 and Q4 it was again Kaja who took the overall TQ honours from Jiri in 2nd and Martin 3rd.
In the Nitro semifinals Martin laid down a flawless run to gain the pole position for the main final ahead of Kaja Novotny and Frantisek Kalenda. In the final, Martin managed to pull away quickly, while Kaja made a few mistakes in the beginning which dropped him down the order. However he managed to get back to 2nd place, but Martin was already one lap ahead. A couple of laps after Kaja got into 2nd, Jiri Mara faced technical issues and had to retire and with five minutes to go, also Martin ran into some issues which promoted Kaja into the lead. Martin quickly got back on track though and finished 2nd overall in front of Max Gotzl.
Nitro Buggy final results:
1. Kaja Novotny – Xray
2. Martin Bayer – Xray
3. Max Gotzl – Xray
4. Frantisek Kalenda – Serpent
5. Ales Bidovsky – Xray
6. Jiri Dvorak – Mugen
7. Milan Mudra – Xray
8. Jan Horacek – Kyosho
9. Petr Steiber – TLR
10.Ales Marica – Xray
11.Vladimir Nancevsky – TLR
12.Jiri Mara – Serpent
13.Martin Rytir – Xray
The E-Buggy finals were a pretty close affair between Martin Bayer and Kaja Novonty. Both were able to pull away in the opening stages of each leg with Martin winning A1 while Kaja came out on top in A2 so the final A-main was the decisive one. In another great race Kaja made some mistakes in the closing stages which allowed Martin to take the overall win from Kaja. Behind the two, the race for the final podium spot was on between Max Gotzl, Milan Mudra and Jiri Mara with the better end for Max.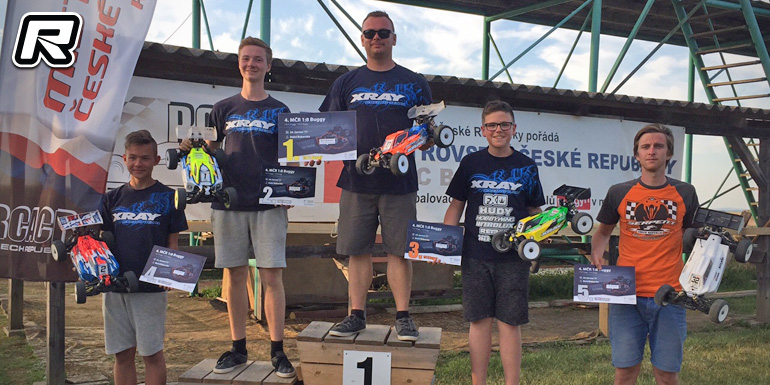 E-Buggy final results:
1. Martin Bayer – Xray
2. Kaja Novotny – Xray
3. Max Gotzl – Xray
4. Milan Mudra – Xray
5. Jiri Mara – Serpent
6. Ales Bidovsky – Xray
7. Vaclav Broz – Serpent
8. Jan Domansky – Serpent
9. Adam Dubak – Xray
10.Marek Ornst – Serpent
Source: Xray [teamxray.com]
---