June 27, 2017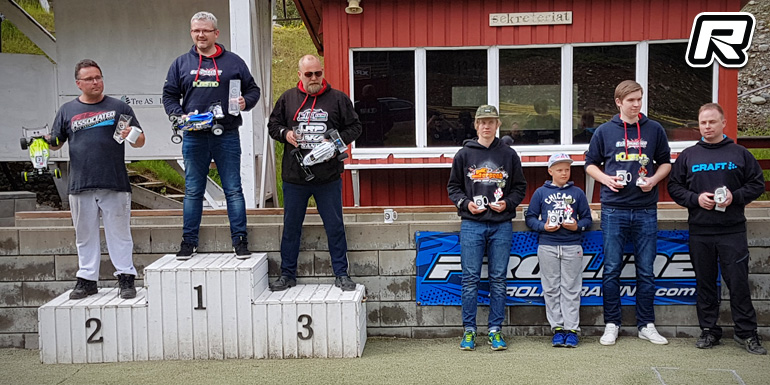 This past weekend the third round of the 2017 Norwegian 1/10th Off-Road Buggy Nationals was hosted by the Innherred RC-Bil Klubb at the IHRC Raceway astroturf track in Levanger, Norway. After the initial shake down and instalment free practice Friday evening, Saturday was 2WD race day. Three rounds of qualifying were ran and it was Schumacher driver Roy Gjemble who took his Schumacher KC to the overall TQ position. Øystein Døler (Team Associated) qualified 2nd, Thorbjørn Døler (Team Associated) came in 3rd, and the young and talented 11-years old Alexander Gjemble (Team Associated) claimed 4th on the grid for the A-finals.
During the first of the three A-final legs, Roy pulled a 6-second gap from the field and took an unchallenged tone to tone win. Starting from 6th position however the up and coming Serpent driver Marius Kristensen drove a good final claiming 2nd position. Third in the first A-main was Øystein Døler (Team Associated). The second A-main leg started the same way as the first but five laps into the race, disaster struck for the race leader Roy as he over jumped a tricky double leading into one of the tracks distinct features, the four meter high Wall of Death. A technical issue meant Roy had to pull out of the race and the rest of the field of course knew this was an important win for a chance at the overall win. 2nd on the grid, Øystein Døler drove a good race to finish in the 1st spot, but barely managed to stay a couple of tenths in front of the quick youngster Alexander Gjemble charging from 4th to claim a strong 2nd place finish.
For the last of the three A-final legs it was now very open between the Schumacher of Roy Gjemble and the Associated of Øystein Døler. The final started with Roy pulling a gap on the rest of the field. And this time it was the 2nd placed Øystein Døler who suffered an early mistake and fell down the ranks. His older brother Thorbjørn was quickly there to pick up the pieces and held on to drive a strong leg to finish in 2nd place some ten seconds behind the Schumacher driver. Again it was the hard charging Serpent driver Marius Kristensen climbing from his 6th starting position up to finish 3rd. The overall win in 2WD went to Roy Gjemble from Øystein Døler and Thorbjørn Døler.
2WD final results:
1. Roy Gjemble – Team Schumacher/Hobbywing
2. Øystein Døler – Team Associated/Tekin
3. Thorbjørn Døler – Team Associated/Team Orion
4. Marius Kristensen – Serpent/Team Orion
5. Alexander Gjemble – Team Associated/Team Orion
6. Sindre Reitan – Schumacher/Hobbywing
7. Stein Ove Nordahl – Xray/Hobbywing
8. Kenneth Neverdal – Schumacher/Orion
Thanks to Roy Gjemble for the report.
---