June 20, 2017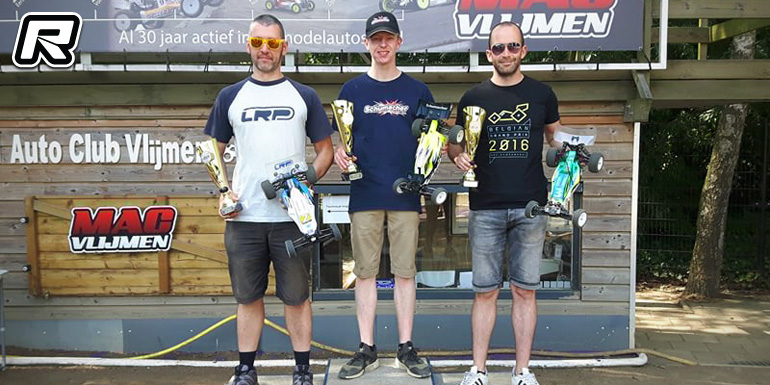 Round 3 of the Belgium FBA 1/10th Buggy Nationals was held at the clay track of MAC Vlijmen in the Netherlands. A clear sky and hot temperatures made for a perfect day of fast dirt racing. In the 2WD Buggy class it was Bruno Heremans who took the opening qualifier but with the win of the second and third round it was Wesley van Helmond who was able to take the overall TQ spot in 2WD, leaving Heremans in 2nd in front of Wouter Wynen. In 4WD It was Marco Briers who took the first and second qualifier to put his car on the TQ spot. Van Helmond snatched the 2 spot on the grid thanks to a win in Q3 while Nick Vranckx sat in 3rd so far.
In the 2WD finals the fight for the win was a 3-horse race. In the opening two mains van Helmond showed his true skills and pulled away from the field mid-race to take the overall victory, underlining his performance this year and cementing his championship lead. With two 2nd place finishes going into the final main it was Heremans who had to snatch the win in order to bring home the runner-up spot and after an early mistake from Wynen, Heremans was able to cruise to the win, handing him the overall 2nd place from Wouter Wynen in 3rd.
2WD Buggy final results:
1. Wesley van Helmond – Schumacher
2. Bruno Heremans – Team Associated
3. Wouter Wynen – Team Associated
4. Kenneth Poelmans – Team Associated
5. Arjan van de Graaf – Team Associated
6. Géry Ledocq – Kyosho
7. Paul Dijkstra – ORB Racing
8. Steve Lambrechts – Yokomo
9. Tom van Drunen – Team Associated
10.Patrick Lievens – TLR
The 4WD finals were a 2-horse race between Marco Briers and Wesley van Helmond right from the start. Although Wesley was quicker, he could not get the moves stick when trying to pass. Twice he did but a slight mistake put him back again. With three wins Briers took the overall victory from van Helmond. The race for 3rd was even more exciting with four drivers being at the same pace in a close pack. After some great battles, Vrancks could obtain the final podium spot.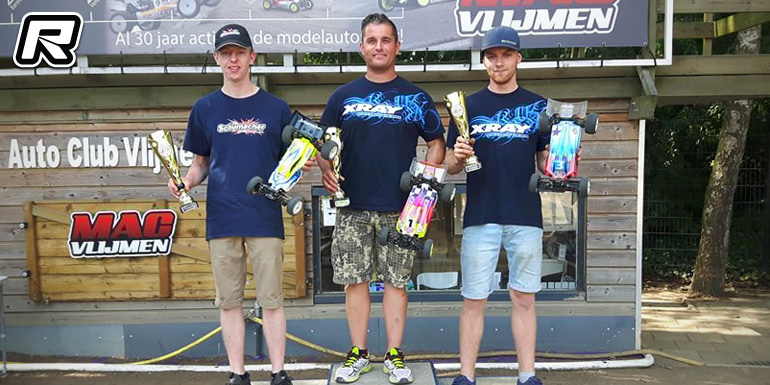 4WD Buggy final results:
1. Marco Briers – Xray
2. Wesley van Helmond – Schumacher
3. Nick Vranckx – Xray
4. Bart van Echelpoel – Serpent
5. Erik Michiels – Xray
6. Steve Lambrechts – Yokomo
7. Kristof van Echelpoel – Schumacher
8. Jean-Michel Taijmans – Schumacher
9. Dominique van Helmond – Schumacher
10.Richard van Osch – Xray
Source: MAC Vlijmen [macvlijmen.nl]
---