June 6, 2017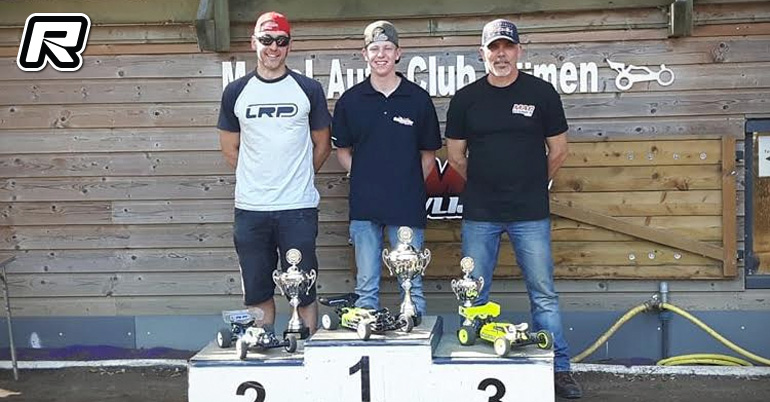 Last weekend MAC Vlijmen in the Netherlands hosted the event 'Race real dirt!', a three-day event opening with a day of open practice followed by a day of 2wd buggys and a day of 4wd buggys. As the event name suggests it was driven on dirt and the track crew did an amazing job by laying down an awesome clay track. The layout was a good mix of fast and tight corners and jumps, which made for good and close racing. Saturday there was a possibility for free practice to get the right setup and get a feel for the track. During the day the track grooved up, so the grip was right on point for the actual race. On Sunday in 2wd, after 4 rounds of qualifying Wesley van Helmond from the Netherlands took the TQ spot by taking 3 of 4 rounds, followed by Bruno Heremans from Belgium and Paul Dijkstra also from the Netherlands. During the first final, it was immediately clear that the battle for the win would be between Wesley and Bruno. Although Bruno took over the lead a couple of times during the finals, it was Wesley finishing first in all three finals that took the win. Bruno took second place with the best of the rest Tom van Drunen, who was able to squeeze himself between Wesley and Bruno in the last final securing the third spot.
2WD Results:
1. Wesley van Helmond – Schumacher
2. Bruno Heremans – Xfactory
3. Tom van Drunen – Team Associated
4. Paul Dijkstra – ORB Racing
5. Dominique van Helmond – Schumacher
6. Wouter Zwijnenburg – Yokomo
7. Patrick Lievens – TLR
8. Richard van Osch – Team Associated
9. Koen Middelkoop – Schumacher
10. Ronald Joostema – Team Associated
On Monday the 4wd buggys went into action. Here again it was Wesley van Helmond with his Schumacher that topped the ranking list. Bart van Echelpoel from Belgium was able to qualify second followed by Patrick Lievens. During the finals Wesley pulled away immediately and never looked back while behind him there was a battle for 2nd spot. Bart was able to keep off the drivers behind him to secure second overall. The battle for the last podium spot however was more exiting with a three way battle with Patrick Lievens taking the tie-break.
4WD results
1. Wesley van Helmond – Schumacher
2. Bart van Echelpoel – Serpent
3. Patrick Lievens – TLR
4. Dominique van Helmond – Schumacher
5. Michael Somerwil – TLR
6. Kristof van Echelpoel – Schumacher
7. Mark van Dreumel – Team Associated
8. Hans Smits – Schumacher
9. Davy Hesen – Durango
10. Koen Middelkoop – Schumacher
Source: MAC Vlijmen [macvlijmen.nl]
---