June 13, 2017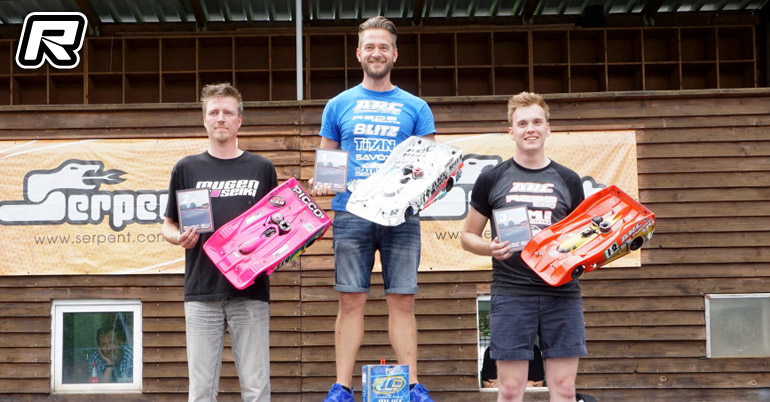 The fast 310-metre track of Hamm was the arena for round three of the Western German Championship for the 1/8 and 1/10 scale nitro classes. A total of 57 nitro racers made their entry and were welcomed by excellent weather with temperatures up to 30 degrees. Following intensive practice on Saturday, the heat was on to qualify for the German Nationals on Sunday.
In 1/8 scale class 1 (top level) four drivers completed 20 laps in five minutes with John Ermen leading the pack followed by ARC fellow Tobias Hepp, Serpent´s Michael Salven and Mugen racer Steven Cuypers. Ermen was a lucky guy when he run into trouble during semifinal. The Dutchman lost a minute but finally took fourth position to make it into the main. Salven won this semifinal in front of Frank Schewiola (Shepherd) and Christian Wurst (Mugen), behind Ermen Ralf Vahrenkampf (Mugen) was the fifth and last to climb up. The second semifinal saw Hepp winning in front of Cuypers, Gunther van Staey (Serpent), Emil Kostadinov (Mugen) and Karl-Heinz Meister (Serpent).
When the 30 minutes main was called to start, some rain drops hit the track. Drivers had to be careful in the first two or three laps until the hot tarmac vaporized the little wetness. Only Salven made a late change to damp tires but messages that more rain is coming from the West turned to be wrong so he lost valuable time for a tire change. From start to lap 47 Hepp was controlling the race from the first spot until he ran out of fuel to hand over the lead to Ermen. With a 15.024 seconds Ermen did the fastest lap on his way from his sixth position in the grip closely followed by a 15,037 of Hepp. While Ermen, who also won round two at Bad Breisig, did 112 laps, Cuypers was one lap down to finish second with Hepp, winner of the season opener at Dormagen, another lap down completing the podium. Wurst captured fourth position from start to the finish line completing 108 laps as well a strong performing Meister and Schewiola did on positions five and six.
Result 1/8 scale class 1
1. John Ermen, ARC – 112 laps
2. Steven Cuypers, Mugen – 111
3. Tobias Hepp, ARC – 110
4. Christian Wurst, Mugen – 108
5. Karl-Heinz Meister, Serpent – 108
6. Frank Schewiola, Shepherd – 108
7. Michael Salven, Serpent – 107
8. Ralf Vahrenkamp, Mugen – 100
9. Gunther van Staey, Serpent – 24
10.Emil Kostadinov, Mugen – 4
After three of four rounds Hepp is leading the ranking by 356 points followed by Wurst (354), Cuypers (352), Vahrenkamp (343) and Uwe Baldes (340).
In class 2 of the 1/8 nitro on-road category, Ingo Braun took TQ but destroyed his Serpent bevor halftime of the final. The biggest trophy went to David Kroeger, fourth in the heats ranking list. The 15-year old Shepherd racer is the raising star of the season. At five race meetings in Western Germany he made it five times to the podium including two wins. And once again he resists the pressure of his experienced rivals, leading from tone to chequered flag. Andre Boettcher (Mugen), second after four rounds of heats, failed to step up from semifinal into the main as well as Matthias Guenther (Shepherd) and Gunnar Blumendahl (Mugen). Finally, second place on the podium went to Waldemar Liedke (Mugen) with Heiko Kube (Mugen) on third.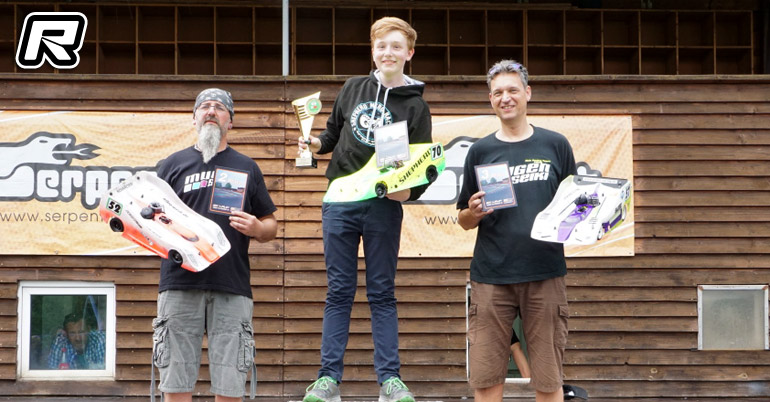 Result 1/8 scale class 2
1. David Kroeger, Shepherd – 107
2. Waldemar Liedke, Mugen – 106
3. Heiko Kube, Mugen – 100
4. Dirk Drechsler, Mugen – 100
5. Thomas Reiche, Serpent – 95
6. Bert Poesen, Mugen – 92
7. Ingo Braun, Serpent – 46
8. Jan de Pooter, Serpent – 46
9. Martin Baumann, Mugen – 46
10.Christoph Loose, Serpent – 42
Young David Kroeger leads on points (358) ahead of Liedke (357), Loose (340), Braun (338) and Ralf Wacker (336).
Five victories in five races of the 2017 season in Western Germany – that is the amazing presentation of Melvin Diekmann in the 1/10 scale class. At Hamm, the young talent took TQ as well as victory and was also able to keep the upper hand over Shepherd fellow Thilo Toedtmann who finally had to retire after 24 of 30 minutes. Furthermore, Andy Weyhoven (Shepherd) and Daniel Thiele (Serpent) had to retire early already before the 10 minutes mark. Marco Nenner and Arndt Bernhardt completed the podium and Faehd Labik on fourth position made it a 1-2-3-4 for Shepherd.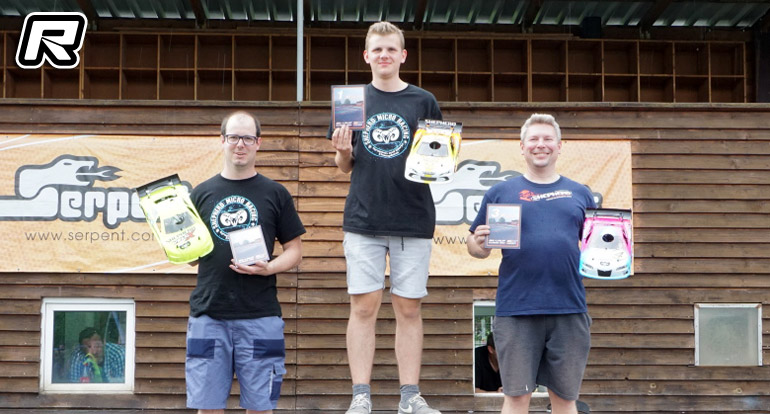 Result 1/10 scale open
1. Melvin Diekmann, Shepherd – 101 laps
2. Marco Nenner, Shepherd – 99
3. Arndst Bernhardt, Shepherd – 97
4. Faehd Labik, Shepherd – 95
5. Marcus May, Serpent – 93
6. Benjamin Lehmann, Shepherd – 86
7. Thilo Toedtmann, Shepherd – 83
8. Andreas Weyhoven (DEU) Serpent – 82
9. Dirk Zschaebith, Serpent – 19
10.Daniel Thiele, Serpent – 6
In the overall ranking Diekmann is leading with maximum points (363) ahead of Nenner (352), Lehmann (348), Roland Karduck (Capricorn/336) and Joerg Kleineberg (Mugen/335).
Statistics: Mugen as the most leading chassis brand with a total of 18 cars followed by 15 Serpent, 13 Shepherd, 6 ARC and each one Xray, Capricorn and KM.
Nitro racing in Western Germany will continue with round three of the Nitro-West-Masters (NWM) on 24/25 of June at Dueren near Aachen, on 15/16 of July the fourth and ultimate round of the Western German championship will take place at Velp near Arnheim in the Netherlands.
Source: Nitro-West [nitro-west.de]
---