July 2, 2017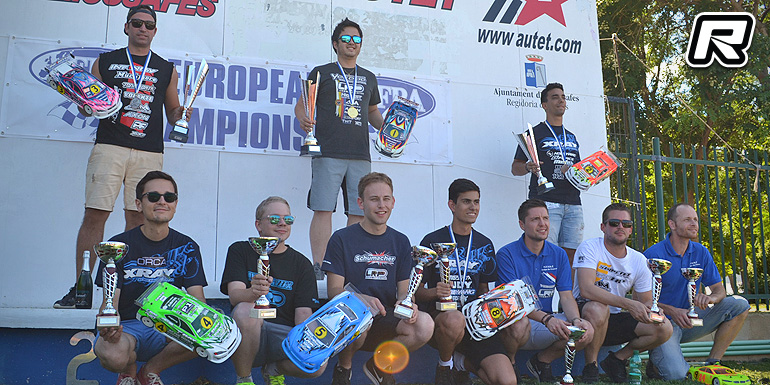 The 2017 EFRA 1/10th Electric Track European Championship was held this weekend in Almussafes, Spain. Unseasonable rain here in Spain put the drivers, and their cars, in a spin at the finals on Saturday until the sun came out and normal service was resumed. In ISTC Modified Touring and with the first A-final held about 90 minutes after the rain stopped grip was beginning to return to the Almusafes track. However neither of the front row starters could find any traction and it was P3 starter Marc Rheinard who shot into the lead, which he held for the entire five minutes. Behind him runner-up after the qualifiers, Bruno Coelho clung on to his 2nd place starting position, but pole man Ronald Volker had a nightmare spinning out four times before retiring from the race.
Leg 2 in contrast was a walk in the park for Ronald and he easily won on a now grippy surface from Bruno in 2nd again with Marc in 3rd. Leg three saw another masterclass from Ronald though Bruno's attempt to claim a first European title was scuppered by a second corner mistake that put him behind Rheinard for the first two minutes and once past he was too far back from Volker. Ronald stroked it home to take his 8th European championship and retain his title from last year.
Touring Modified final results:
1. Ronald Volker – 2 points
2. Marc Rheinard – 4 points
3. Bruno Coelho – 4 points
4. Alexander Hagberg – 7 points
5. Viljami Kutvonen – 9 points
6. Elliott Harper – 10 points
7. David Perez Perez – 12 points
8. Loôc Jasmin – 14 points
9. Viktor Wilck – 15 points
10.Thomas Vigneron – 16 points
In the 13.5T Blinky Stock Touring class, pole-sitter Alexandre Duchet made light of the tricky conditions winning the first two legs of the A-final to secure his first European title. The French driver was never headed, as he surprisingly beat pre-race favourite and reigning champion Jan Ratheisky. Behind them Jimmy Maddison was left to rue some bad luck as other peoples mistakes saw him punted out of contention in two of the three legs.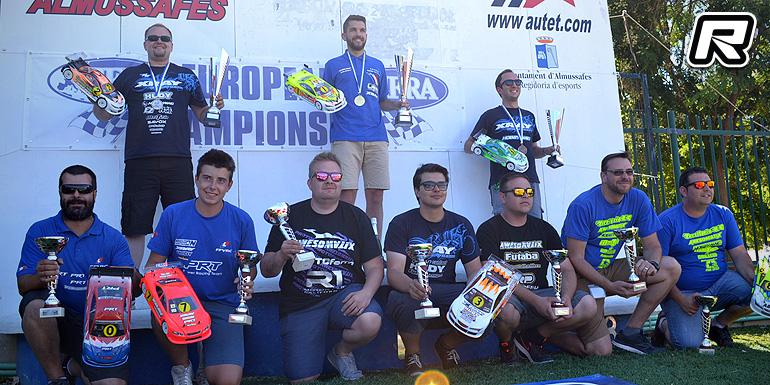 Touring Stock final results:
1. Alexandre Duchet – 2
2. Jan Ratheisky – 5
3. Andrea Valerio – 6
4. Steve Favrelle – 6
5. Jimmy Maddison – 7
6. Tom Krägefski – 9
7. Julien Jost – 11
8. Max Mächler – 12
9. Carlos Fernandez Espinosa – 13
10.David Rebollo – 16
In the Formula category Jan Retheisky retained his championship with ease once the track dried but only after an awful first leg saw him is serious danger of losing. However the German recovered to post two imperious wins in legs 2 and 3 to claim the title. Oliver Bultynck was unstoppable in the damp first race and backed it up with a 2nd in leg 3 to claim runner up spot.
Formula final results:
1. Jan Ratheisky – 2
2. Olivier Bultynck – 3
3. Martin Hudy – 5
4. Hector Albarracin – 7
5. David Ehrbar – 7
6. Ivan de La Calle – 7
7. Luke Lee – 10
8. Jean-michel Varinard – 12
Source: EFRA [efra.ws]
---