July 21, 2017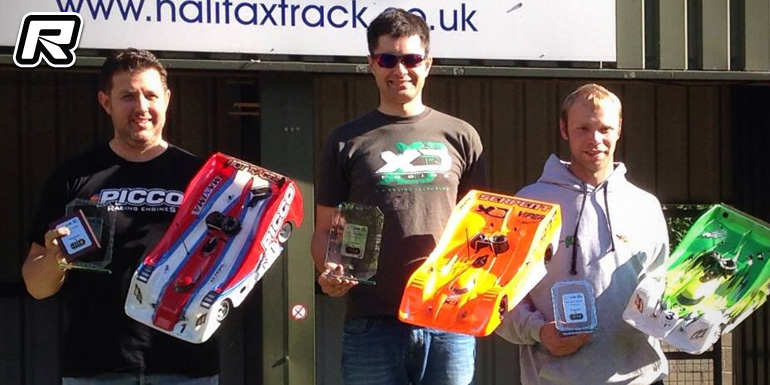 The fifth round of the BRCA 1/8 Circuit National Championship headed back to the popular Halifax circuit facility. There was a good turnout of around fifty-five drivers across the two classes. Saturday was practice day with drivers working on different setups and trying things ready for Sunday. The weather forecast was good for a change and quite hot for the UK. In the Nitro class, it was very close between the top 4 across qualifying with just over a second and half covering 1st to 4th. With the track conditions getting hotter, drivers found it hard to improve with the fastest times generally set in round one or two. Spashett continued his good form, taking pole position from Mark Green, Neal King and Tim Wood. These drivers seemed to be in a league above the rest. Clive Connolly qualified a superb 5th, also followed by Andrew North, Neil Diver, Jason Frost and Michael Walton completing the line-up for the A-final. Andrew Hastings was very unlucky with engine issues in qualifying but would show his true pace dominating the B-final.
The Electric class reached nearly twenty racers and again showed a perhaps more relaxed alternative way to race 1/8 Circuit, without screaming engines/clutch setup etc., although those looking for the true adrenaline rush from RC cars would argue racing nitro still gives the biggest buzz. Alex Thurston continued to set the pace taking pole with Adam Catchpole taking 2nd and Gavin Clinch starting 3rd in the finals. Other drivers joining the regulars in the A-final included David Sedgewick and Neil Wallace, who previously ran nitro. Craig Woods and Lee Chapman were to start at the front for the B-final, with Craig having been on the A-final podium previously at Mendip.
The Nitro main final was full of incidents with a big crash on the straight further on down the order, taking out three drivers. Meanwhile, up front the battle raged with Mark Green hitting mechanical issues early on, leaving David Spashett and Tim Wood to battle for the win. In the end, Tim took a narrow victory of under half a second even after some eventful pit stops for Serpent from David Spashett. Neal King recovered from a bad start to the race to come through to third place.
Nitro final results:
1. Tim Wood – Serpent/XRD FT/Elite/Protoform/Contact
2. David Spashett – ARC/Picco/Maxima/Blitz/Hot Race
3. Neal King – Shepherd/Murnan O.S./Runnertime/P909/Capricorn
4. Clive Connolly – ARC/Novarossi Ielasi tuned/Maxima/Xtreme/Hot Race
5. Jason Frost – Capricorn/Nuclear/Elite/P909/Matrix
6. Michael Walton – BMT/Sirio/Maxima/Xtreme/Matrix
7. Mark Green – Serpent/XRD FT/Runnertime/Protoform/Contact
8. Andrew North – ARC/Novarossi/Runnertime/Protoform/Contact
9. John Carr – Serpent/O.S./Elite/Protoform/Contact
10.Neil Diver – Infinity/Novarossi/Maxima/Protoform/Hot Race
In the Electric A-mains, both finals were close affairs with Alex winning both legs by around a second from Adam Catchpole, with Gavin Clinch taking solid third places but some way behind the front two drivers. Joe Hawnt came fourth in leg one but issues in leg two meant he couldn't challenge for the podium. Jamie Paton and Paul Bellinger also improved from their grid positions to take fourth overall and sixth respectively. The win crowns Alex Thurston and Serpent as the 1/8 Circuit Electric class 2017 champions. Serpent is still the most popular chassis to have and well supported trackside along with the ARC chassis.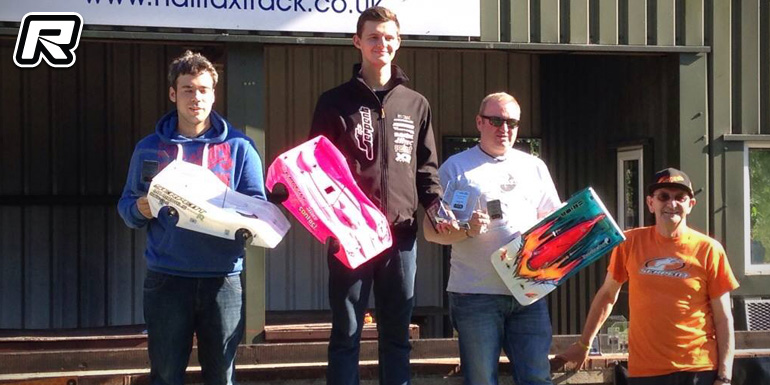 Electric final results:
1. Alex Thurston – Serpent/Hobbywing/Arrowmax/Protoform/Contact
2. Adam Catchpole – Serpent/Hobbywing/Balls Out/Protoform/Ulti
3. Gavin Clinch – ARC/Team Orion/Team Orion/Blitz/Hot Race
4. Jamie Paton – Serpent/Hobbywing/IP/P909/Contact
5. Ian Billett – Serpent/Hobbywing/IP/Protoform/Ulti
6. Paul Bellinger – Serpent/Absima/IP/P909/Contact
7. David Gerard – Serpent/LRP/Turnigy/Protoform/Contact
8. Joe Hawnt – Serpent/Hobbywing/IP/P909/Contact
9. David Sedgewick – Serpent/Hobbywing/IP/P909/Hot Race
10.Neil Wallace – Serpent/Hobbywing/Corally/Protoform R18/Capricorn Matrix
Source: BRCA [brca.org]
---