July 5, 2017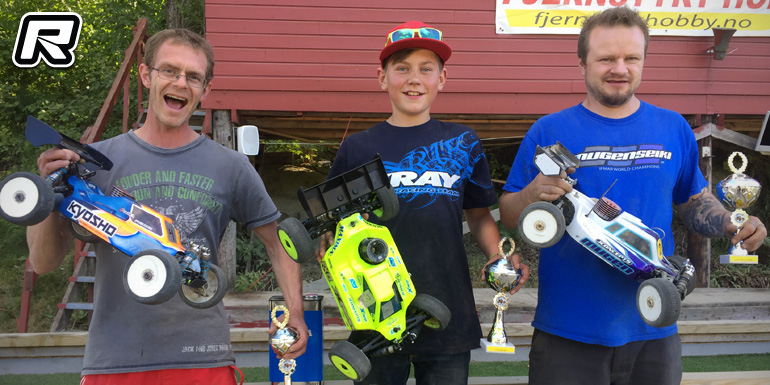 The third round of the Norwegian National 1/8th Nitro Buggy series was hosted by the KodalRC Club in hot weather conditions, making for a hard and dusty track. A total of 49 drivers signed in and in combination with a pretty easy track layout this would make for some close racing. During practice young Daniel Kobbevik (Xray) showed a great speed, setting the pace with the fastest run but as there was no reseeding, Daniel had some tough time in qualifying group six.
In the qualifiers it was Mugen driver Morten Thorkildsen who set the pace, TQing three of the five 5-minute qualifiers to take the overall TQ. Kyosho pilot Rune Karlsen also showed very good speed as he took the two remaining qualifiers to line-up in 2nd. Usually-fast Bjorn Ivar Haug (SWorkz) struggled with engine issues and only qualified in 3rd. Elswhere Daniel Kobbevik only came in 6th place after a lot of issues in the qualifiers. The semifinal A was then won by Yngve Brekke Ulfseth (Mugen) in front of Morten Thorkildsen (Mugen) while in the semifinal B Daniel Kobbevik took a pretty easy win, despite having an engine flame-out. Rune Karlsen had really bad luck as his throttle servo broke, resulting in a DNF and so the runner-up after the qualifiers would not bump up into the A-main.
The top 3 would be Yngve, Morten and Daniel and this set the stage for a pretty entertaining main final. Unfortunately and just five minutes before the start Daniel's mechanics discovered a leaking carburettor and after calling a time-out they tried to get it changed and adjusted in ten minutes. Ultimately it would work out but Daniel had to line up on the back of the field. Up front and some four minutes into the race, Yngve had a flame-out after a hard landing and that pretty much ended his day. Bjorn Ivar Haug was promoted into the lead by about half a lap on the field while Daniel had managed to recover to 2nd, setting the sails to hunt down Bjorn. Daniel eventually got past Bjorn later and now he was opening a gap that got constantly bigger. When the young Xray driver was almost a lap in front he suffered another flame-out but thanks to his athletic pit crew he was back on track soon and still in the lead. With 44 minutes in the clock Daniel again suffered from an engine flame-out but thanks to his strong team Daniel won the 45-minute final with a 2-laps margin from Morten and Danny while Bjorn, who was running in 2nd place in the closing stages, suffered a broken shock and also a broken front arm, meaning he would have to settle for 4th overall.
Final results:
1. Daniel Kobbevik – Xray/FX
2.Morten Thorkildsen – Mugen/Reds Racing
3.Danny Kwiatkowski – Kyosho/Reds Racing
4.Bjorn Ivar Haug – Sworkz/O.S.
5.Gisle Myrvold – Mugen/Reds Racing
6.Anders Mehren – Kyosho/O.S.
7.Gisle Brøvig – Xray/Werks
8.Ståle Ramberg – Mugen/Reds Racing
9.Hans M. Berg – Mugen/Reds Racing
10.Yngve Ulfseth – Mugen/Reds Racing
Thanks to Way to Win for the report.
---