July 5, 2017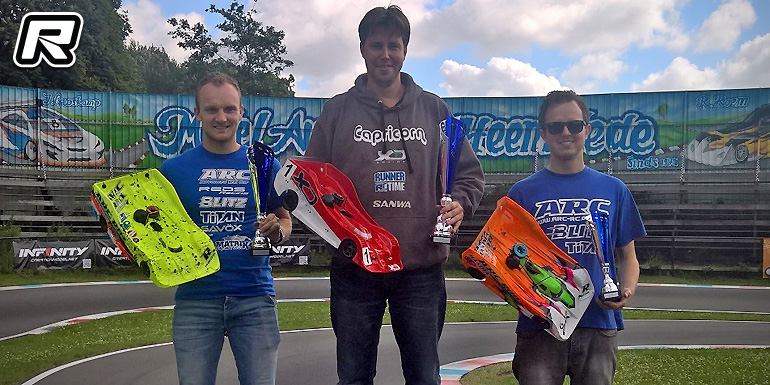 Round 4 of the Dutch 1/8th Nitro On-road Nationals was held at the MACH Heemstede track for the first time in a couple of years. In the premier NK class Roy Bakker was the man to beat and he would take the TQ from Joey Sorber in 2nd, Martin Zevenhoven 3rd and Robbin Hertong 4th. In the main final and following a somewhat chaotic start, Roy took the lead from Joey, Martin and Robin. Later Martin would find a way past Joey and he would eventually take over the lead following a mishap of Roy. Unfortunately his lead wouldn't last as he suffered an engine problem three laps later while Joey also encountered problems that lead to a DNF. Up front and after the 30-minutes final, Roy Bakker (Capricorn) would bring home the win some two laps in front of Robbin Hertong (ARC) while Benny Ciere (ARC) secured himself the final podium spot following a strong performance in the final.
1/8th NK class final results:
1. Roy Bakker – 120L 30:07.585
2. Robbin Hertong – 118L 30:09.882
3. Benny Ciere – 117L 30:14.015
4. Martin Zevenhoven – 114L 30:06.997
5. Jeffrey Rietveld – 113L 30:06.219
6. Marc Meijer – 110L 30:06.835
7. Jesse Keller – 109L 30:17.389
8. Arie Manten – 72L 19:32.493
9. Marco Kruse – 48L 12:47.172
10.Joey Sorber – 37L 10:40.985
In the slightly slower NOMAC category it was Max Kruse with the TQ from Freek van Delft, Tjibbe Keller and Peter Berkhout. In the final Max and Freek would be able to retain their qualifying spots while Tjibbe and Peter swapped positions, handing Peter the final podium spot by only about half of a second to round out an all-Serpent podium.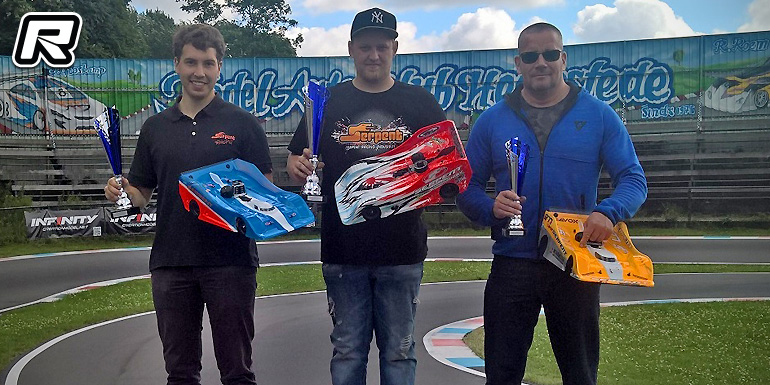 1/8th NOMAC class final results:
1. Max Kruse – 114L 30:12.441
2. Freek van Delft – 112L 30:01.540
3. Peter Berkhout – 108L 30:17.580
4. Tjibbe Keller – 108L 30:18.050
5. Stanley Bauer – 107L 30:04.747
6. Kristof Smets – 105L 28:45.923
7. Alex Everling – 102L 30:10.577
8. Peter van Marion – 96L 30:07.368
9. Ad Moelands – 72L 24:54.706
10.Frank Beets – 37L 10:22.073
Source: NOMAC [nomac.nl]
---