July 18, 2017
The Adur Model Car Club on the south-coast of England again hosted the popular Essex Winter Series organising team this weekend, as they put on their Summer Edition race. The weather was kind throughout the whole weekend, with just a few spots of rain during the early practice rounds but not even enough to slow the lap times down. This was also the first major race event in the UK at which the well-known ETS Volante tyre and Tonisport/MR33 hand-out additive was used, so the organisers arranged the format to give everyone plenty of track time to get used to the new rubber. It didn't take people long, with track-record pace being up for grabs on not only new, but also used tyres as well, taking most of the tyre strategy out of play.
In the Modified class, Elliott Harper was on the pace from the start, topping the times during Practice and the first three qualifying rounds for Schumacher, enough to secure him the TQ position with a round left to run. His closest challenger was Team Associated's Chris Grainger. Chris put himself second on the A-fFinal grid with second place runs in the opening two rounds, and showed Elliott wasn't going to have it all his own way by topping the final qualifier after a mistake form Elliott. Behind these two, Chris' Team Associated team-mate Matthew White strung together a consistent run of third places, whilst being shadowed by Yokomo's star youngster Harley Eldridge and Zen Racing/Destiny driver Ollie Payne.
The A-finals produced some great racing, even if things didn't really go to plan for the Team Associated drivers. Elliott led away each time, with Chris initially applying pressure in each of the legs. Leg one saw Chris making a mistake at the one-minute mark, leaving him upside down and needing the services of a marshall. He decided after this to pull his car off to save tyres to be able to take the fight to Elliott in the two remaining legs. This allowed Harley Eldridge to come through into second, with Ollie Payne taking third from fifth on the grid, and Brian Eldridge up to fourth from his eighth place start. The final leg saw Elliott make it a clean sweep of victories. This time, Chris kept the pressure on until two laps from the end, when Harley got past to take second in the leg and secure herself the overall second position. Chris took third in the leg, but that wasn't enough to get him onto the podium, with Ollie Payne's first two leg results securing himself the third place finish.
Touring Modified final results:
1. Elliott Harper – Schumacher – 2 points
2. Harley Eldridge – Yokomo – 4 points
3. Ollie Payne – Destiny – 5 points
4. Liam Hendy – Destiny – 8 points
5. Brian Eldridge – Yokomo – 8 points
6. Chris Grainger – Team Associated – 9 points
7. Damian Giddins – Xray – 11 points
8. Alex Gardiner – Xray – 14 points
9. Tristan Wilby – Destiny – 17 points
10.Matthew White – Team Associated – 17 points
Over in Super Stock, EWS team member Richard King set the pace during practice with his Awesomatix, and carried that through to qualifying as he set the best time in the opening three rounds. Q2 even saw Richard set a new track record for the 13.5 Super Stock class – the first ever 20-lap run at the Adur circuit. Shaun Batt and Matt Quinlisk were Richard's closest challengers, with Shaun going quickest in the final round and snatching the track record again from Richard by less than one second.
Much like Modified, the A-finals produced some great racing, and threw up some unexpected results. Leg one went to the pole sitter, as Richard defended from Shaun and Matt, with Mark Wallace moving from eighth on the grid up to fourth. Richard led away leg two as well, until a half-spin after running wide on the way into the chicane saw him dropping into the pack from which he would not recover. Out front, Shaun now took up the lead, holding off Matt with David Usher just managing to keep Ashley Wiffen behind him to secure third in the leg. A3 again saw Richard leading, but with intense pressure from Shaun and Matt right form the very start. Richard drove a perfectly defensive race, holding on to the top spot until just 30 seconds remained, when his car ground to a halt after his transmitter battery died. Shaun and Matt were now effectively racing for the overall win, and Shaun held on by just half a second to take the leg from Matt. Daniel Booker came through to take third place, just in front of David Usher, who's fourth place finish this time was just enough to secure him the final spot on the podium.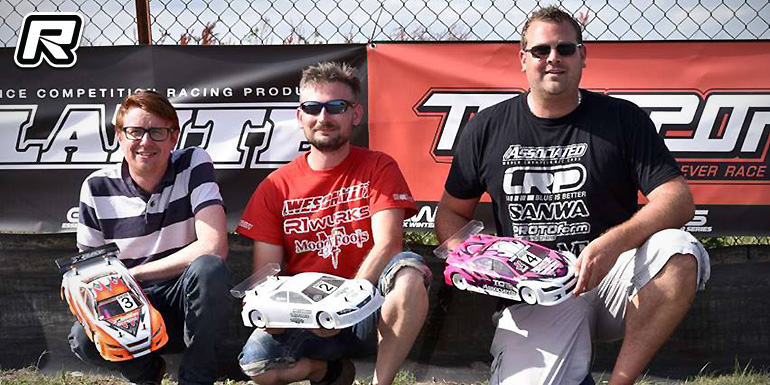 Touring Super Stock final results:
1. Shaun Batt – 2 points
2. Matt Quinlisk – 4 points
3. David Usher – 7 points
4. Daniel Booker – 8 points
5. Mark Wallace – 9 points
6. Richard King – 10 points
7. Ashley Wiffen – 11 points
8. Mark Buonaiuto – 12 points
9. Darren Tickner – 13 points
10.Ben Pedersen – 17 points
Source: EWS [ewsevents.co.uk] | Images: Moodyfools [moodyfools.com]
---