July 6, 2017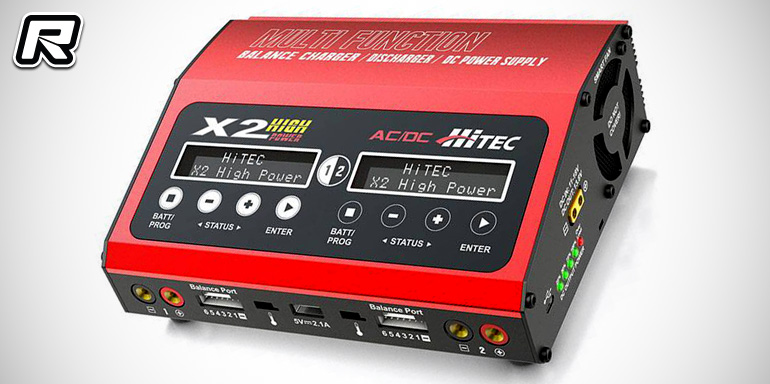 Hitec have introduced two new high-performance chargers in the form of he X2 High Power and the Power Peak E7. Starting with the X2 High Power, the dual output device allows for flexible battery charging at home and in the field. The power distribution mode efficiently assigns output power based on individual battery requirements, as well as the ability to distribute power to a DC output port to power even more devices. The charger is capable of charging all battery chemistries, including the new generation LiHV, and it features a built-in 250-watt power supply, internal balancing circuits and ten different charge/discharge profiles. The X2 High Power also features a unique and innovative Voice Guide function.
Specifications
– AC input: 100-240 Volts AC
– DC input: 11-18 Volts DC
– Charge circuit power (CH1 + CH2 + PS = 250W): Channel 1: 50-120 Watts AC Input, Channel 2: 50-120 Watts AC Input
– 10-150 Watts DC output
– Charge current range: 0.1–10.0 Amps x 2
– Discharge current range: 0.1–2.0 Amps x 2
– Discharge current power: 10 Watts x 2
– Current drain for LiPo balancing: 300mA per cell
– NiCd/NiMH cell count: 1-15 cells
– LiPo/LiHV/LiFe/LiIon cell count: 1-6 cells
– Pb Voltage: 2-20 Volts
– Dimensions: 184x146x70mm
– Weight: 1293g
The Power Peak E7 is a high-performance, 200-watt charging and discharging station that is designed to efficiently charge all battery chemistries. With 200 watts of power and up to 20 amps of charge current in a single case, the device features a unique BID (Battery Identification) system, easy-to-read graphic screen, convenient USB charge sockets, and temperature and overload protection.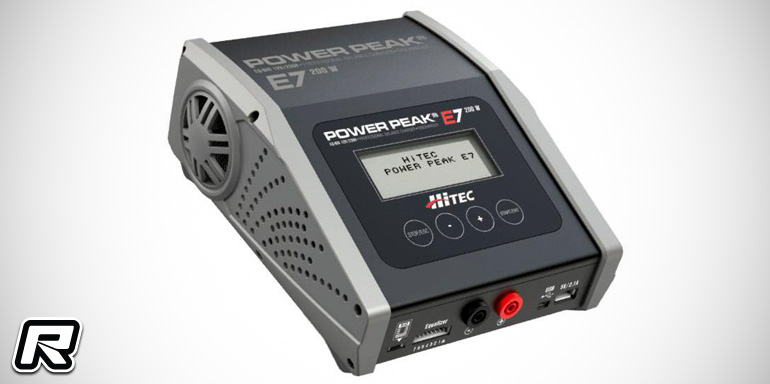 Specifications
– AC input: 100-240 Volts AC
– DC input: 11-18 Volts DC
– Charge circuit power: 200 Watts
– Charge current range: 0.1–20.0 Amps
– Discharge current range: 0.1–10.0 Amps
– Discharge current power: 36 Watts
– Current drain for LiPo balancing: 200mA per cell
– NiCd/NiMH cell count: 1-18 cells
– LiPo/LiHV/LiFe/LiIon cell count: 1-7 cells
– Pb Voltage: 2-24 Volts
– Dimensions: 163x200x85mm
– Weight: 1293g
Source: Hitec [hitecrcd.com]
---