July 17, 2017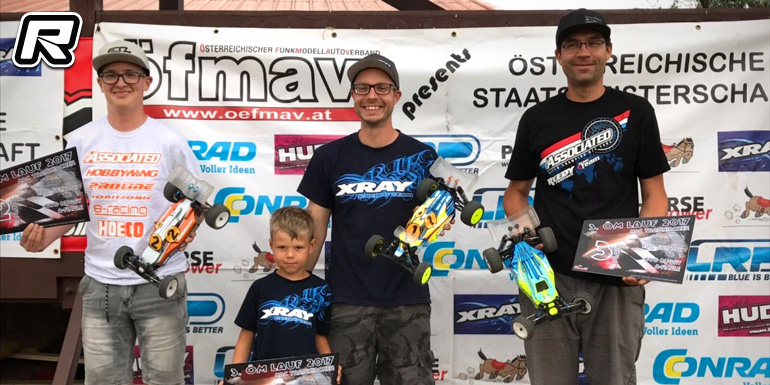 The recent third round of the Austrian 1/10th Electric Off-road Nationals was held at the MAC Traiskirchen track. Different from the previous two rounds, this race was held on a super high traction track with the abrasive surface and sugar treatment making for close racing. Xray's Hupo Hönigl would TQ the opening two rounds of 2WD while up and coming Lucas Grainer (Team Associated) came out fastest in Q3 and veteran racer Peter Pinisch (Team Associated) won Q4. Overall this meant Hupo would take the pole position for the triple 2WD A-mains.
Hupo had saved a set of new tyres for the mains following his early TQ and this would prove to be the right decision as he took wins in A1 and A2 to snatch the overall victory from Lucas Grainer in 2nd and Peter Pinisch in 3rd.
2WD final results:
1. Hupo Hönigl – Xray
2. Lucas Grainer – Team Associated
3. Peter Pinisch – Team Associated
4. Martin Kreil – Team Associated
5. Rene Trauner – Yokomo
6. Roland Hauleitner – Team Associated
7. Thomas Rössler – Team Associated
8. Matthias Presolly – TLR
9. Stefan Pfeifhofer – Team Associated
10.Philipp Stocker – Team Associated
The 4WD class held a very close battle between Peter Pinisch and Hupo Hönigl right from the start. Peter would TQ two rounds while Hupo came out on top in the remaining two but the faster time in Q1 earned Peter the pole position for the A-mains. The finals then saw the fight between the two continue which allowed Thomas Diesslbacher to stay in touch with the top 2 drivers. After Peter and Hupo lost too much time in the battle, Thomas found himself in the lead that he would hold onto until the checkered flag. A2 again was dominated by a hard fighting top of the field but this time Hupo held the upper hand to bring home the win from Thomas. Going into the final A-main four drivers were in the mix for the overall win but ultimately Hupo would excel, taking home his second overall win of the weekend with Thomas and Peter rounding out the podium result.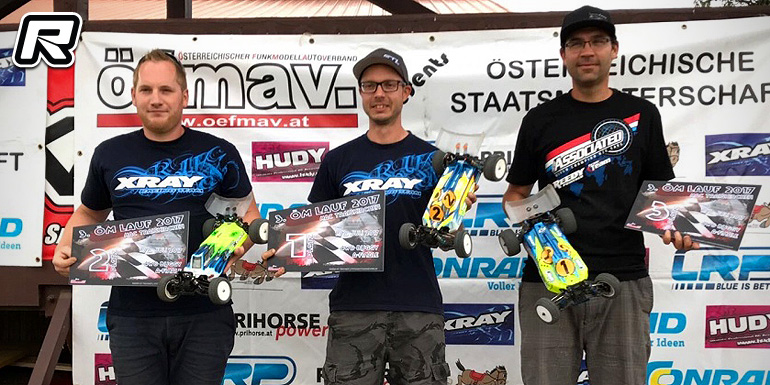 4WD final results:
1. Hupo Hönigl – Xray
2. Thomas Diesslbacher – Xray
3. Peter Pinisch – Team Associated
4. Martin Kreil – Team C
5. Roland Hauleitner – Team Associated
6. Stefan Pfeifhofer – Team Associated
7. Matthias Presolly – TLR
8. Philipp Stocker – Team Associated
9. Thomas Rössler – Team Associated
10.Rene Trauner – Xray
Source: Xray [teamxray.com]
---