July 30, 2017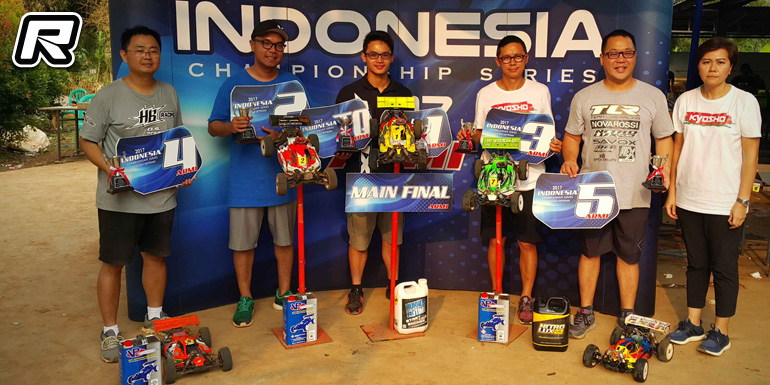 Round 3 of the Indonesian National Buggy Championship was held at the Graha Raya track in Tangerang, West Java, Indonesia. A total of 76 drivers from Surabaya, Bandung, Medan, Banjarmasin, Bali, Kendari, Makasar, Gorontalo, Kupang, Batam as well as local drivers attended the event that originally saw six 10-minute qualifiers but due to heavy rain during qualifying day the race director decided to cut qualifying to four round of which two would count. Xray/Novarossi's Jason Nugroho made the best out of the conditions, taking the TQ honours and also securing the win in the 1-hour main event some four seconds in front of Adrian Wicaksono (Mugen/Reds Racing) in 2nd while John Agus (Kyosho/O.S.) rounded out the top 3 one lap down.
Final results:
1. Jason Nugroho – Xray/Novarossi
2. Adrian Wicaksono – Mugen/Reds Racing
3. John Agus – Kyosho/O.S.
4. Stanley Wangsanegara – HB Racing/O.S.
5. Chopin Yusuf – TLR/Kabuto
6. Ery Setiawan – Kyosho/RC Concept
7. Yudha Sanjaya – Serpent/Picco
8. Edianto Ong – Kyosho/Reds Racing
9. Andre Irawan – Mugen/RC Concept
10.Hariadi – Kyosho/O.S.
11.Dimaz A – Mugen/Reds Racing
12.Adrian Sutanto – Kyosho/O.S.
13.Vindra Mboi – Kyosho/Reds Racing
14.Indra Liono – Xray/SPower
15.Aswin N – TLR/O.S.
Thanks to Michael Nugroho for the report.
---