July 17, 2017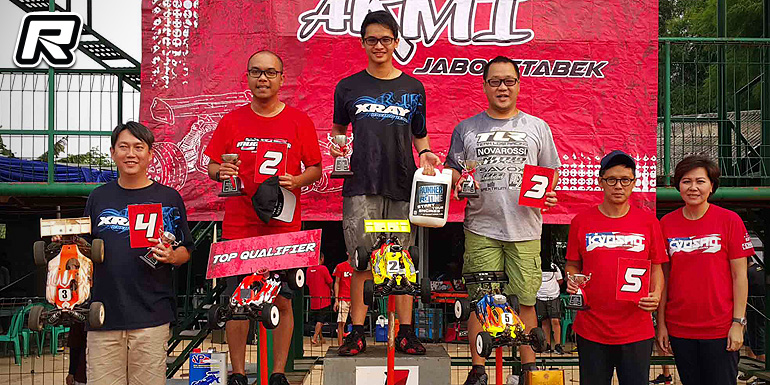 The third round of the Jakarta Regional Buggy Championship was held at the Graha Raya track in Serpong, West Java. A total of 42 drivers attended the event and after the three rounds of qualifying it was Adrian Wicaksono (Mugen/Reds Racing) with the TQ position. After the 45-minute A-main things looked a bit different with Jason Nugroho (Xray/Novarossi) taking a very narrow win only some 1.3 seconds ahead of Adrian while Chopin Yusuf (TLR/Kabuto) rounded out the top 3 podium result.
Final results:
1. Jason Nugroho – Xray/Novarossi
2. Adrian Wicaksono – Mugen/Reds Racing
3. Chopin Yusuf – TLR/Kabuto
4. Indra Liono – Xray/SPower
5. John Agus – Kyosho/O.S.
6. Rama Tribudiman – Team Associated/O.S.
7. Adrian Sutanto – Kyosho/O.S.
8. Dimaz Arianto – Mugen/O.S.
9. Edianto Ong – Kyosho/Reds Racing
10.Faisal Ali – Kyosho/Reds Racing
11.M. Feby – Kyosho/O.S.
12.Rizky P – Xray/O.S.
13.Yan Yusuf – Mugen/Picco
14.Falla – Team Associated/O.S.
15.Yudha Sanjaya – Serpent/Picco
Thanks to Michael Nugroho for the report.
---