July 5, 2017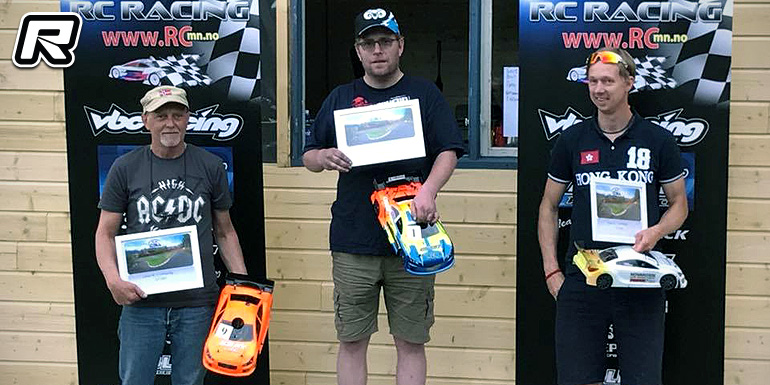 The third round of the Norwegian Nitro Touring Series was hosted by the Valdres Modellbilklubb on one of the more spectacular tracks of the series with its length of 205 meters and almost 3.5 meters of elevation change. The blazing sun brought high temperatures, making it a real challenge for both drivers and cars. In the opening qualifier André Roine took the win closely followed by Anders Mikkelsen, some 0.8s behind. Mikkelsen then managed to take the TQ by 1,4 seconds in the second round but it was the final round that decided the TQ spot. At first Christian Hovden beat Mikkelsen's time by 0,001 of a second but Mikkelsen fought back and got the TQ with a margin of 1.1 seconds while also setting the fastest lap time of the day.
In the following Superpole André Roine, Christian Hovden, Trygve Bull Freng, and Espen Myhre fought for the second direct spot in the A-main. It was a close affair with a margin of only 0.2 seconds from 1st to 4th and it was Roine who scored the fastest lap, only 0.038 seconds faster than Christian Hovden. The semifinals were then won by Trygve Bull Freng in front of Espen Myhre and Brede Isaksen.
From the start of the A-main Mikkelsen struggled with a bad engine tuning which forced him to have an extra pit stop, dropping him from 1st to 9th. Roine took the lead but running into some fuel problems later on he lost the lead to Mikkelsen on lap 55. From there on Mikkelsen did't look back and kept the lead for the rest of the final although heavy tyre wear made his car undrivable with one minute to go, but the gap over the rest of the field large enough and Mikkelsen took the victory. Starting from 9th place Hans Nikolaisen did an excellent job and claimed the runner-up spot while Brede Isaksen snatched the final podium spot starting from 5th on the grid.
The win marked the third consecutive victory for Anders Mikkelsen and the second time in a row he also got the TQ and fastest lap of the race. With two round to go Mikkelsen is now leading the Norwegian Nitro Touring Series with 22 points in front of André Roine who is 54 points in front Trygve Bull Frengs.
Source: Shepherd [team-shepherd.com]
---