July 11, 2017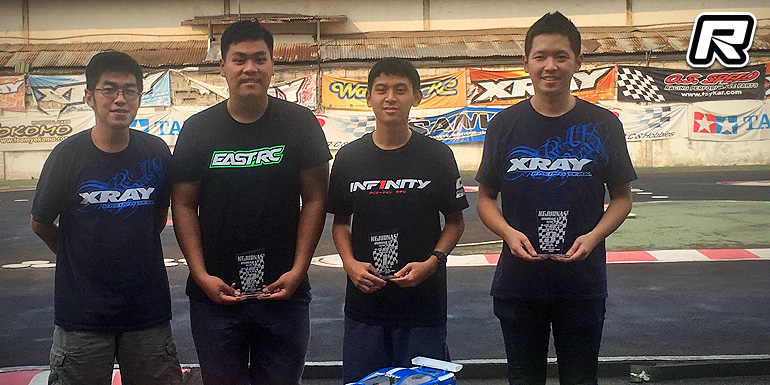 The second round of the Indonesian Electric On-road Nationals was held at Sunter International Speedway in Jakarta with about 40 racers from all around Indonesia competing in the Touring Modified and FWD classes. In Touring Modified it was Muhammad Izzah who scored a TQ in Q1 and Q2 which secured him the pole for A-main. Q3 belonged to Christian Mamesah which meant a P2 spot on the starting grid for him. The opening two A-main legs brought different winners meaning the decision for the overall win would be made in A3. With Izzah winning A1 and Bowie coming out fastest in A2 the stage was set for an entertaining final A-main. Ultimately Izzah would lead the way by a comfortable margin with Bowie coming in 2nd while Ronny Suwarto completed the podium result.
Touring Modified A-main results:
1. Muhammad Izzah – Xray/Hobbywing
2. Bowie Ginting – Serpent/Hobbywing
3. Ronny Suwarto – Xray/ORCA
4. Phoa Pinghong – Xray/ORCA
5. Peter Anthonijsz – Awesomatix/ORCA
6. David Yusuf – Xray/ORCA
7. Arya Seta – Destiny/ORCA
8. Christian Mamesah – Serpent/Hobbywing
9. Ade Jatmiko – Xray/Hobbywing
10.Chandra Yosef – Awesomatix/Hobbywing
The FWD class also saw Izzah easily converting his TQ into a win with Christian and Imam Liyanto coming in 2nd and 3rd respectively.
FWD top 3 results:
1. Muhammad Izzah – VBC Racing
2. Christian Mamesah – Serpent
3. Imam Liyanto – Yokomo Spice-FF
Thanks to Bowie Ginting for the report.
---