July 18, 2017
Round 3 of Turkish TORC Nationals was held at the Efmod track recently in hot and windy weather conditions. Xray's Mustafa Alp made clean sweeps in the Nitro Touring and Electric Prostock classes to secure the pole positions for the main finals. In the opening two electric A-mains Mustafa never looked back to take dominant win while the battle for the runner-up spot was between young Ahmet and Poyraz. In A1 and A2 Poyraz held the upper hand thanks to fresher tyres but in A3, that Mustafa sat out, Ahmet took the win which equalled the overall 2nd place for him while Poyraz had to settle for 3rd.
Prostock final results:
1. Mustafa Alp – Xray
2. Ahmet Kasap – Xray
3. Poyraz Serezlioglu – Xray
4. Onur Karacuhalilar – Xray
5. Yasin Yenidunya – Xray
6. Berk Ogretmen – Xray
7. Sefer Kursad Alalma – Xray
8. Murat Cagis – Xray
9. Emirhan Savas – Xray
10.Burak Ozcan – Xray
In the 45-minute long Nitro Touring main final TQ holder Mustafa lead from start to finish with the only problem being a flameout during the tyre change. Like in the Prostock class the battle for 2nd on the podium was very entertaining. Onur Vardar and Halit Körpe was the pair to watch after Onur recovered from a flame out at the beginning of the race. With 3 laps to go he overtook Halit and claimed the 2nd place with the two being separated by only 0.9 seconds on the line.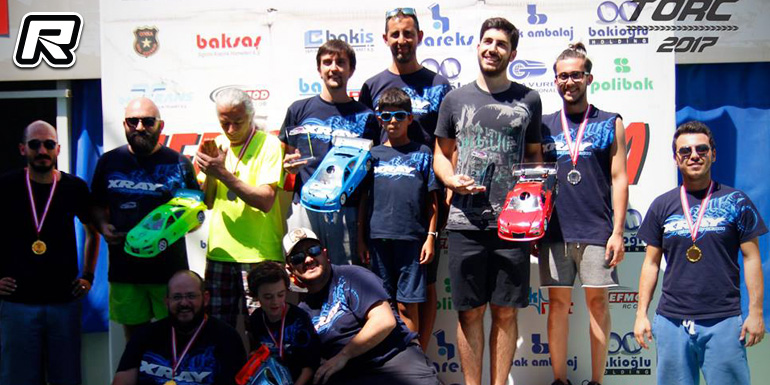 Nitro Touring final results:
1. Mustafa Alp – Xray
2. Onur Vardar – Xray
3. Halit Korpe – Xray
4. Poyraz Serezlioglu – Xray
5. Utku Kizildag – Xray
6. Ekinci Mert – Xray
7. Serdar Sakallioglu – Xray
8. Kagan Aydin – Xray
9. Mert Koroglu – Xray
10.Haluk Soyyoruk – n/a
Source: Xray [teamxray.com]
---