July 18, 2017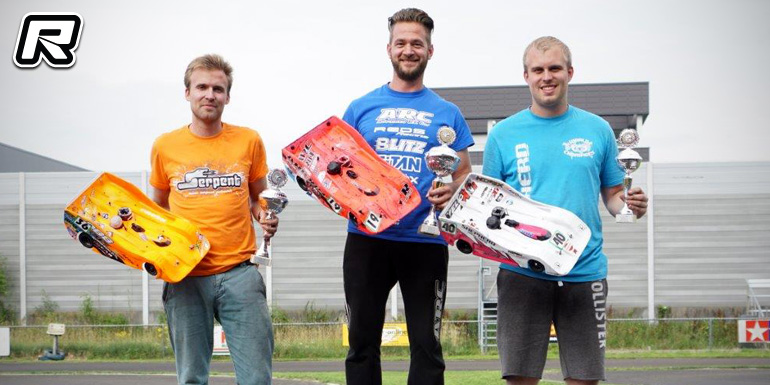 The fourth and final round of the Western German Nitro On-road Championship was held in Velp in the Netherlands. Nearly fifty racers made their entry for the event on the flowing and challenging 260-meter track. On Saturday, everybody was on fire using every single minute for intense practice and preparations. Just when the drivers briefing was held on Sunday morning, it started to drizzle which effected the early rounds of qualifying heats. Most of the drivers opted to do some laps on the slippery track in order to get into the ranking lists but racing at full throttle was on again during round three of the heats.
Once again Tobias Hepp was the top qualifier in the fast 1/8th scale class 1. In a blistering style he squeezed his ARC to 23 laps. Already one lap down were John Ermen (ARC) as well as the Serpent duo of Michael Salven and Merlin Depta on positions two, three and four. The 20-minutes semifinals were won by Hepp and Ermen with both legs offering fierce competition. Michael Salven was a prominent victim and had to retire because of a transmission issue. In the 30-minutes main final Tobias Hepp could open-up a gap from the start and he led the race until his sudden retirement when his ARC was hit in lap 87 by another car which came back from the outside onto the racing line. Hepp had no chance to avoid the collision which caused a broken steering, and once again he had bad luck while leading a finale in this year's season. The incident allowed Ermen to take over the lead with Depta on his tail. Some rain drops made it difficult at the end but finally Ermen brought home his third consecutive victory. Depta was still in the lead lap and gave the brand-new Serpent 988 Viper its first podium finish. Shepherd racer Schroeder, like Depta a guest entry from Germany's Northern region, was lucky to make it into the final but drove a solid race to gain position by position and finally made it from 10th at the start to 3rd on the podium. Without practicing on Saturday, Frank Schewiola brought his Shepherd home in 4th with Mugen racer Christian Wurst in 5th. Having to retire because of a broken engine, veteran Karl-Heinz Meister missed the chance to make a present to his own following his birthday on Saturday.
1/8th class 1 final results:
1. John Ermen – ARC – 119 laps
2. Merlin Depta – Serpent – 119
3. Timo Schroeder – Shepherd – 116
4. Frank Schewiola – Shepherd – 115
5. Christian Wurst – Mugen – 113
6. Emil Kostadinov – Mugen – 111
7. Gunther van Staey – Serpent – 109
8. Tobias Hepp – ARC – 87
9. Karl-Heinz Meister – Serpent – 42
10.Augustin Mejor – Serpent – 20
With three wins in three races and the maximum point score of 363, John Ermen became the new Western German Champion. Tobias Hepp (356) captured the vice-championship title in front of Christian Wurst (355), 2016 champion Steven Cuypers (Mugen/344) and Bulgarian Emil Kostadinov (Mugen/344). A total of 26 drivers collected points in the 2017 season in 1/8th scale class 1.
Another strong performance of ARC was seen in class 2 of the 1/8th nitro on-road category. Robbin Hertong took the TQ on home soil in front of Mugen racer Waldemar Liedke and Serpent driver Christoph Loose. The semifinals meant the end of the race day for Andre Boettcher (Mugen) and Hans-Peter Holl (Serpent) which were among the top ten following the heats. Hertong and 15-year old David Kroeger (Shepherd) snatched the victories in the two semifinals, and Hertong again showed a strong performance leading the 30-minutes main from tone to tone. Coming from 4th on the grid, young and talented Kroeger fought his way up to 2nd position and made it to the podium for the seventh time in seven races during the 2017 season so far. Loose completed the podium in 3rd, with Liedke coming in 4th place. Beside David Kroeger and Augstin Mejor, Pieter Beekman (Shepherd) was the third youngster who made it into the final to finish 6th in 1/8 class 2.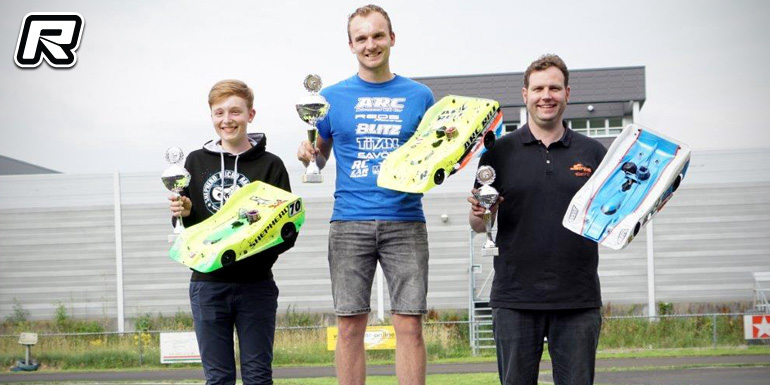 1/8th class 3 final results:
1. Robbin Hertong – ARC – 124 laps
2. David Kroeger – Shepherd – 120
3. Christoph Loose – Serpent – 119
4. Waldemar Liedke – Mugen – 117
5. Martin Baumann – Mugen – 115
6. Pieter Beekman – Shepherd – 115
7. Gunnar Blumendahl – Mugen – 113
8. Jens Kopetzki – Serpent – 105
9. Heiko Kube – Mugen – 97
10.Matthias Guenther – Shepherd – 19
With only one 1/8th scale race in 2016, 15-year old David Kroeger celebrated an impressive title win in his first season. He became Western German Champion with 359 points followed by Waldemar Liedke (357), Christoph Loose (347), Gunnar Blumendahl (Mugen/346), Ingo Braun (Serpent/338) and Bert Poesen (Mugen/338). 34 racers attended the 1/8th scale class 2 in four races of the 2017 season.
In 1/10th scale Nitro Touring Melvin Diekmann continued his awesome dominance. The Shepherd ace caught took TQ in front of teammate Bernd Rausch and Serpent's Daniel Thiele. Rausch followed Diekmann on his tail only in the early stage of the 30-minutes finale and then Diekmann cruised to victory with a one lap advantage over Rausch. Even some rain wouldn't cause any distress for Diekmann who celebrated his seventh win in seven races in Western Germany. Majuran Tharmalingam secured the 3rd position on the podium and left Serpent fellow Thiele on fourth.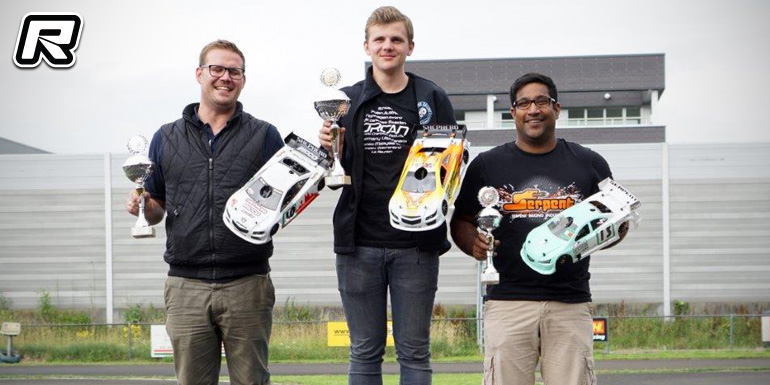 1/10th scale Nitro Touring final results:
1. Melvin Diekmann – Shepherd – 109 laps
2. Bernd Rausch – Shepherd – 108
3. Majuran Tharmalingam – Serpent – 105
4. Faehd Labik – Shepherd – 104
5. Daniel Thiele – Serpent – 102
6. Georg Goehlich – KM – 95
With four wins in four races of the championship, Melvin Diekmann is the well-deserved Champion. With 363 points he left his four Shepherd fellows Marco Nenner (352), Bernd Rausch (349), Benjamin Lehmann (348) and Faehd Labik (344) behind on position two to five among the 19 1/10th scale racers that competed this season.
As for the overall statistics, Mugen and Serpent were the leading chassis brands with a total of twelve cars each followed by ten Shepherd, four ARC, three Xray and one KM. Nitro racing in Western Germany will continue with round 4 of the Nitro-West-Masters from the 5th to 6th of August in Bad Breisig. The race is also the official warm-up for the German 1/8th Nationals which will take place at this track from the 24th to 27th of August. The 1/10 Nationals will be held from the 20th to 24th September in Munster in the south of Hamburg.
Source: Nitro-West [nitro-west.de]
---