August 23, 2017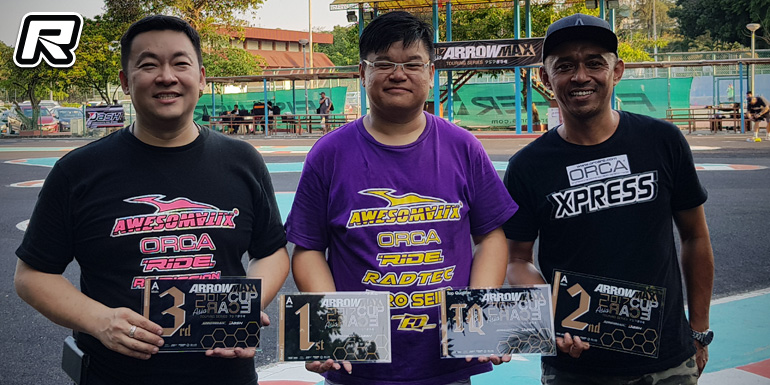 The opening round of the Arrowmax Cup Malaysia was held at the Kota Raja RC Arena in Klang, Malaysia. The event attracted 50 entries for the three classes of Touring 13.5T Boosted, Touring 13.5T Blinky, and Formula. The premier 13.5T Boosted category saw the battle between Wong Kok Wai and Michael Lo for the TQ spot from the get go, with the two drivers being the only ones to dip into the 15-seconds laps. For the 13.5T Blinky class it was Dino Sidhu who set the pace with 16-seconds laps while in Formula it was Eric Ang who lead the proceedings. Finally the TQs went to Wong Kok Wai in Boosted, to Dino in Blinky and Eric in Formula.
In the finals it was not smooth sailing for Wong Kok Wai as he lost the opening A-main to Michael Lo, while both Wong Kok Wai and Michael Lo tangled in the opening lap of A2, allowing Azri Amri to take the round with Wong Kok Wai ending in 3rd. With a 2nd and 3rd for Wong Kok Wai, 1st and 7th for Michael Lo and a 1st and 10th for Azri, the winner of A3 would get it all. In the end it was Wong Kok Wai who prevailed, Azri Amri taking 2nd and Michael Lo taking 3rd in A3, meaning that the overall saw Wong in front of Azri and Michael.
Boosted 13.5T final results:
1. Wong Kok Wai – Awesomatix
2. Azri Amri – Xpress
3. Michael Lo – Awesomatix
4. Norazam – Yokomo
5. Shahrin – Yokomo
6. Dr. Bill Wong – Awesomatix
7. Roslan KR – Xray
8. Michael Lim – Xray
9. Nazmi Nizal – Yokomo
10.Kew SauGie – Awesomatix
For Dino in the Blinky 13.5T class, it was a different story. He lead from start to finish in A1 and A2, winning both Finals with a third of a lap margin to take the overall win.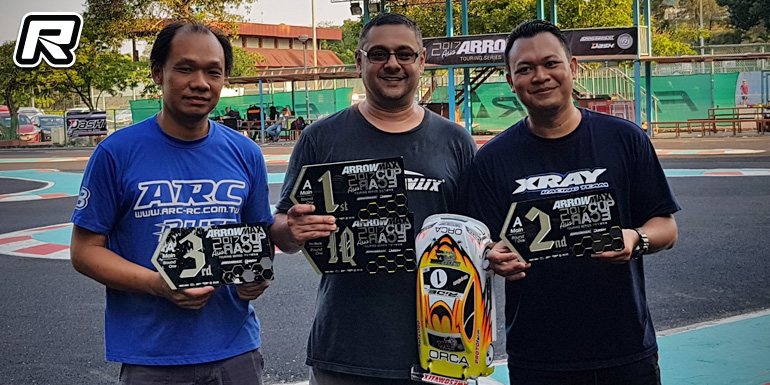 Blinky 13.5T final results:
1. Dino Sidhu – Awesomatix
2. Azli KR – Xray
3. Toby Lee – ARC
4. Shukri – n/a
5. Louis Tan – Awesomatix
6. Asoi – n/a
7. Zahari – Yokomo
8. Foong WK – Yokomo
9. Zairi – n/a
10.Muza – n/a
In the Formula class, Eric lost A1 and had to make sure he was able to secure the next two finals but not only made sure but he also was the only racer who managed 16 lappets in both finals.
Formula Open final results:
1. Eric Ang
2. Wafee
3. Aaron
4. Azam Nordin
5. Nazmi Nizal
6. Wak Ros
7. Zairi
8. Foong WK
9. Sukri
10.Fizee
Thanks to Michael Suriawinata for the report.
---