August 14, 2017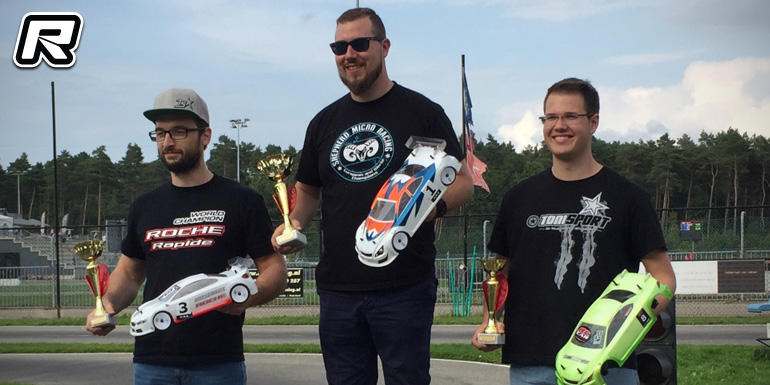 The MRG track in Genk played host for the penultimate round of the Belgian Championship this past weekend. The track is situated at a motorsport facility with an FIA karting track and an MX track and classes run were the usual Touring Modified, Touring Stock, Formula and Rookie categories. Most drivers were present on Saturday for practice, but due to the complete washout, running was very limited. As the track was still damp on Sunday morning, the racers expected the first qualifiers to be very tough.
The Touring Modified class saw Olivier Bultynck dominate. He took pole by 9 seconds from young Mitchell Van Es while Nicolas Delisé would complete an Awesomatix 1-2-3 by claiming P3 on the grid. Young Athan De Witte was the fourth driver to record 18 laps, putting his VBC on P4 in front of Rico Claeys' Xray. In the finals Olivier ran away with the overall victory by winning A1 and A2. In A2, Athan was challenging Mitchell for P2. They fought hard but fair for the positions but coming on the straight, they unfortunately touched. Athan waited, but the tangle would end their changes for a good position in A2. Having already bagged the win, Olivier decided to sit out A3, which meant that the remaining Awesomatix top drivers would battle for the remaining podium spots. After a very exciting battle with some great driving, Nicolas Delisé won A3 in front of Mitchell, so the overall positions were Olivier Bultynck (Awesomatix), Nicolas Delisé (Awesomatix), Mitchell Van Es (Awesomatix), Rico Claeys (Xray) and Steve Lambrechts (Xray). Steve started from P7 on the grid, but he proved his skills by driving great finals and fighting his way back.
In the Touring Stock class and as in the other categories, the fight for the overall title is still on. This meant there was a bit of tension in the pits before the start of the event. During Q1, some speed differences were noted. After Q1, head of the FBA electro section, Bjorn De Witte, made his point of view very clear to all the stock drivers by stating that such differences would be followed by a serious tech inspection of ESC software, a motor and FDR check. After his intervention, everyone had similar speeds again. The TQ went to the Team Magic of Stefan Rommens. P2 went to Florian Joos (Tamiya), followed by Bjorn Frederickx , Giovanni Moguez (Xray), Vincent Van Gansen (Xray) and the Team Magic of Pasquinel Neys.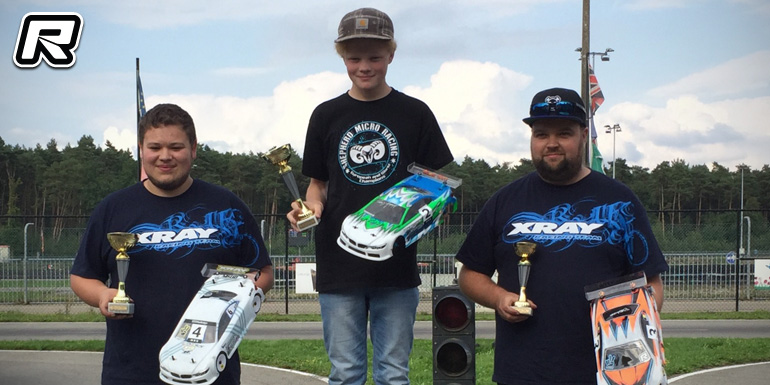 Starting from P2, Florian heavily challenged Stefan for the lead and won both A1 and A2 in style in front of Vincent Van Gansen. The most exciting battle took place in the third and final A-main, courtesy of Giovanni and Vincent. In the end Giovanni claimed his first A main win and first podium as well. The final ranking was Florian Joos (Tamiya), Vincent Van Gansen (Xray), Giovanni Moguez (Xray), Stefan Rommens (Team Magic) and Peter Degrande (Infinity).
In the Formula class finding a good setup was key on the low grip track. Olivier Bultynck was in a class of his own and was the only driver to record a 15 lapper in his Shepherd. Nicolas Delisé (Roche) took a fine 2nd place on the grid, followed by Serpent's Steve Deblaere and the Xray drivers Frans Engelen and Bjorn Frederickx.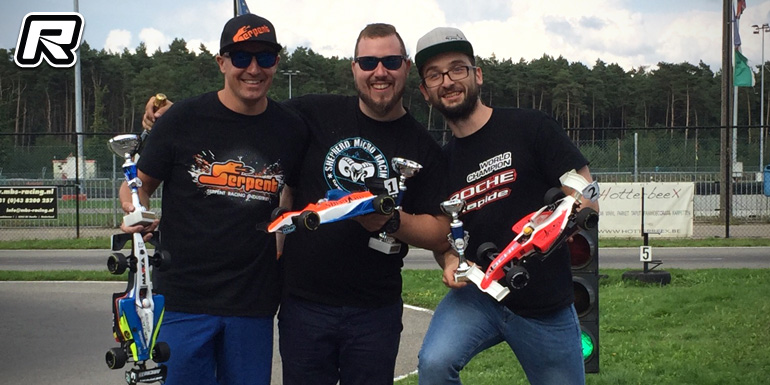 In the finals Olivier continued his domination by winning both A1 and A2 in front of Nicolas and Steve. Olivier opted to run in A3 to try a different setting. Steve took the victory in A3 in front of Frans Engelen and Florian Joos. The overall results were Olivier Bultynck (Shepherd), Steve Deblaere (Serpent), Nicolas Delisé (Roche), Florian Joos (Shepherd) and Frans Engelen (Xray).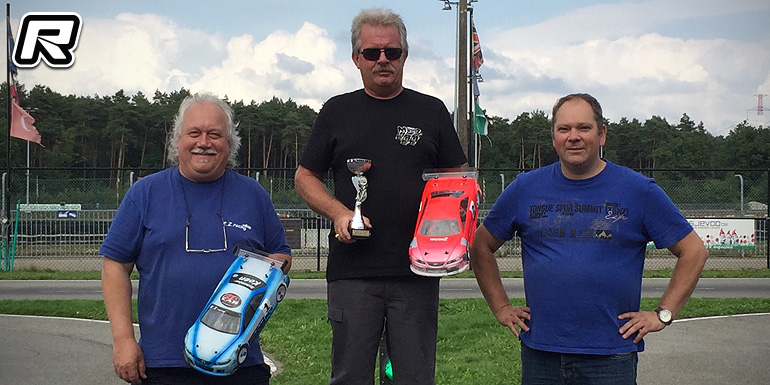 Finally the supporting Rookie class was won by Rony Claeys (Xray) in front of Marc Joosens (Yokomo) and Herman Van Gansen (Tamiya).
Source: T2M [t2m-rc.fr]
---