August 9, 2017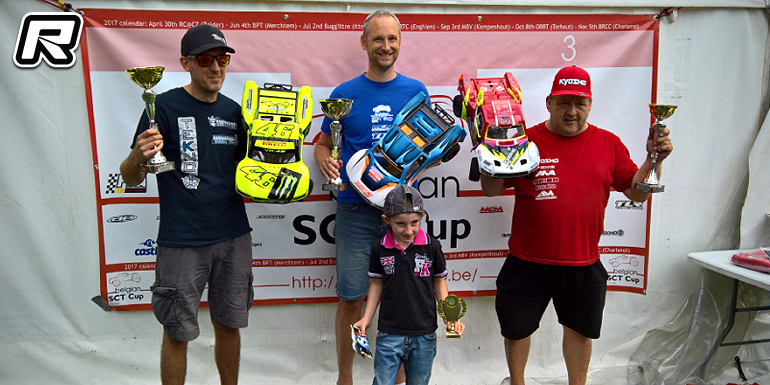 Round 4 of the Belgian SCT Cup was held in the middle of a park in Enghien as part of the biggest RC exhibition of the country. The Buggy Tournai Racing Club laid out a nice temporary tack but due to the weather, practice on Saturday would be limited. On Sunday it took the first two qualification rounds for the track to dry up completely, making car setup and tyre choice a bit complex and spicing up the race. In the Pro2 class, Nicolas Evens (TLR) dominated and won all rounds. In the first round, Géry Ledocq (Kyosho) followed in 2nd in some distance, struggling with car setup. Tom Vercarre (TLR) was in full swing again and took a nice 3rd spot, a result he would only improve in the second and third round by taking 2nd places, securing himself the P2 spot on the grid. Géry's struggles continued in the second round where he finished 3rd while he broke his truck in the final qualifier, however he still took P3 for the finals.
In Pro4, Nicolas Evens (TLR) also swept all qualification rounds to take TQ. Senne Pauwels (Tekno), a fast junior driver making his second appearance in the Cup after a couple of years, came in 2nd with consistent runs. Sam Damman (TLR) followed in 3rd, having good pace but difficulties in the woops section.
In the opening Pro2 A-final, Nicolas won with quite a margin after messing up the opening lap. Filip De Keesmaecker has a great run from 4th on the grid and took the 2nd place. Just behind him, the battle for 3rd was fierce between Stéphane Lecomte (Team Associated) and Eric Clerix (Team Durango) and they would cross the line in that order only two tenths of a second apart. In the second main Nicolas had a clean start and he soon opened a gap on Géry that would remain until the end and give him the overall win. Newcomer Fabrice Facchin (TLR) has a great run and took 3rd despite late pressure from Tom. Nicolas opted to sit out A3 which saw Tom dominate, taking an easy win from Philip and Géry. Thanks to his two 2nd place finishes, Philip obtained the overall runner-up spot while Géry had to settle for 3rd.
In the opening Pro4 main Nicolas took a tone to tone win, followed by Senne, Philip De Keersmaecker (Tekno) and Sam Puttevils (Tekno). Sam was still adapting to his new car in his very first race with it. In the second leg it was history repeating for Nicolas. Sam and Senne had a good fight for the 2nd place and ended up in that order. With Nicolas sitting out A3, Sam and Senne fought for the win. They have a similar pace but with less mistakes Sam hold the upper hand. Overall and behind Nicolas Sam and Senne would make up the top 3 result.
Source: Belgian SCT Cup [belgiansctcup.be]
---