August 10, 2017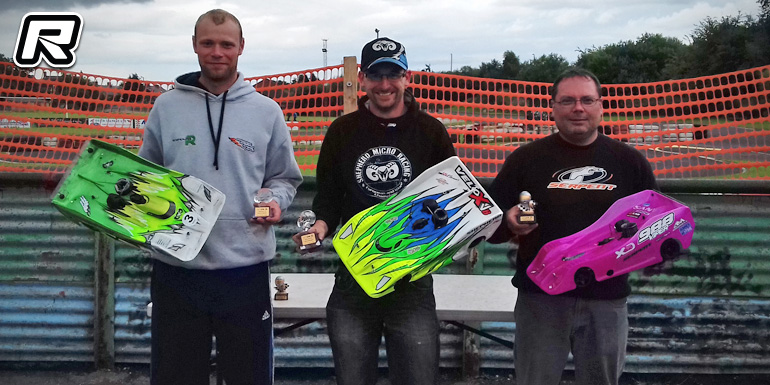 The weather forecast for round 6 of the BRCA 1/8th Circuit Nationals was mainly showers although nearly fifty drivers across the two classes made the trip to Wombwell, near Barnsley. The circuit is likened by many for its combination of high speed straight which utilises the karting circuit and then a medium speed infield with undulations making it very testing. On arrival, the track was damp on Saturday morning which saw many of the electric class runners preparing their wet cars as the forecast was indifferent for the whole weekend. By midday the track was dry. In the electric class, it was Alex Thurston and Adam Catchpole setting the pace with Pete Hastings and Dan Jones not too far behind them. With 17 entrants and times being so close, a place in the A-final would be tight for some. In the Nitro class, Andy Hastings was out to make up for his Halifax poor showing but the man on form, David Spashett, was again going to be the man to beat. Quick as ever were Tim Wood, Neal King and Mark Green, running the new Serpent chassis.
After heavy rain Saturday evening, Sunday morning greeted the drivers with breezy wind and sunshine. Qualifying went by with no real issues for most drivers. In the electric class, Alex was on pole with Adam 2nd and Pete 3rd. Phil Hague and Russ Giles picked up the hotly contested last 2 places in the A final. In nitro, David Spashett pipped Tim Wood to pole position with Neal King a further second behind from Mark Green and Andy Hastings. Karl Dransfield had a successful first meeting, running Capricorn, taking 8th spot with Richard Hicklin grabbing the last place in the A-final.
The nitro A-final started with Spashett's engine cutting, losing him around three laps, and this left Tim Wood out front until he hit issues and had to retire. Andy Hastings, with his Shepherd, drove a faultless race to win after leading almost all of the race. Tyre wear was high with some drivers having to make changes. Neal King made it a Shepherd 1-2 and Mark Green took the final podium position for Serpent in 3rd. David Spashett recovered to take 4th with Richard Hicklin 5th.
Nitro final results:
1. Andrew Hastings – Shepherd
2. Neal King – Shepherd
3. Mark Green – Serpent
4. David Spashett – ARC
5. Richard Hicklin – Serpent
6. John Carr – Serpent
7. Andrew North – ARC
8. Karl Dransfield – Capricorn
9. Clive Connolly – ARC
10.Tim Wood – Serpent
Before the electric A-final leg 1, the drizzle had started and the track surface was slippery but not enough for a wet race. Alex got away clean with Adam in tow but behind them it all got messy for the first few laps and three cars retired early. Alex took the win with Adam 2nd and Keiran Adamson 3rd. In the A-final leg 2, with the weather very grey but dry, Alex and Adam again were away clean, driving fast but smooth and making it look easy. Dan Jones and Jamie Paton had a close race for a while until Dan pulled away to finish 3rd in this leg. Overall, it was a complete Serpent podium with 1st Alex Thurston, 2nd Adam Catchpole and 3rd Dan Jones.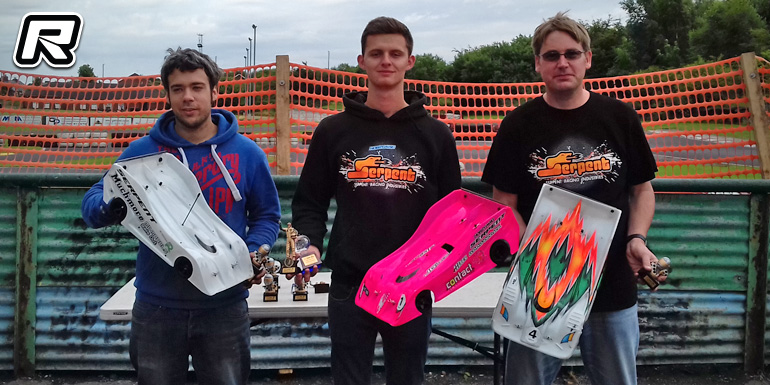 Electric final results:
1. Alex Thurston – Serpent
2. Adam Catchpole – Serpent
3. Dan Jones – Serpent
4. Jamie Paton – Serpent
5. Kieran Adamson – ARC
6. Phil Hague – Serpent
7. Russ Giles – ARC
8. Craig Woods – Serpent
9. Pete Hastings – Shepherd
10.Paul Bellinger – Serpent
For the next round, the championship return to the Brookland circuit in Kent which will be new to many drivers, the circuit having had facilities and surfaced updated. This will also be the first race at the circuit for electric 1/8th scale cars so it will be a steep learning curve for them all.
Source: BRCA [brca.org]
---