August 29, 2017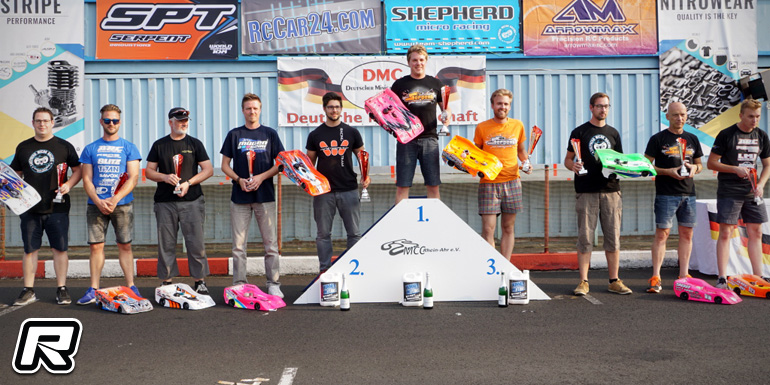 The MCC Rhein-Ahr club played host for the 2017 German 1/8th IC Track Championships this past weekend. 73 drivers signed in for the event which was a 20 percent increased compared to 2016, showing that nitro on-road racing is alive and kicking. The 4-day event was held in Bad Breisig, located between Bonn and Koblenz next to the river Rhine in Western Germany and the one-event championship was using Matrix-based Arrowmax tyres as hand-out wheels.
Nice weather and temperatures around 25 degrees made for perfect conditions for the drivers had a total of twelve eight-minutes heats of free practice on Thursday and Friday to prepare for the title fight. It was newly crowned 1/10th scale European Champion Toni Gruber who was on top of the ranking in class 1 with 43.415 seconds for three consecutive laps. The WRC star was followed by Steven Cuypers (Mugen/43.416) who won the German title on this track in 2011. The top ten were completed by warm-up winner Tobias Hepp (ARC/43.506), Dominic Greiner (Serpent/43.519), René Puepke (Shepherd/43.768), Michael Salven (Serpent/43.861), Oliver Mack (Infinity/43.917), Merlin Depta (Serpent/43.997), John Ermen (ARC/44.038) and Lars Hoppe (Shepherd/44.095).
Unfortunately, unexpected rain hit the track during the first round of controlled practice on Friday afternoon. It was decided to postpone racing to Saturday morning. After heavy thunderstorms during the night the track was drying up very slowly. After postponing racing once again, a short round of free practice was run before the first round of qualifying heats were started on a dry track but with no reseeding. Following five 4-minute heats the same four drivers captured the first four positions to be directly qualified for the final race: Toni Gruber did 17 laps in 4:11.067 minutes in the second heat and Tobias Hepp missed TQ in the fifth heat by seven tenth of a second (4:11.787). Cuypers captured third spot with 4:12.640 already set in heat one. The battle for the fourth place was decided in round five with Greiner doing a 4:12.671 kicking out team mate Merlin Depta (4:12.839) by less than two tenths to fifth place and into the semifinals. Behind Depta, Ermen (4:13.273), Hoppe (4:14.044), Salven (4:14.672), Mack (16 laps/4:00.599) and Patrick Schaefer (Shepherd/4:01.917) completed the top ten of the ranking among 38 competitors in class 1.
Again at excellent and hot conditions, all finals were held on Sunday. Joerg Baldes (ARC), Uwe Baldes (Shepherd) and Armin Baier (ARC) as well as Torsten Mueller (Shepherd), Oliver Lembeck (Mugen) and Daniel Toennessen (Mugen) bumped up from the 15-minutes quarterfinals to the 30-minutes semifinals. In semifinal B Ermen stormed to victory from tone to checkered flag completing 116 laps. Two and a half seconds behind, Salven crossed the line on second. Schaefer and Joerg Baldes were racing on third position for a while but finally the third and final position to step up into the main race was taken by Wurst with 115 laps. The semifinal A was a done deal for Depta with Hoppe more than a lap behind on second. Michael Kammer (Shepherd) was another lap down on third.
So, the main grid was Gruber, Hepp, Cuypers, Greiner, Depta, Ermen, Salven, Hoppe, Kammer and Wurst. As all the other races, the 45-minutes finale of class 1 showed clean and fair nitro racing on a really high level. In the early stages Gruber led the pack but dropped back to second when his first pitstop lasted about three seconds longer than usual. Hepp took over the first spot until his third stop in lap 55 when he changed his tires for the first time. He came back on fourth. The strategy played a major role in the race and finally perfect pitstops with fast refueling and fast tires changes made the difference. Like Hepp, also Cuypers made two complete changes – too much to fight for the podium while others changed one full set and only two tires on the right side. At the middle of the race the battle for victory was narrowed to three, to Greiner, Depta and Gruber. Greiner followed Hepp as new leader and lost P1 only during the pitstops. The gap between Greiner and Gruber changed due to a different pit strategy. Even Gruber could close the gap in the closing stages, the reigning 1/10 scale World Champion Greiner brought his Novarossi-powered Serpent home with a faultless drive to celebrate his first 1/8 scale national title. Gruber was only three seconds behind and became vice-champion with Depta another seven seconds down completing the top 3 – all of them with 176 laps. Behind Hepp, Salven finished fifth to make it a strong 1-3-5 finish for his new Viper 988.
1/8th scale class 1 final results:
1. Dominic Greiner – Serpent/Novarossi – 176 laps
2. Toni Gruber – WRC/Novarossi – 176
3. Merlin Depta – Serpent/O.S. – 176
4. Tobias Hepp – ARC/Reds Racing – 175
5. Michael Salven – Serpent/Picco – 173
6. Michael Kammer – Shepherd/Mikrotek – 172
7. Steven Cuypers – Mugen/Picco – 172
8. Christian Wurst – Mugen/O.S. – 166
9. John Ermen – ARC/Reds Racing – 157
10.Lars Hoppe – Shepherd/Reds Racing – 27
Michael Salven was crowned the 40+ champion in front of Christian Wurst and Armin Baier.
35 racers joined the 1/8 scale class 2 competition. The ranking of the free practice was led by ARC racer Robbin Hertong (44.783). Young David Kroeger (Shepherd/45.156) made it to second in front of Dirk Drechsler (Mugen/45.331), Alex Dill (WRC/45.945) and Christoph Loose (Serpent/46.208). Hertong continued his dominating performance in the heats to take TQ with 16 laps in 4.07.925 – the time would have meant 25th position in class 1. Already three seconds behind was André Boettcher (Mugen/4.10.847) as a surprising second with Dill (4.11.515) and Kroeger (4.11.997) completing the four direct qualifiers.
Ralf Wacker (Mugen), Jan Fuss (ARC) and Markus Friedrich (Shepherd) as well as Marco Wambach (Serpent), Markus Gross (Motonica) and Tobias Wagner (Serpent) achieved the top three spots in the two 15-minutes quarterfinals to secure tickets for the semifinals. In semifinal B Loose was the leader from the start but dropped back to fourth because of a loosing time during the tire change and was happy to finally finish third behind Christian Willert (Shepherd) and old-dude Hartmut Rose in his first ever 1/8th scale season – all three completing 109 laps. The semifinal A was the faster one when Ingo Braun (Serpent) and Alexander Mehl (Serpent) did 111 laps. Drechsler on third spot was one lap down.
The grid for the main race was as follows: Hertong, Boettcher, Dill, Kroeger, Braun, Mehl, Drechsler, Willert, Rose and Loose. From tone to tone Robbin Hertong was in a class of his own. The 23-year old Dutchman never looked back during the 45-minutes main race, enjoying perfect pitstops and bringing his Reds-powered ARC home with an impressive five-lap margin to become German class 2 champion. Ingo Braun was third at the beginning and finally took second position with his Reds-powered Serpent. The battle for the third spot on the podium was nail-biting with the better end for Alex Dill. Less than a second behind Dill, the rise of Loose from position ten on the grid ended up on fourth place in front of Drechsler. Those top five drivers will enjoy a class 1 license in the 2018 season. The story of David Kroeger and André Boettcher started with early incidents. Boettcher had to take a time-out what meant an exchange of starting position from second to eleventh. Finally, he finished sixth. Kroeger's engine stalled just before the start which meant he had to enter the race from the pitlane and thus dead last instead of fourth. In an impressive style, he fought his way back to fourth but then lost the line and about two minutes in the pits. The dream to finish on the podium in his first nitro season was gone and he eventually finished eighth. Only Mehl had to retire very early after four laps.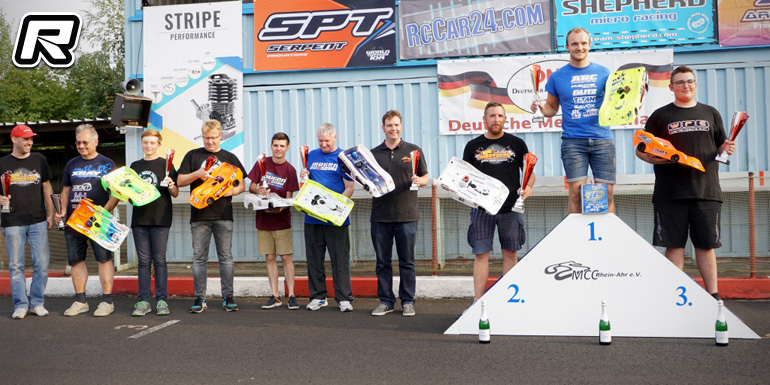 1/8th scale class 2 final results:
1. Robbin Hertong – ARC/Reds Racing – 170 Laps
2. Ingo Braun – Serpent/Reds Racing – 165
3. Alex Dill – WRC/O.S. – 163
4. Christoph Loose – Serpent/Picco – 163
5. Dirk Drechsler – Mugen/O.S. – 162
6. André Boettcher – Mugen/O.S. – 160
7. Christian Willert – Shepherd/Novarossi – 158
8. David Kroeger – Shepherd/O.S. – 157
9. Hartmut Rose – Xray/FX – 146
10.Alexander Mehl – Serpent/O.S. – 4
David Kroeger became the German youth Champion while the trophy for the best three 40+ racers went to Ingo Braun, Dirk Drechsler and Christian Willert.
Source: Nitro-West [nitro-west.de]
---