August 22, 2017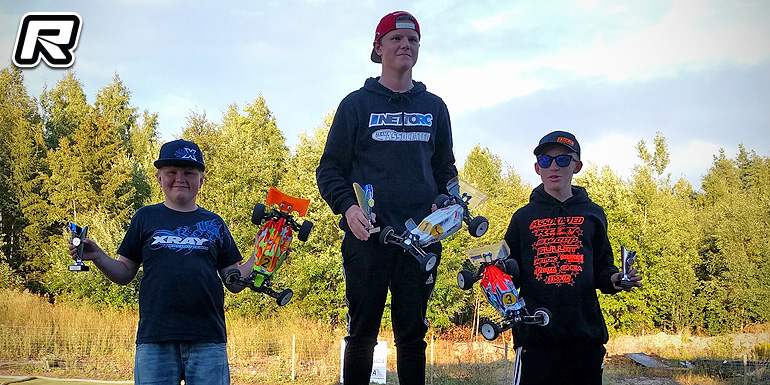 This past weekend the third round of the Swedish National Cup was held at in Västerås at the Västerås Motorsällskap club. The astro turf track offered high traction that, in combination with the bumpy surface, made for challenging conditions for the drivers. The 2WD portion of the event was held on Saturday but massive rain falls meant the start had to be postponed. As the track dried up slowly the opening qualifiers were held on a wet track. Elias Johansson made the best out of the conditions and he took the overall TQ following wins in the opening three qualifiers. Alexander Landen came in 2nd with a strong performance from Wilhelm Skjöldebrand in 3rd.
The opening A-main then was won by Elias but A2 had the young man scoring a DNF after breakage on his buggy. This made way for Alexander and Wilhelm with the latter holding the upper hand as Alexander had a mishap in the opening stages. Ultimately Wilhelm would end the leg in the 1st place from Alexander 2nd. Going into the final main the top 4 drivers all had a shot at the win and it was Elias who got off to a good start with Alexander and Wilhelm battling for the runner-up spot until Wilhelm's car got caught by the wind going across the big jump and they both flipped and lost some places. Alexander managed to fight his way up to 2nd place again as Elias won the last round, giving him the overall victory. Alexander claimed the overall runner-up spot from Wilhelm in 3rd.
2WD final results:
1. Elias Johansson – Team Associated
2. Alexander Landén – Xray
3. Wilhelm Skjöldebrand – Team Associated
4. Tommy Bergfeldt – Schumacher
5. Henrik Karlsson – Schumacher
6. Markus Andreasson – Team Associated
7. Filippa Plyhm – Team Associated
8. Frank Holmgren – Yokomo
9. Marcus Lind – Yokomo
10.Hugo Bjurman – Xray
Sunday 4WD and the top 3 qualifying order again saw Elias in the lead from Alexander and Wilhelm. In the dry conditions the traction really came up and this meant making five minutes without a mistake really proved to be hard. The opening A-main was won by Elias while A2 was won by Alexander as Elias made an early mistake and Alex was able to stay into the lead until the checkered flag. Going into A3 the top 3 drivers would all be in the mix for the overall win but after an uneventful race Elias would take the overall win from Alexander in 2nd and Wilhelm in 3rd – the latter had quite an entertaining leg as he had to fight his way back from 10th to 3rd after a bad start.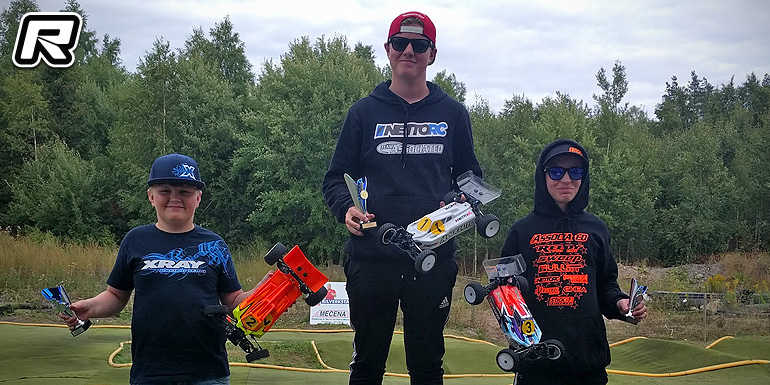 4WD final results:
1. Elias Johansson – Team Associated
2. Alexander Landén – Xray
3. Wilhelm Skjöldebrand – Team Associated
4. Martin Johansson Nielsèn – Xray
5. Hugo Bjurman – Xray
6. Lukas Larsson – Xray
7. Filippa Plyhm – Team Associated
8. Henrik Karlsson – Schumacher
9. Marcus Lind – Yokomo
10.Klas Bredberg – Xray
Source: Xray [teamxray.com]
---