August 23, 2017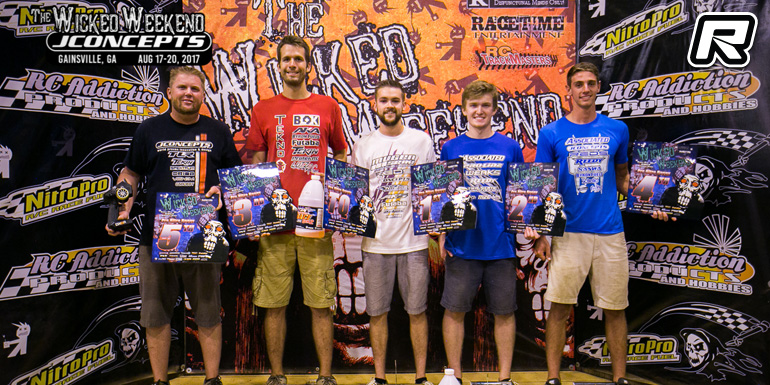 Last weekend The Wicked Weekend was held in Gainsville, Georgia. This year, the organisers came up with a new practice schedule highlighted by splitting the practice into two groups that made the overall racing experience more enjoyable for all competitors in attendance. Dave Leikam took a gamble and delivered a better, more efficient race program that allowed drivers more practice time with an A and B group. With over 600 entries, this split program was crucial in making practice more beneficial for everyone.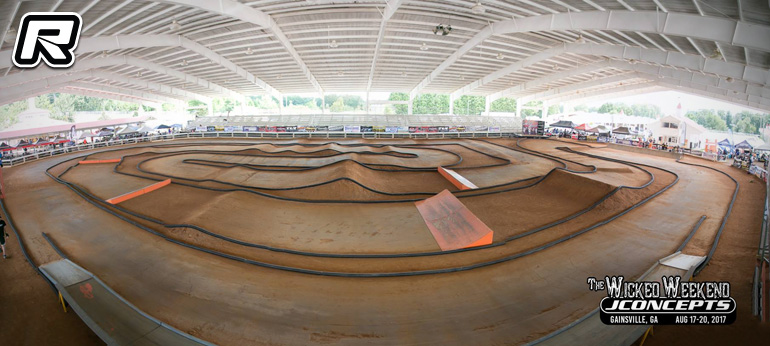 From the early pictures, this year's layout looked simple and easy, but that wasn't the case. Every lap was enjoyable and constantly challenged drivers to push their skills and abilities to the limits. The wood face jumps have become a signature mark of Racetime Entertainment and RC Trackmasters that provide even jumps faces across the full width of the lane. Also, the wood jump faces were consistent from the beginning of the event until the end and never deteriorated like normal dirt jumps.
In Pro Nitro Buggy it was an amazing battle between Mugen's Cole Ogden and Tekno's Ryan Lutz. For the entire 30 minute race, the two aces would separate themselves from the field early on with Lutz chasing Ogden for the majority of the race. After a few mistakes by Ogden, Cole found himself the chaser and was slowly closing the gap back to Lutz late in the race making it a fantastic race for the win. Unfortunately for Ryan Lutz, he would flame out with just 3 laps to go. Cole crossed the line to take the win with Team Associated's Evan Vail 2nd, Lutz 3rd, Team Assocoated's Blake Pickett 4th and TLR's JR Mitch 5th.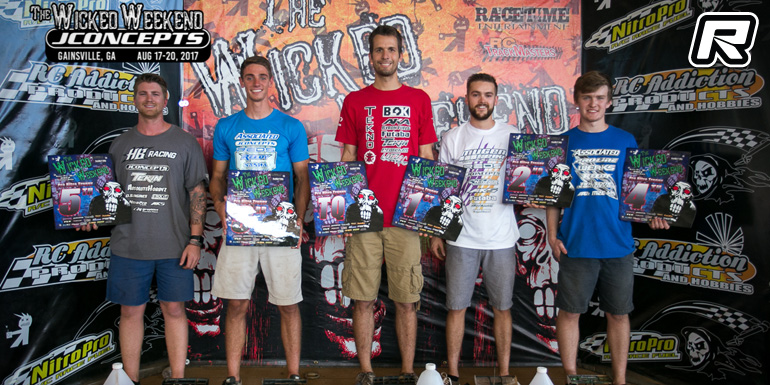 In the Pro Nitro Truggy class, Tekno's Ryan Lutz was on point from practice, to qualifying, and during the 30-minute A-main. With a strong performance by the Tekno ace, Lutz would take a convincing win with an almost flawless performance. Mugen's Cole Ogden displayed great speed and determination and was able to cross the line in 2nd. All smiles and stoked on his drive, Team Associated's Blake Pickett finished 3rd ahead of AE teammate Evan Vail. Finishing where he qualified, HB Racing's John Michael McGinty III took the final spot on the 5 man podium.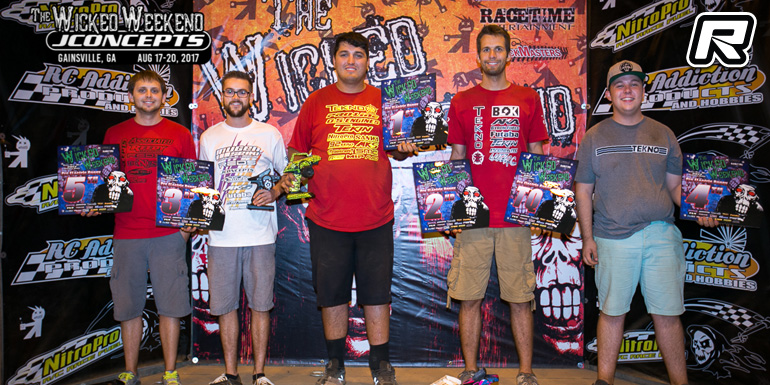 Tekno's Joe Bornhorst turned it up once the triple Pro E-Buggy A-Mains came around. Having been out qualified by his Tekno teammate, Joe took command at the sound of the tone by winning A1 and A2 and took the overall. Ryan Lutz was able to win A3 ahead of Mugen's Cole Ogden to place himself = 2nd with Cole in 3rd. Tekno's Tyler Hooks finished 4th with his new chassis sponsor Tekno and Team Associated's Shay Brand finished 5th to wrap up the top 5 podium spots.
Read the full report here.
Source: JConcepts [jconcepts.net]
---