September 26, 2017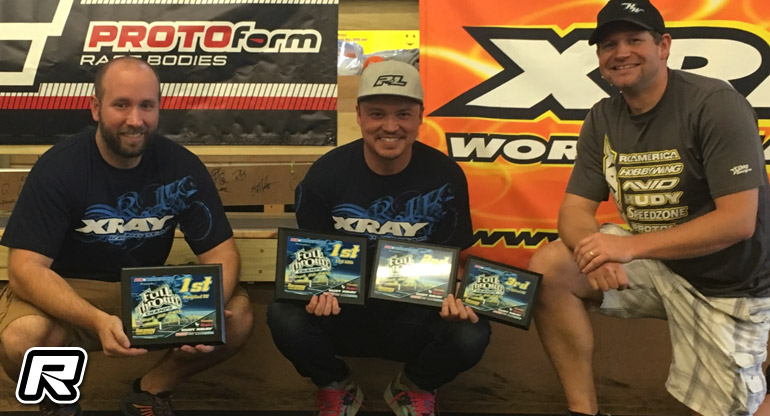 The 2017 Full Throttle Champs is in the books, the second annual race run at Banana Raceway, the premier carpet track in Texas. Team Xray showed up in full force armed with their new T4'18. The team led by Chris Adams and Johnee Fenimore was able to find a fast and easy to drive setup on the new cars, with the track was particularly difficult as it had a high speed switchback that really took a stable car to get through fast. In the premier Modified class, Chris was able to start off strong by setting TQ following 4 rounds of intense qualifying. The mains were exactly the same as Chris won the triple A's with Cristian Tabush and Johnee Fenimore rounding out the podium.
Modified
1. Chris Adams
2. Cristian Tabush
3. Johnee Fenimore
In 17.5 Johnee was able to put himself third on the grid after 4 rounds of qualifying against a bunch of National A main talents. By the end of the triple A's, he had improved his position to second and set the fastest full run of the mains in A3. Cristian Tabush took the win and Michael Toth completed the podium in 3rd.
17.5
1. Cristian Tabush
2. Johnee Fenimore
3. Michael Toth
The lone 12th scale class also had Johnee Fenimore putting in some driving clinics with his X12'18. After 4 rounds of qualifying, Johnee had TQ by a lap and was looking strong going into the mains. A1 started off strong but a mid race mistake would end Johnees attempt at a 2 and done. A2 and A3 would have Johnee pick up where qualifying ended with two tone to tone wins and the overall race.
12th scale
1. Johnee Fenimore
2. Konosuke
3. Doug Bryson
Source: Xray [teamxray.com]
---