September 4, 2017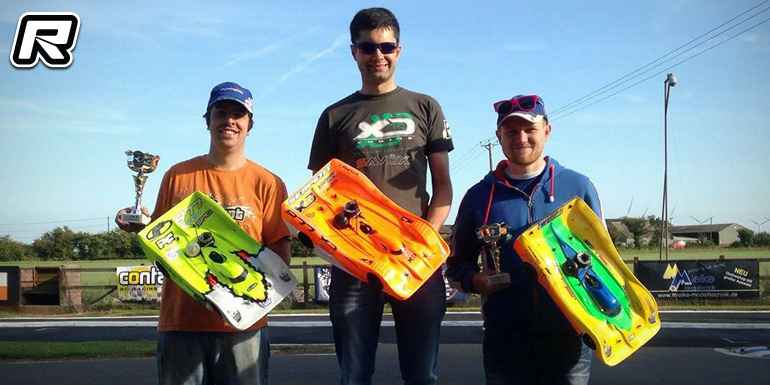 Round 7 of the BRCA 1/8th Circuit Championship headed south only a short distance from the channel tunnel crossing to France to the revitalised Brookland Circuit in Kent. The circuit having undergone upgrades to the surface and facilities with more changes planned for the future. The circuit being more ideal size for 1/8th cars and allowing them to be pushed to the max on the main sweeper and straight. The Nitro class was going to be another close encounter with a few big names away, Tim Wood took pole position narrowly from Neal King and David Spashett. Andy Mollett showed all his practice had paid off achieving 10th overall to qualify with his Mugen for his first A-final of the year. Chris Simons also made it in and Jack Garrett-Lines qualified an impressive 6th place.
With Alex Thurston absent at the 1/10th Euros there would be new winner in the electric class, Matthieu Dambrine had made the move across to this class for this meeting and was going to challenge the regulars for a podium. Ian Billet, Gavin Clinch and Jamie Paton fought it out at the top of timing sheets with Gavin taking the pole with his ARC chassis.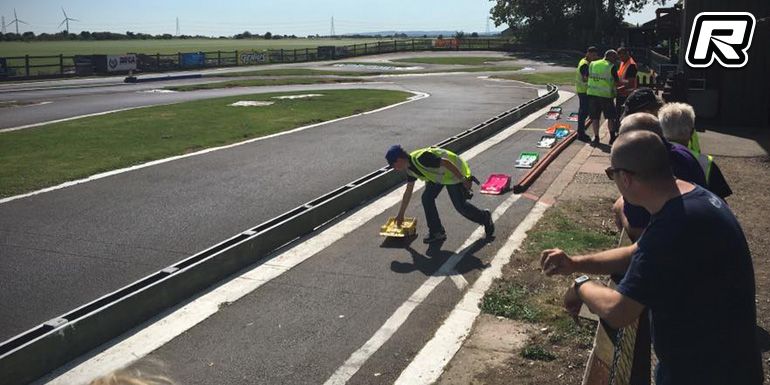 The half an hour nitro main final race was more a race of survival than performance with many drivers having issues. Neal King made a great start and took the lead with Wood just behind, the two had a good battle swapping positions many times until King had mechanical issues and had to retire. Richard Hicklin and David Spashett were also in contention for a podium but both were to retire after an incident and engine issues respectively. Round 6 winner Andy Hasting was struggling with car issues this time out and had to settle for 5th. This left John Carr to take 2nd place after staying out of trouble and Sam Snell came home 3rd from starting 8th on the grid.
Nitro final results:
1. Tim Wood – Serpent
2. John Carr – Serpent
3. Sam Snell – Mugen
4. Jack Garrett-Lines – Capricorn
5. Andrew Hastings – Shepherd
6. Chris Simons – Mugen
7. Andy Mollett – Mugen
8. Richard Hicklin – Serpent
9. Neal King – Shepherd
10.David Spashett – ARC
The electric guys had their usual two legs with Gavin in the lead of race one until he had a collision which damaged his bodyshell and meant he dropped back to third giving Ian Billet the win from Jamie Paton. Race two saw a close battle with Gavin, Ian, Jamie and with Paul Bellinger also close behind, Ian made a mistake dropping him back to 5th. Jamie, Paul and Matthieu were then battling behind Gavin until Matthieu ran out of power. Ian then made it past Jamie for second while Gavin hung onto the lead and took the overall win.
Electric final results:
1. Gavin Clinch – ARC
2. Ian Billett – Serpent
3. Jamie Paton – Serpent
4. David Gerard – Serpent
5. Matthieu Dambrine – ARC
6. Adrian Dew – Serpent
7. James Ellice – Serpent
8. Paul Bellinger – Serpent
9. Simon Parish – Shepherd
10.Geraint Williams – ARC
Thanks to Michael Walton for the report.
---