September 4, 2017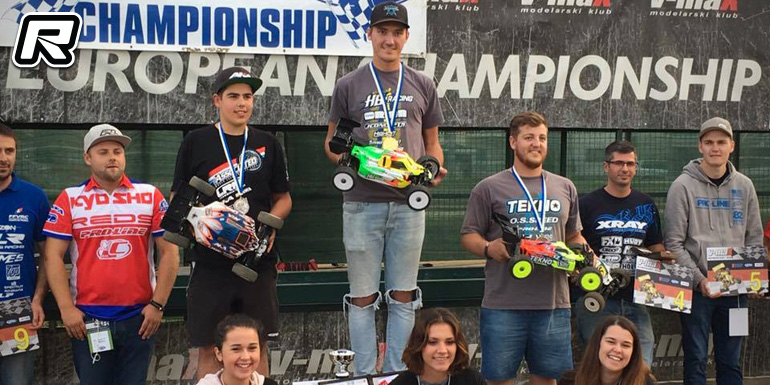 The 2017 EFRA 1/8th Electric Buggy European Championship was held this past weekend in Velika Gorcia, Croatia. Unseasonal heavy rain had put the final Open Championship of the EFRA season in considerable doubt, as Saturday's running had seen just one round of qualification run before the heavens opened, dropping biblical amounts of rain onto an already drenched surface in Velika Gorica. Luckily the rain stopped during the night and after some intensive track prep and several bags of sawdust the event was ready to go with a packed program of two qualifiers and then 3-legged finals for all.
With constantly changing conditions as the track dried qualifying was a voyage into mystery for the drivers but winning both rounds was reigning champion David Ronnefalk (HB Racing) just edging out Davide Ongaro's Team Associated. Marting Wollanka (Xray) lined up 3rd making the most of his round one win on Saturday when most had stayed in the pits due to the weather. Not enjoying qualifying as much were Elliot Boots (Kyosho) back in 9th and Robert Battle (Mugen) – who won the Nitro version of this championship a few weeks ago – in 16th.
New for this year was a last chance qualifier where the B-finalists ran with the winner progressing to grid 13 in the main finals – and here Robert Battle finally got a decent run and cruised to an easy win ahead of the Czech Republic's Martin Bayer (Xray). The championship was to be decided over three ten-minute A-mains with the best two to count. Leg one saw David Ronnefalk into the lead from the hooter, slowly establishing a comfortable lead over Davide Ongaro, with fellow Italian Alex Zanchettin (Tekno) coming up form 5th on the grid to claim 3rd. Leg two was even easier for Ronnefalk as the Swede cruised to another leg win and the retention of his title. This is David's 4th European championship adding to his 1/8th Nitro wins in 2014 and '15 and last year's victory in this event.
Leg three was, as always more frenetic with David not taking part having already claimed the title, Ongaro looked to have a clear path to 2nd overall, but Alex Zanchettin harried his fellow countryman for the most of the race before ironically making a mistake one corner before Ongaro cached himself and thus being unable to take advantage. Seizing the opportunity Bruno Coehlo (Xray) got right onto Ongaro's tail but the young Italians nerve held and he claimed the win and runner up spot for the event.
Final results:
1. David Ronnefalk – SWE
2. Davide Ongaro – ITA
3. Alex Zanchettin – ITA
4. Martin Wollanka – AUT
5. Jorn Neumann – DE
6. Juan Carlos Canas – ES
7. Bruno Coehlo – POR
8. Elliott Boots – GB
9. Jerome Sartel – FR
10.Robert Battle – ES
Source: EFRA [efra.ws]
---