September 25, 2017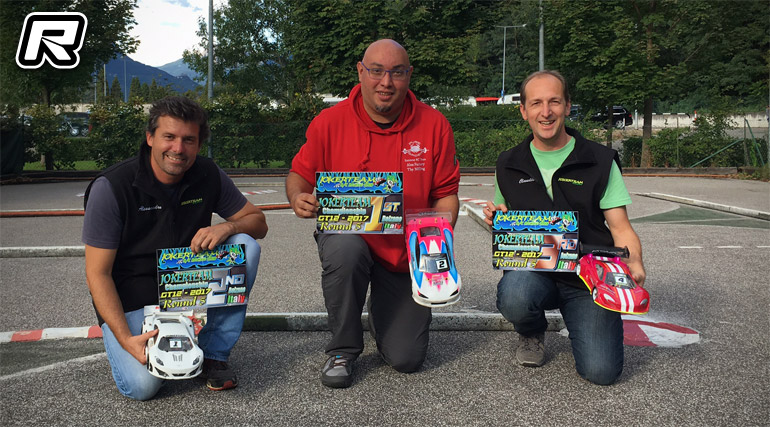 As the summer weather proved particularly uncooperative during the month of August and the first half of September, the rescheduled Round 5 of the 2017 Jokerteam GT12 Championship got finally underway in changeable weather conditions. With early morning showers hitting the track, the drivers who gathered in Bolzano were left waiting in the pits for quite a long time before being allowed from the Race direction to a short practice session. During the qualification rounds, grip conditions improved dramatically from Q1 to Q3 mixing the battle for TQ several times: at the end, Alessandro Giubbilei (Jokerteam) came out on top with a solid Q3 run, ahead of Johnny Orsolin (Jokerteam) and Lorenzo Crepaldi (Jokerteam).
The finals were held in perfect weather and track conditions allowing Johnny to express his driving skills at best and topping all three finals despite starting from P2 on the grid. Alessandro settled for 2nd and Claudio Giovanelli (Jokerteam) 3rd.
With six rounds of the Championship now in the bag, a thrilling finale is shaping up for the last two rounds and the chase for the 2017 crown.
Coming up next Round 7 on October, 8th.
Round 5 Results (top 3):
1. Johnny Orsolin (Jokerteam) – SupaStox GT
2. Alessandro Giubbilei (Jokerteam) – Atom CC
3. Claudio Giovanelli (Jokerteam) – Atom CC
Overall Standings after 6 rounds (top 5):
1. Johnny Orsolin (Jokerteam) – 890 points
2. Alessandro Giubbilei (Jokerteam) – 882 points
3. Mattia Dall'Oca (Team Schumacher) – 749 points
4. Lorenzo Crepaldi (Jokerteam) – 732 points
5. Fabrizio Dall'Oca (Team Schumacher) – 722 points
Source: Jokerteam [jokerteam.it]
---