September 20, 2017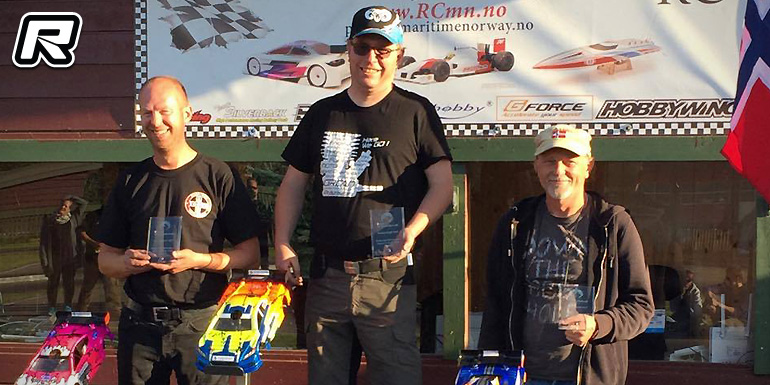 The Norwegian Nitro Series concluded recently concluded and it was Anders Mikkelsen with the overall win. The series kicked off in late May at the Oslo Modellbilklubb, the largest track of the season, making for some high speed driving. In the end, Anders Mikkelsen took the TQ and win in front of André Roine and Brede Isaksen.
The second round was held at the Lorenskog Modellbilklubb, a more technical track. The A-main was hampered by three very small rain showers that made the track very slippery, but all drivers made it thru the difficult conditions. After changing positions several times, Mikkelsen again got the TQ and win with his Shepherd, this time also in front of André Roine with Hans Nikolaisen climbing up onto 3rd spot on the podium.
The third round was held at the Valdres Modellbilklubb, a one of a kind track with 3.5 meters height difference that makes it an extreme challenge for the cars and engines. This was also the warm-up for the Nationals to be held later in the Summer. Anders Mikkelsen and Christian Hovden fought really hard for the TQ, with only 0,.001s split before Mikkelsen's last qualifier. Mikkelsen made it in the end, and got his third consecutive TQ at his home track. As always, there was lots of action during the A-main, but after 45 minutes, Mikkelsen got his third win in a row, followed by Hans Nikolaisen and Brede Isaksen.
Finally it was time for the Norwegian Championships, the only 2-day race for the season. One of Norway's best electric touring drivers, Nikolai Haaheim took the TQ with a 2nd hand car. Unfortunately, he suffered a servo failure and had to stop early in the A-main. The final was a hard race between Christian Hovden and Espen Myhre. Espen was in the lead until the last corner when he spun out and Christian could get the inside line to take the win by 0.5s. Coming out of retirement, Petter Solvberg really showed that he still has it and got the 3rd place.
The final round of the series was hosted by the Lorenskog Modellbilklubb. The second stop of the series at this track this season saw the lap times dropping significantly and the event was dominated by another driver returning to the class after some years of absence. Georg Ellingsen got both the TQ and win with nobody matching his speed this day. Completing the podium were Trygve Bull Freng and Christian Hovden but when the dust had settled and the points were counted it was Anders Mikkelsen (Shepherd) with the overall title win from André Roine (Xray) 2nd and Hans Nikolaisen (Xray) 3rd.
Source: Shepherd [team-shepherd.com]
---