September 12, 2017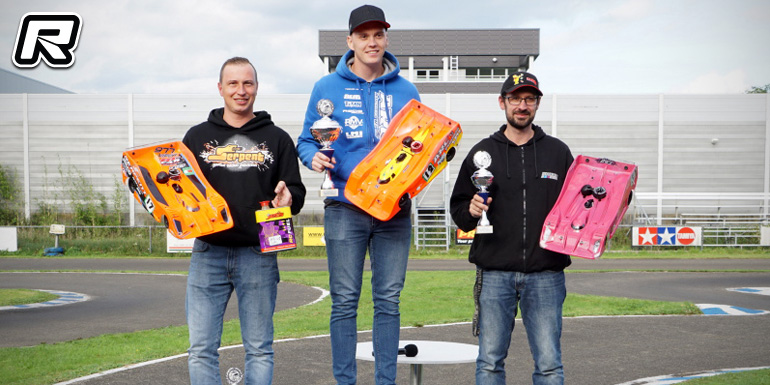 The 260-meter track of Velp in the Netherland with its fluent layout was the venue of round 5 of the Nitro-West-Masters last weekend. Velp is the traditional one-off race of the popular nitro on-road series outside Western Germany. A total of 50 participants joined the competition which was held for once between the German 1/8th and 1/10th scale nitro on-road nationals. On Saturday, it was pouring down most of the time limiting practice to only two dry slots. On Sunday, the start of qualifying was delayed for one hour to ensure a dry track for the competitors.
The 1/8 Open class saw an interesting fight in qualifying and the finals. Once again Tobias Hepp pushed his ARC to pole position to get a direct spot for the main race as did Gunther van Staey who was a quarter of a second slower than Hepp on his best three consecutive laps. Another three tenth down was Daniel Toennessen with Mugen fellow John Lenaers catching a surprising 4th place. The grid of the finale was completed by Uwe Baldes (Shepherd), winner of semifinal B in front of Christian Wurst (Mugen), as well as Ralf Vahrenkamp (Mugen), who won semifinal A ahead of Nick Cuypers with his brother Steven´s Mugen, Bert Poesen (Mugen) and Christoph Loose (Serpent).
Tobias Hepp was in control of the 30-minutes finale from tone to tone. With a one-lap advantage, the ARC ace took his third win in his fourth NWM race of the 2017 season. Behind Hepp, Gunther van Staey and Daniel Toennessen had a tough battle for second spot. Finally, van Staey came out on top just two seconds in front of Toennessen. Also, Christian Wurst completed 125 laps as van Staey and Toenessen but missed the podium by about four seconds.
1/8 Open final results:
1. Tobias Hepp – ARC – 126 laps
2. Gunther van Staey – Serpent – 125
3. Daniel Toennessen – Mugen – 125
4. Christian Wurst – Mugen – 125
5. John Lenaers – Mugen – 122
6. Ralf Vahrenkamp – Mugen – 118
7. Nick Cuypers – Mugen – 117
8. Uwe Baldes – Shepherd – 116
9. Bert Poesen – Mugen – 74
10.Christoph Loose – Serpent – 7
Reigning NWM champion Uwe Baldes defended his leading position with 569 points in front of Toennessen (562) and Vahrenkamp (561), and Hepp is the odds-on favourite for the NWM crown at the showdown in October.
The 1/8 Stock class with mandatory 5-port engines from Novarossi and Picco saw a new face on the top level of the podium. 25-years old André Boettcher snatched the pole position by only two tenth over Mugen fellow Waldemar Liedke with 16-years old David Kroeger (Shepherd) and Gunnar Blumendahl (Mugen) also joining the main race directly. Matthias Guenther pushed his Shepherd to victory in the semifinal B in front of Heinz Kroezemann (Mugen) and Markus Friedrich (Shepherd), 18-years old Bas Aalders (Serpent) came out successful in the semifinal A, ahead of 17-year old Pieter Beekman (Shepherd) and Jens Kopetzki (Serpent).
In the 30-minutes finale Ralf Boettcher was in the lead from lap one but dropped back to 4th after only nine laps. Waldemar Liedke took over the lead before David Kroeger passed him after 27 laps. But only ten laps later Kroeger ran into trouble when he was hit by a backmarker. He lost valuable time and dropped back to 7th before his catch-up race came to a sudden end because of a driving error. The misfortune of Kroeger brought Boettcher back to the front, and his strong performance finally was rewarded with his first-ever victory. Behind Liedke, Matthias Guenther, coming from fifth spot, completed the podium. With Kroeger taking only 8th place, he wasn't the best youth driver for the first time. This award was captured by Pieter Beekman who finished the final on a strong 4th position with a tight margin of only one second over Bas Aalders.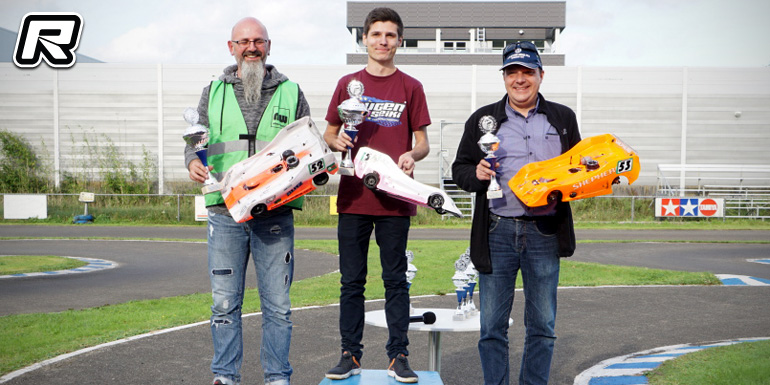 1/8 Stock finale results:
1. Andre Boettcher – Mugen – 120 laps
2. Waldemar Liedke – Mugen – 117
3. Matthias Guenther – Shepherd – 117
4. Pieter Beekman – Shepherd – 116
5. Bas Aalders – Serpent – 116
6. Gunnar Blumendahl – Mugen – 111
7. Jens Kopetzki – Serpent – 110
8. Heinz Kroezemann – Mugen – 106
9. David Kroeger – Shepherd – 83
10.Markus Friedrich – Shepherd – 35
As for the overall standings, David Kroeger (591) is leading with a huge advantage over Jens Kopetzki (564) and Ralf Wacker (561).
In the 1/10 Stock class Hermann-Josef Fuchs caught pole position and later on also the victory in both qualifying and main final in front of Shepherd fellow Florian Dueppe. After 30 minutes, Dueppe was more than two laps down on Fuchs but had a nearly one-lap advantage over Hans-Werner Dietz. The Xray driver completed the podium and let Philipp Wisniewski (Mugen) three laps behind on fourth position.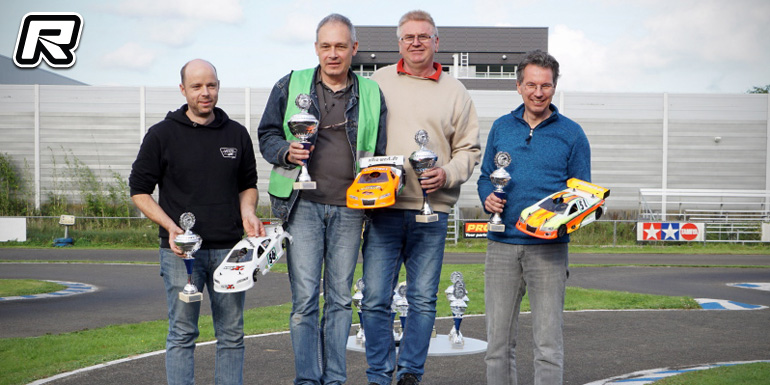 1/10 Stock final results:
1. Hermann-Josef Fuchs – Shepherd – 106 laps
2. Florian Dueppe – Shepherd – 104
3. Hans-Werner Dietz – Xray – 103
4. Philipp Wisniewski – Mugen – 100
5. Guido Burghartz – Shepherd – 97
6. Roland Karduck – Capricorn – 94
7. Matthias de Keyser – Shepherd – 93
8. Sven Lommersum – Capricorn – 91
9. Werner Vogel – Kyosho – 83
10.Marcel Beekman – Shepherd – 74
The battle for the championship will become nail-biting in Dormagen. Before the decisive encounter, Florian Dueppe (587) is in the lead followed by Herman-Josef Fuchs (579) and Guido Burghartz (577).
In the 1/10 Open class there was only one participant. KM racer Georg Goehlich joined the finale of the 1/10 Stock class but had to retire after eleven minutes because of a broken battery. Taking full points, Goehling (464) moved up to 3rd spot in the ranking behind the Shepherd duo of Melvin Diekmann (582) and Marco Nenner (472), the latter being the reigning champion.
After five of six races in the ninth NWM season, a total of 116 racers in the ranking so far already mean an all-time record. The final round of the Nitro-West-Masters will take place on 7th and 8th of October in Dormagen near Cologne.
Source: Nitro-West [nitro-west.de]
---