September 20, 2017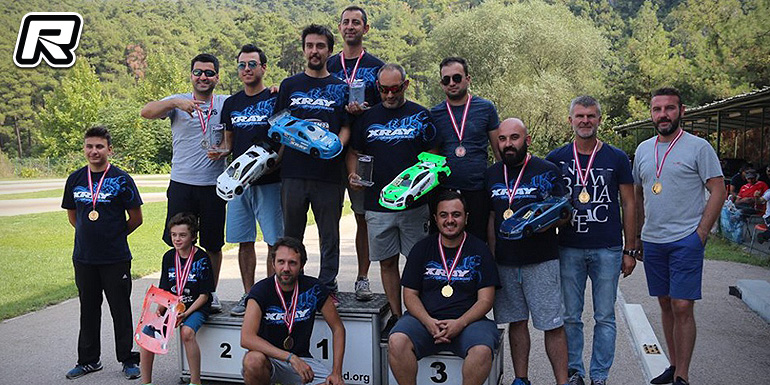 The fifth and final round of the TORC Turkish On-road Nationals was held at the Bumod Bursa track recently. In the Nitro Touring class it was Mustafa Alp with the TQ and the best chances for the overall title as Alain Sarafyan, another title contender, only qualified in 10th after engine issues. The 45-minute main final was held in rather hot ambient temperatures which led to less power from the engines and also lower traction. TQ Alp was hardly able to hold Halit and Kagan behind and he struggled a lot in the opening stages but once the tyres were getting smaller Mustafa was getting more comfortable with the car, slowly extending his lead.
Later Halit had a mistake and flame out which cost him more than two laps, and Kagan had a stop & go penalty due to bad refuelling, which also cost him some time. In the mean while Alain was pulling consistent lap times and moved up to 3rd place. Nearly everyone changed tires at about the 25-minute mark, and even though Alp had a flame out, he rejoined the race holding the lead. From there he would cruise to the win, taking the national title in the process. Kagan Aydın finished 2nd and Alain finished 3rd while Halit missed the podium by only 0.5 seconds after the 45 minutes of racing.
1/10th 200mm final results:
1. Mustafa Alp – Xray
2. Kağan Aydın – Xray
3. Alain Sarafyan – Xray
4. Halit Körpe – Xray
5. Serdar Sakallıoğlu – Xray
6. Sertaç Palaz – Mugen
7. Mert Ekinci – Xray
8. Utku Kızıldağ – Xray
9. Cengiz Sönmezler – Xray
10.Poyraz Serezlioğlu – Xray
In the Touring Stock class the opening A-main was a little tough for TQ holder Mustafa Alp as Murat Yazıcı was on fresher tires and immediately put pressure on Mustafa. In the second lap both had an incident but Murat suffered more, dropping back down the field, while Alp could able to hold on to the 2nd spot. After a lap, Mustafa passed then-leader Poyraz and continued to keep his lead. Later Poyraz and Murat made contact which allowed even more room for Mustafa who would bring home the win in A1 from a recovered Murat in 2nd. A2 went which a lot less drama as Alp took a tone-to-tone win that also secured him the overall championship title. Ahmet Kasap finished 2nd with Onur Karaçuhalılar coming in 3rd.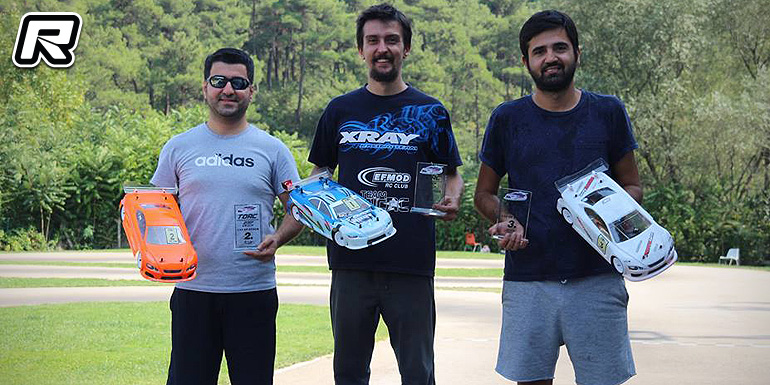 Touring Stock final results:
1. Mustafa Alp – Xray
2. Murat Yazıcı – Xray
3. Onur Karacuhalılar – Xray
4. Poyraz Serezlioğlu – Xray
5. Emirhan Savaş – Xray
6. Murat Çağış – Xray
7. Yasin Yenidünya – Xray
8. Sertaç Yalım – Xray
9. Berk Öğretmen – Xray
10.Sefer Kürşad Alalma – Xray
Elsewhere in the Touring Modified class it was Kayhan Ketenci with the win from Cem Nizamoğulları and Gökay Nizamoğulları.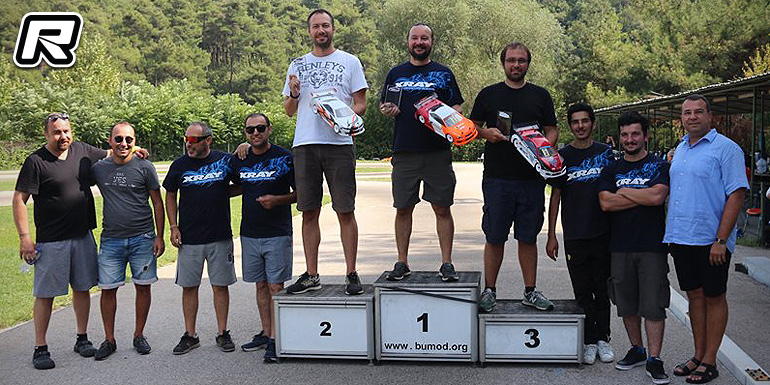 Touring Modified final results:
1. Kayhan Ketenci – Xray
2. Cem Nizamoğulları – Xray
3. Gökay Aktan – 3Racing
4. Sertaç Yalım – Xray
5. Anıl Gonca – Xray
6. Hamza Güngör – Xray
7. Erhan Yılmaz – Yokomo
8. Hakan Taşyaka – Xray
9. Sercen Ahmet Koksu – Xray
10.Alain Sarafyan – Xray
Source: Xray [teamxray.com]
---