September 4, 2017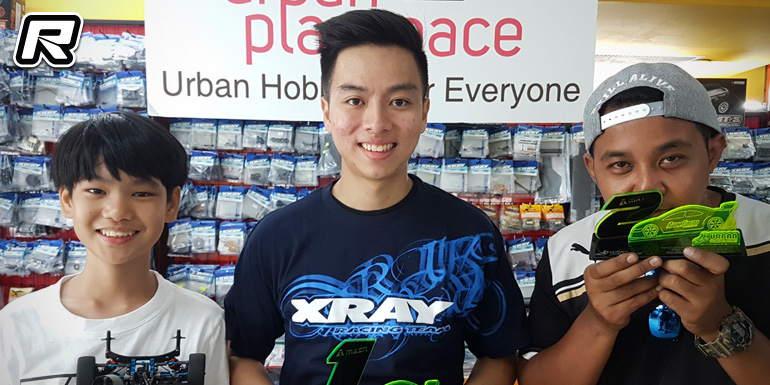 The penultimate round of Singapore's Urban Touring Series was held this past weekend at Singapore's Urban Onroad Raceway. The event saw the return of Daryl Thong (Xray), a past TITC A-main podium finisher, who had been missing from racing action for some time due to his on-going National Service commitments. Daryl missed the early action and could only complete one of the four rounds of qualifying, meaning he would start last in the finals. Hasron Robana (Xray) topped the first three rounds of qualifying to take the overall TQ honours for the day. 13-year old Sean Lee (Tamiya) gave everyone notice when he pushed Hasron hard in Q1 and Q2, and was in fact on pace for TQ in both rounds when he encountered unfortunate back-marker incidents. With Hasron sitting out Q4, Sean gained some comfort with a TQ run in the round to qualify overall 2nd. Qualifying 3rd was Chee Lip Keong (Yokomo).
In the finals, Daryl made short work of his B-main competitors in the bump-up final. Despite starting 6th on the grid, Daryl swept to victory to gain an A-main spot together with 2nd place finisher, Sebastian Lee (Tamiya). The stage was set for a battle-royale in the A-mains. In leg 1, Hasron and Sean started well to hold their grid positions, but it was Daryl who charged up from a P7 start to be in 3rd place by the end of lap 2. Daryl then proceeded to chase down young Sean. With the heated battle for 2nd, Hasron pulled a gap on the rest. Attention was focused on the fight between Daryl and Sean, with Daryl stealing 2nd with an exquisite inside line pass in the infield hairpin turn. Daryl's next focus was on the pink-machine of Hasron. Defending hard, Hasron was able to fend off Daryl for a couple of laps before a mistake at the line allowed Daryl past for the lead. Daryl would keep the lead and take the win, with Hasron in 2nd and Sean 3rd.
In leg 2, it another clean start up front. However, Daryl's charge would be temporarily derailed by a body tuck incident which left him at the tail end of the field. Despite his best efforts, Daryl could not seal the overall win and had to settle for 3rd. Hasron took the win, with Sean 2nd after he suffered another unfortunate racing incident left him unable to challenge Hasron in the race's closing stages. The battle would go on to A3 with three drivers still in the running for the overall win.
In leg 3, Hasron and Sean once again started well, holding on to their positions, while the mid-field action was somewhat messy. Daryl benefitted and was able to move up to 3rd by lap four, after which his chase for the lead was in full swing. The spectators were next to witness one a great racing display with young Sean determined to hold off Daryl. The two traded positions for a couple of laps, with experience eventually winning out as Daryl moved past into 2nd. With the leader pulling away during the battle for 2nd, it looked like it might be too little, too late for Daryl as Hasron had a lead of some two seconds. Daryl put his head down and put in consecutive sub-12s laps to chip away at the lead. With 90 seconds to go, Daryl has closed to within striking distance. The last 60 seconds saw a fantastic fight between the two experienced drivers, with plenty of respect between them. With 30 seconds on the clock, Daryl would hit the dots and his challenge looked to be over. Not giving up, Daryl re-focused and managed to pull off a pass on the last lap with a fantastic inside line move at the sweeper and into the right-hand chicane. Credit also to Hasron for defending cleanly but yielding when Daryl had the better position. Joe Hwee (Schumacher) would finish 3rd for the leg. With that, Daryl would pull off the overall win in what was surely one of local racing's best action for some time. Standing dead last after qualifying, Daryl finally returned to the top step of the podium.
Final results:
1. Daryl Thong – Xray
2. Hasron Robana – Xray
3. Sean Lee – Tamiya
4. Joe Hwee – Schumacher
5. Chee Lip Keong – Yokomo
6. Sebastian Lee – Tamiya
7. Terence Ang – HB Racing
8. Smith Kek – Xray
Source: Urban Play Space
---