October 7, 2017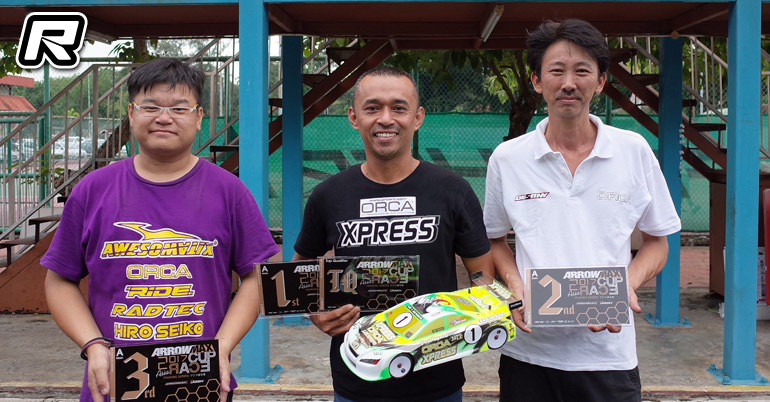 After the success of the opening round of the Arrowmax Asia Race Cup in Malaysia, round 2 would be even better. With 8 heats in total, the race was threatened by rain all day long, however the schedule was followed to a tee as the organisers wanted to finish as much racing as possible just in case the heavens did open up. After four rounds of qualifying it was Azri Amri who secured the TQ position in the Boosted 13.5T class, while in the Dash Pro-Stock Class it was round 1 TQ and winner Dino Sidhu who again grabbed the TQ honor. In the Dash 21.5T Formula Class, it was Eric Ang who would prevail and go on and start the final in pole position.
After four rounds of qualifying, the standings are as follows.
Boosted 13.5T:
1. Azri Amri
2. Jackie Siow
3. Norazam
Dash Pro-Stock 13.5T Blinky:
1. Dino Sidhu
2. Khun Shukur
3. Shikri
Dash 21.5T Formula Class:
1. Eric Ang
2. Wafie
3. Wak Ros
In the Finals for the Boosted Class, it was Azri Amri that held his form to lead Final 1 and Final 2. Behind him was a little more exciting and complicated as it was a battle between Jackie Siow, Wong Kokwai, Michael Lo and Norazam as four of them would be duelling it out in all the finals. In the end it was Jackie Siow who maintained 2nd from his qualifying position and Wong Kok Wai driving superbly to finish 3rd.
Boosted 13.5T Class A-Main:
1. Azri Amri (TQ)
2. Jackie Siow
3. Wong Kok Wai
4. Michael Lo
5. Norazam
6. Michael Lim
7. Dr. Bill
8. Ong San
9. Roslan KR
10.Dixon Chen
For the Dash Pro-Stock class, it was not smooth sailing for Dino as he had some initial problem in the first two finals to only finish once in 3rd, one DNF and on the last final Dino had a great drive to finish 1st, in the end securing a 3rd place finish. While Khun Shukur drove superbly to make it a 1st place finish in two of the first two finals, Shukri made a great drive in all three finals to finish 2nd overall.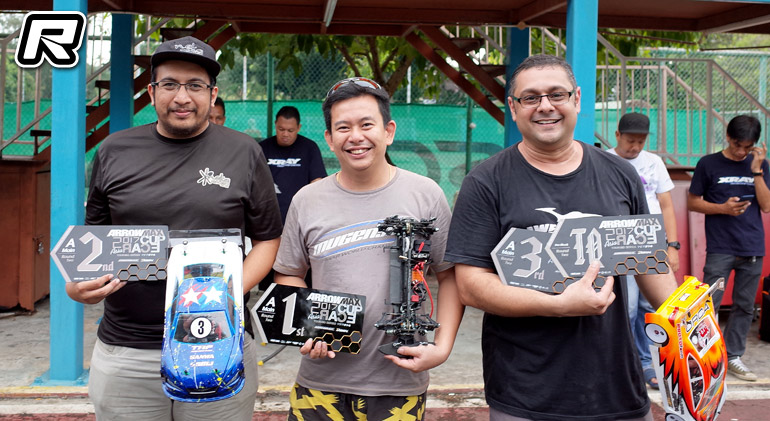 Dash Pro-Stock 13.5T Class A-main:
1. Khun Shukur
2. Shukri
3. Dino (TQ)
4. Zairi
5. Abg Zahari
6. Toby Lee
7. Foong WK
8. Azli KR
9. Darren Tan
10.Muza
In the Dash Formula class, it was a hard race again for the TQ holder. Eric was always having to defend and in the end lost out to Wafie while Wak Ros was able to maintain his qualifying form to make it a podium finish.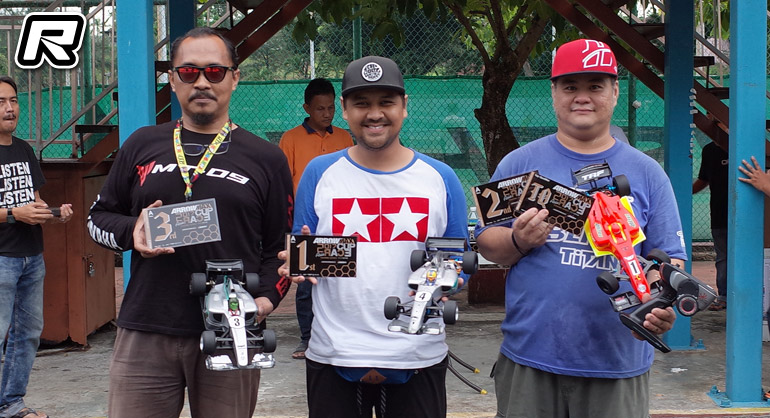 Formula 1 Class A main:
1. Wafee
2. Eric (TQ)
3. Wak Ros
4. Sham Arop
5. Zairi
6. Nazmi Nizal
7. Shukri
8. Azam Nordin
9. Zairul
10.Sham Sakura
Source: Arrowmax [arrowmax-rc.com]
---