October 16, 2017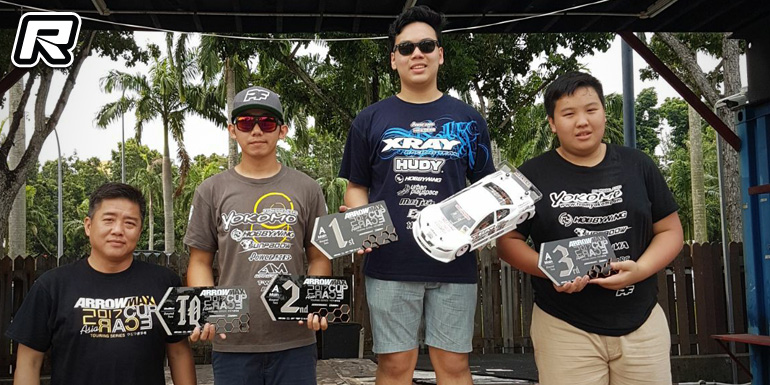 The second round of the Arrowmax Cup Singapore Series was held this past weekend. In the Modified class, which concurrently served as the second round of the Singapore National Series, Dominic Quek (Xray) battled it out with Nicholas Lee (Yokomo). Taking TQ after the four rounds of qualifying, Nicholas had the edge going into the triple finals. A1 went Nicholas' way with a strong run despite early pressure from Dominic.
In A2, quick reaction at the start saw Dominic steal an early lead. Nicholas came back strong and the pair tangled a couple of times, allowing Eugene Goh through into the lead. Dominic however took an exciting win with a great overtaking move on the last lap. In A3, an early move on pole sitter, Nicholas, saw Dominic takeover the lead after half a lap. Dominic held on to the lead throughout the remaining minutes to take a fantastic overall win. Nicholas Lee came in 2nd from Eugene Goh (Yokomo) 3rd.
In the Touring Car Pro-Stock 13.5T Blinky class, Daryl Thong (Xray) took the TQ despite the lack of pre-race practice due to his National Service commitments. Starting on pole, Daryl took the win in A1 and was looking good for the overall win. In A2 however, an incident at the start resulted in a DNF for Daryl, which gave Ng Wei Jian (Yokomo) the win. This set the stage for an A3 showdown. Daryl's racing pedigree showed as he put on a measured drive to win A3 by a margin of more than two seconds, and with that the overall win for the day.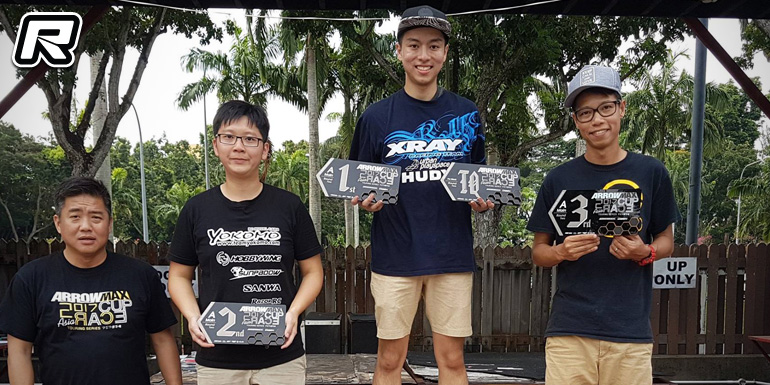 Touring Car Pro-Stock final results:
1. Daryl Thong
2. Ng Wei Jian
3. Daryl Yeo
4. Ng Wei Quan
5. Kamen Koh
6. Danny Lim
7. Joe Hwee
8. Hasron Robana
9. HJ Quek
10.Adrian Quek
In the Formula class Joe Hwee came out on top in Q1, while Patrick came back with wins in Q2 and Q3. The highly anticipated battle in Q4 however failed to materialize as both Patrick and Joe registered DNFs due to tyre issues, leaving Andy Tan to take the win for the round. That however meant that Patrick took the overall TQ. In A1, Patrick put in a strong run to fend off Joe to win by some 1.9s. In A2, Joe stormed back to win by a big margin. In A3, Patrick started strong, but Joe spun out when the tone sounded dropping him to mid-pack. While Joe battled hard to come back, he was unable to overtake 2nd placed Roy Chong, leaving Patrick to take the overall win.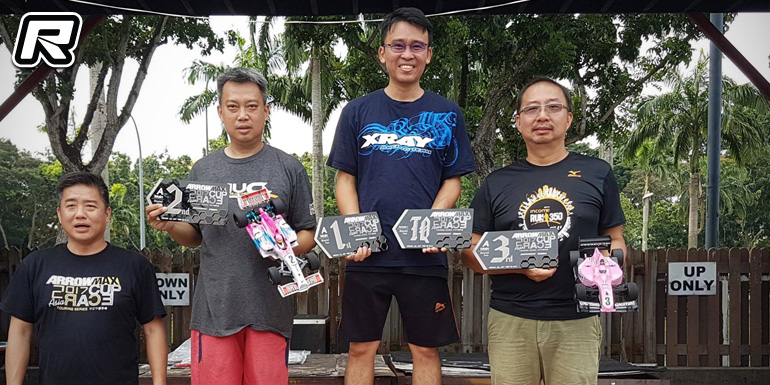 Formula overall results:
1. Patrick Ong
2. Joe Hwee
3. Roy Chong
4. Michael Siow
5. Charles Lim
6. Tony Neo
7. Noordin
8. Andy Tan
9. Don Chng
10.Lee
11.Victor Lim
Source: Xray [teamxray.com]
---