October 16, 2017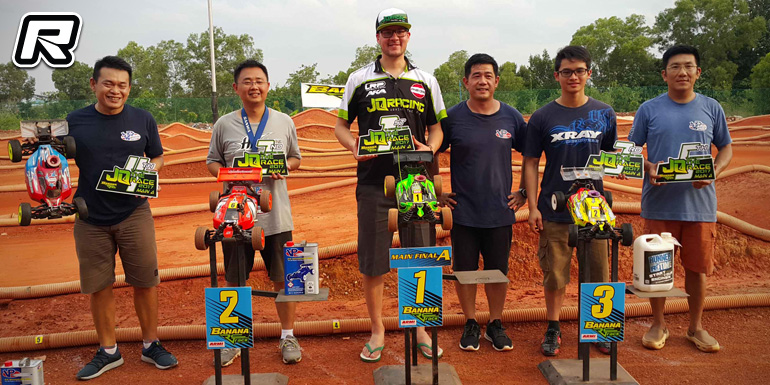 The Banana RC Track of Batam, Riau Islands played host to the JQ The Race event his past weekend. A total of 24 drivers from Finland, Singapore, Jakarta, Bandung, Kendari, Medan as well local drivers attended the race that was held in mixed weather conditions. The weather was nice and hot in the morning but unfortunately after two qualifying rounds, a rain storm stopped the qualifying. Due to the heavy rain, that stayed for about three hours, the race director decided to take the best qualifier to determine the starting grid. JQRacing's Joseph Quagraine took the TQ honours and he also came out on top after the 45-minute main final, taking the win from Stanley Wangsanegara 2nd and Jason Nugroho 3rd.
Final results:
1. Joseph Quagraine – JQRacing/Reds Racing
2. Stanley Wangsanegara – HB Racing/O.S.
3. Jason Nugroho – Xray/Novarossi
4. Asang Ho – Mugen/Reds Racing
5. Edianto – Kyosho/Reds Racing
6. Seng An – HB Racing/Novarossi
7. Ronnie – JQRacing/O.S.
8. Faisal Ali – JQRacing/Reds Racing
9. Menk Chua – Mugen/Reds Racing
10.Esmail – Xray/Reds Racing
11.Patrix – JQRacing/Alpha
12.Fadzil – JQRacing/Reds Racing
Thanks to Michael Nugroho for the report.
---