October 3, 2017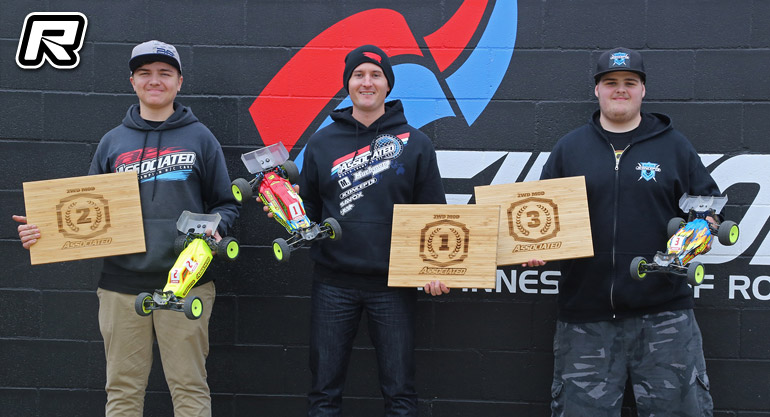 Ryan Cavalieri has taken out both the 2wd and 4wd open classes at the inaugural Team Associated championships in Glen Innes against a host of Australia's top races. The 4 time world champion headlined a 95 strong entry list who travelled to the event situated in regional NSW Australia. Where the club had prepared a fast and challenging layout for their first major event.
Mother nature made life difficult for racers with hot and dry conditions in practise, cold and then rain in qualifying, then a damp but grooved track for finals day keeping racers on their toes with car and tyre setups. In addition to 2wd and 4wd mod, classes were offered juniors, 2wd and 4wd 17.5 stock and 2wd SCT.
Racers travelled from New Zealand and all over Australia including 4x previous national champions and a full field of junior racers also attended, keen to meet and watch Ryan Cavalieri race during his first visit to Australia. Ryan also offered up a painted and signed B6 buggy body for one lucky winner of a raffle prize for all racers.
2wd Mod
Ryan Cavalieri was the class of the field as expected. Winning all 3 qualifiers to TQ.Then in A1 and A2 he was pushed hard by future star Alex Bernadzik, with Chris Sturdy, Mitchell Steer, Ray Munday and Andrew Selvaggi in hot pursuit. Alex took out A3 to seal 2nd place and Chris Sturdy rounded out the top 3.
4wd Mod
Cavalieri again TQ'd winning all 3 qualifiers, with Chris Sturdy pushing him hard. In the finals Ryan took out A1 with Chris getting to the lead in A2 but not quite holding him off, allowing Ryan to take the win and overall. Chris finished 2nd and Mitchell Steer and Ray Munday went to tie break in equal 3rd and Steer gaining the podium via tiebreak and Alex Bernadzik 5th overall. Special mention to 11 year old Lachlan Munday making both A mains and finishing 6th overall in both classes in a highly stacked field.
Junior
The junior under 16 class had a full field but Jackson Beale was all class taking the TQ and overall win in style. Troy Milton was fast and consistent to finish 2nd and Chole Beale rounded out the podium in 3rd.
2wd Stock
The stock class saw a field of 12 take the track with some great close and clean racing. In the end Nic Jolly took the overall win with Jackson Beale taking 2nd and Alan Stons in 3rd.
4wd Stock
There was some great racing in the stock 4wd class that all also saw 20 entries for the event. Mathew Parsey ended up on the top step in first place with Nic Jolly in second and Peter Eggleton in 3rd.
SCT 2wd
A solid class and great racing in all 3 mains but Mathew Parsey showed his class again to take the win with Jason Ryan finishing 2nd and Peter Eggleton rounding out the top 3.
With a big thank you to the Glen Innes committee and members, The Team Associated Australian championships were a success and the club would like to thank all racers who flew and travelled from New Zealand and Australia to attend the event and especially to Ryan Cavalieri for attending travelling out from the USA and being a great ambassador for the sport on and off the track.
The club would also like to make a special mention of the sponsors, Team Associated, ACE hobby distributors, Photo Create & Gavin Pledger studios along with the Glen Innes council. A special mention also to Ray Munday and Mitchell Pratt for their behind the scenes assistance in planning the event and sharing their wisdom and knowledge the ensure the event was a great success and ran smooth.
Event images can be found here.
Thanks to Brendon Watson for the report.
---