October 24, 2017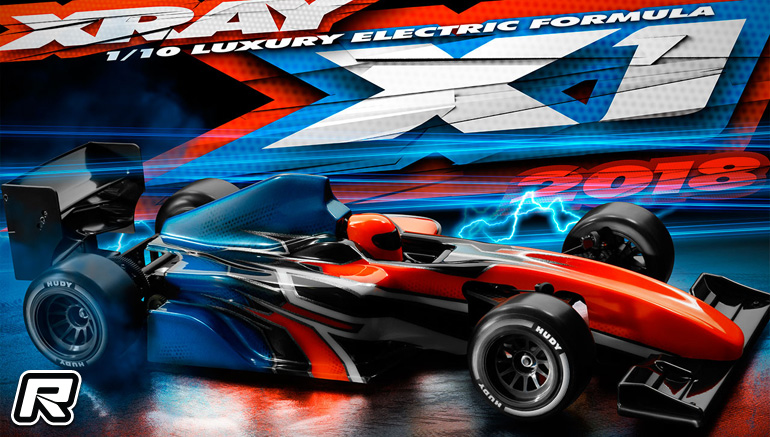 Xray have introduced the 2018 variant of their EFRA European Championship and ETS winning X1 formula car kit. The vehicle is based on the 2017 variant and features some subtle updates compared to the previous car. First up and most visible is an all-new chassis design with the '18 main plate being 24mm narrower compared to the '17 car  in order to eliminate chassis scrub in high speed corners and when running on high-bite surfaces.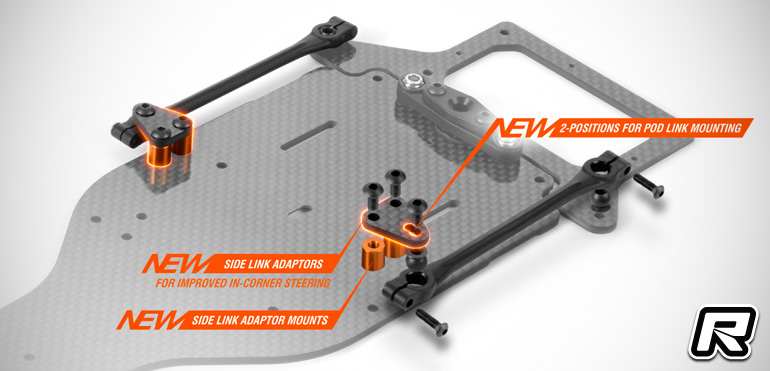 Utilising a way slimmer chassis was made possible by using redesigned side-link mounts that are cut from carbon fibre and that rest on two aluminium bushings, doing away with the need to mount them directly onto the chassis and giving additional clearance under chassis roll.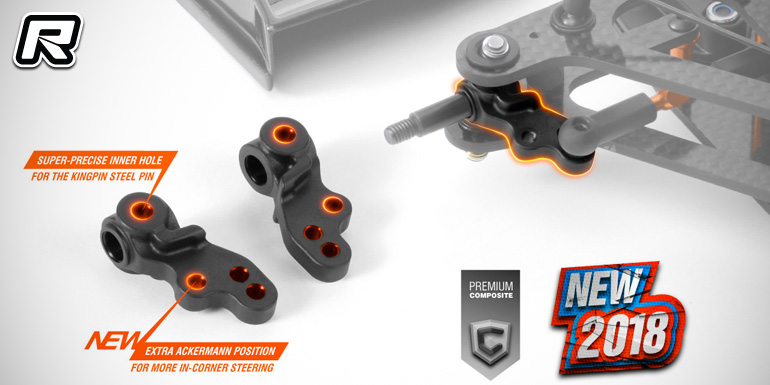 New for 2018 are also updated steering spindles with an additional steering link mounting position for a near 100 percent Ackermann curve. The optimised steering geometry will make for more mid-corner steering while the standard positions are still accessible for fine-tuning purposes.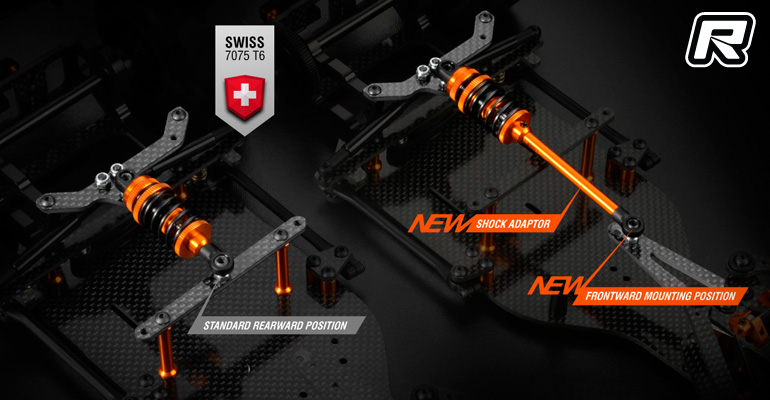 Next up is an updated centre shock adapter that allows to run short or long damper configurations. The new forward position, that attaches to the servo mount, will ensure a more planted ride over bumps and more on-power traction while the standard position makes for better steering response on high traction tracks.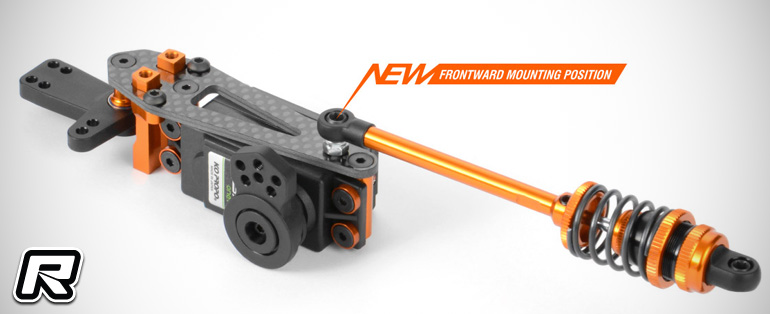 As for the servo mount, the 2018 kit includes an updated carbon top plate to accommodate the new, longer shock setup.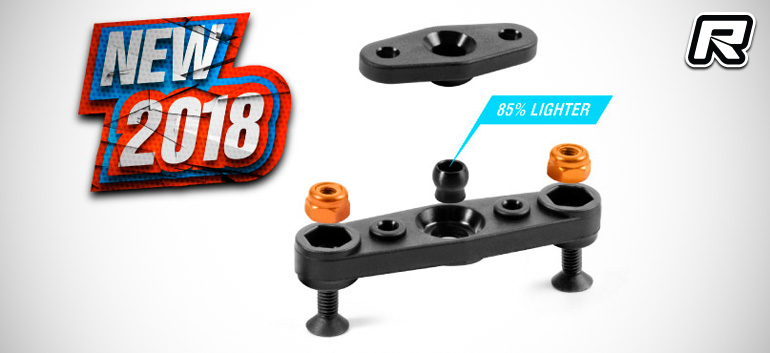 Also new is the tweak-free lower pivot brace that was redesigned for quicker and easier mounting of the pod plate. The new grooved design is easy to adjust while the ultra-small and lightweight pivot ball allows for greater movement of the lower pod plate.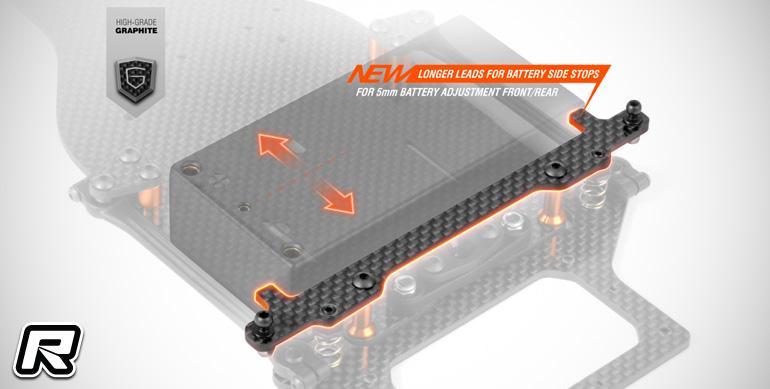 Another new part in the mid section of the chassis is the updated rear link brace with longer keys to more securely hold the battery pack and to ensure the battery can be moved forth and back by 5mm. In addition a side shock can be used over the conventional tube dampers.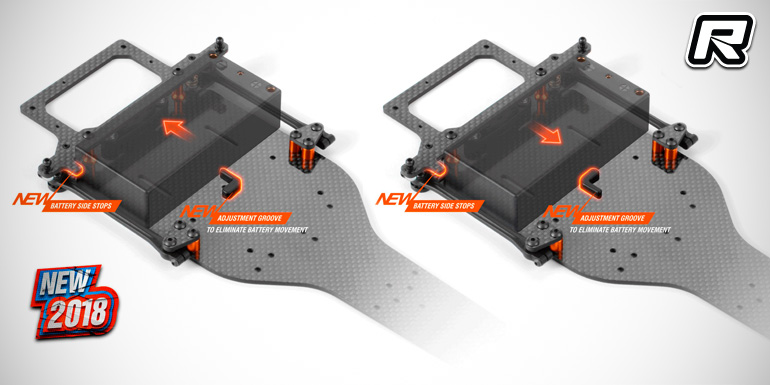 Along with the link brace comes an updated, chassis-located mounting position for a composite battery back stop that allows for safely locate the LiPo pack in a front or rear cross position. The kit is rounded out by a 2-piece front wing, a composite rear wing and a low-profile body shell.
2018 features:
– All-new super-narrow chassis design is 24mm narrower to eliminate chassis contact with the track while rolling
– All-new redesigned side link adaptors – machined from graphite – are mounted to aluminium stands to work with new super-narrow chassis
– All-new steering blocks with new extra Ackermann position for more in-corner steering and nearly 100% Ackermann curve
– All-new shock adaptor for quick & easy shock position changes; new frontward position for improved drivability over bumps and improved on-power traction
– All-new graphite servo holder allows mounting of new shock adaptor
– All-new tweak-free pivot brace for quicker & easier pod plate mounting
– All-new rear link brace with longer leads for battery side stop allows 5mm adjustment of battery position
– All-new battery backstop mounting allows battery position adjustment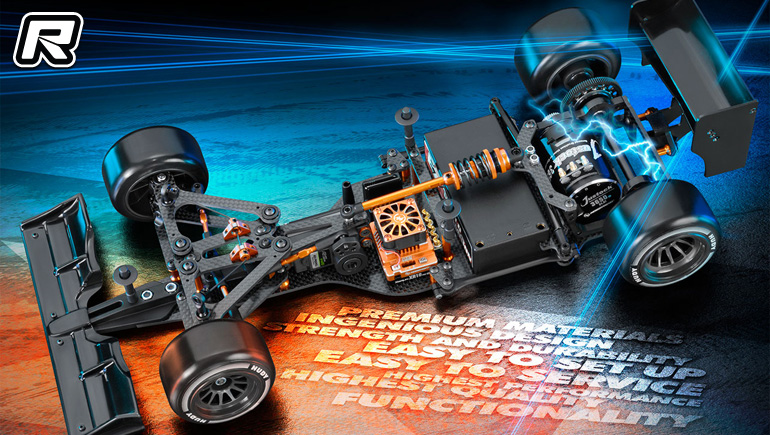 The full presentation can be found here.
Source: Xray [teamxray.com]
---