November 1, 2017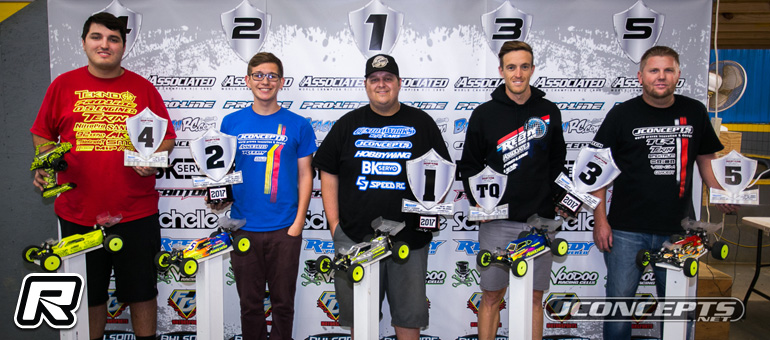 Only in its 3rd year, The Masters of Dirt hosted by Beach RC Hobbies and Raceway in Myrtle Beach, South Carolina, has quickly evolved into one of the best races on the east coast. With its grippy clay/dirt mixed surface, Beach RC has slowly become a racer's favorite due to the entertaining high grip surface and unique square shape layout making for fun and interesting racing. Attracting nearly 300 entries this year, the 2017 MoD has grown each and every year as this year drew in some of the industry's best talents to battle in three different Modified classes in order to crown one overall multi-class champion. The combined classes include the 2WD Modified class, 4WD Modified, and one of the Mod Truck classes like Mod Stadium or Mod Short Course. Each racer that entered the three classes could qualify for the MoD title, but only one would emerge MoD Champion with the best score in all three classes.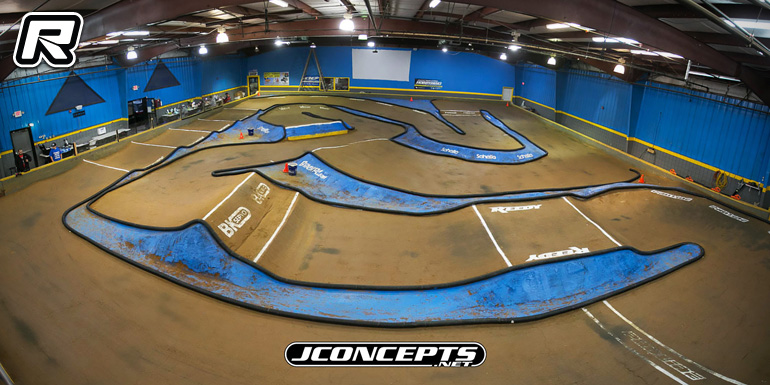 This year's layout was extremely challenging making each lap remarkably rewarding. The step-up jump was no joke and took precision to master and clear every lap. Meanwhile, the 5-pack jump section had two faces. One face was kind and simple while the other face was punishing, brutal, and chaotic. Mess up the timing in this section and you're in for a wild ride. Making things even trickier, try dodging a corner marshall while being committed for a triple-double. The 5-pack along with the step up kept every racer humble and on their toes. The track flowed tremendously well and the crossover even played nicely into the mix.
The format was controlled practice on Friday, three rounds of qualifying on Saturday, and 10-minute single A-Mains and lower mains ran on Sunday utilizing the bump-up system.
In 2WD Pro Modified, qualifying himself 2nd behind class TQ, Team Associated's Dustin Evans, was the key for Yokomo's Max Flurer in the 10-minute A-final. With Dustin leading the way after the start tone, Max was able to pace himself with Dustin until they came upon lapped traffic. As Dustin was jumping through the 5-pack section, he would collide with a car needing to get corner marshaled. This gave Max the lead and from there, the race was history. With his buggy dialed and able to run the pace, Max just controlled the gap as Team Associated's Daimon Borkowicz positioned himself 2nd and only 1.3 seconds back of Flurer. Dustin was able to recover and get himself to 3rd. Joe Bornhorst would make another appearance at a 10th scale race and was able to finish 4th with his own, personal TLR 22 4.0. TLR's JR Mitch would take the last spot on the 5-man podium in 5th.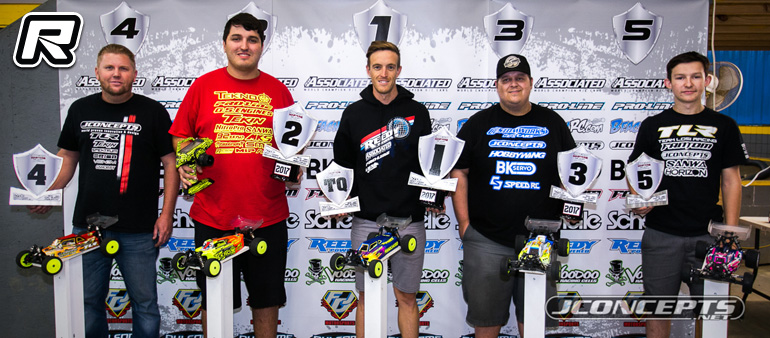 It was a terrific race between 4WD Modified front-runners, AE's Dustin Evans and Tekno RC's Joe Bornhorst, as the two 4WD aces put on a great show for the spectators. Building a big lead early in the race, Dustin Evans looked to have it on lockdown, but Bornhorst would get in a great rhythm and clicked off hot lap after hot lap diminishing Evan's lead. With two mistakes in a row and only two minutes left, Bornhorst would take control with Evans playing chaser. After six laps with Bornhorst leading the way and looking to take his first 1/10th scale victory, Bornhorst would short the triple-double 5-pack and Evans would re-take the lead and the win. Bornhorst finished 2nd and Max Flurer 3rd on the podium.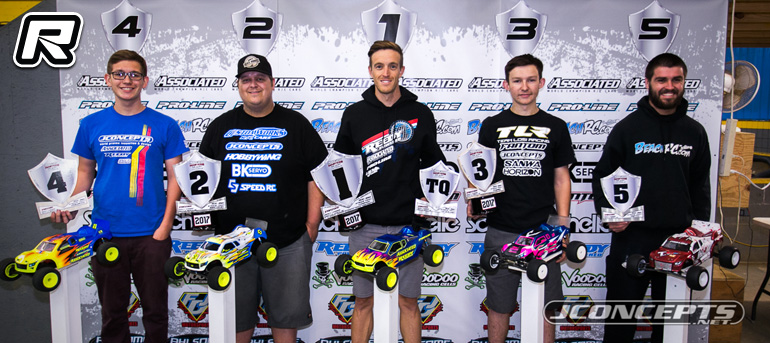 Dustin Evans had Modified truck wrapped up early in the race as he was able to gap the field and control the pace. The battle was then for 2nd place with Max Flurer showing that he was runner-up and Tyler Jones 3rd, Daimon Borkowicz 4th, and Christian Pahud 5th.
With this win, Dustin was crowned the 2017 Master of Dirt with two wins and a 3rd in 2WD Modified.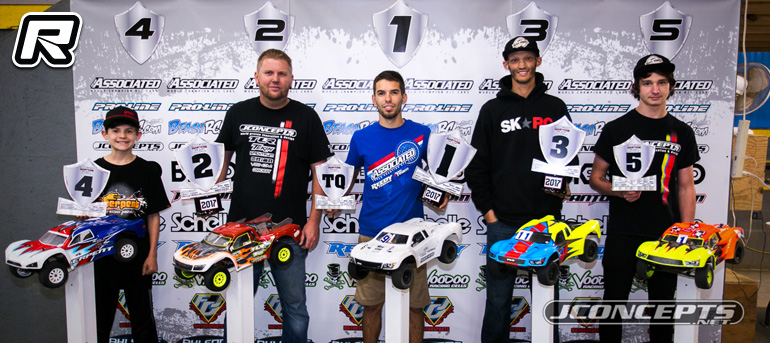 It was an exciting race in the Modified Short Course class between class TQ, Matt Cline and JR Mitch. With both drivers trading laps with nearly identical times, the two would also make mistakes within the same corner gaining and giving time back to each other. In the end, it was Matt Cline going on to take the win with JR Mitch 2nd, Jacob Page 3rd, Peter Galyean 4th and Jake Shugarman 5th.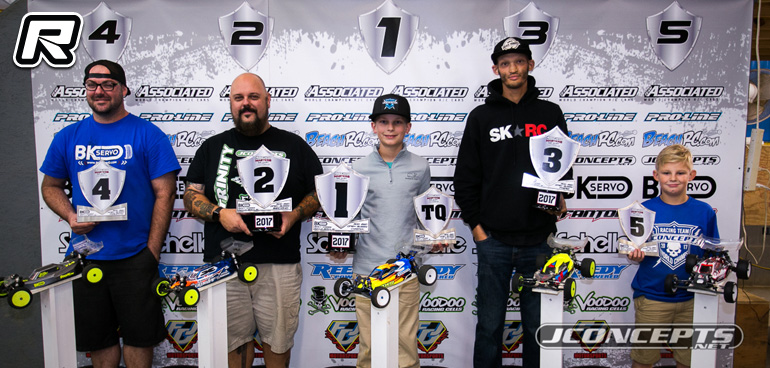 It was a great race for Bentley Cribbs in the 2WD Open Modified class taking the win by a fairly large margin. Cribbs would also set the TQ in the class with Aaron Sikes 2nd, Jacob Page 3rd, James Vanhook 4th and Jackson Terrell 5th.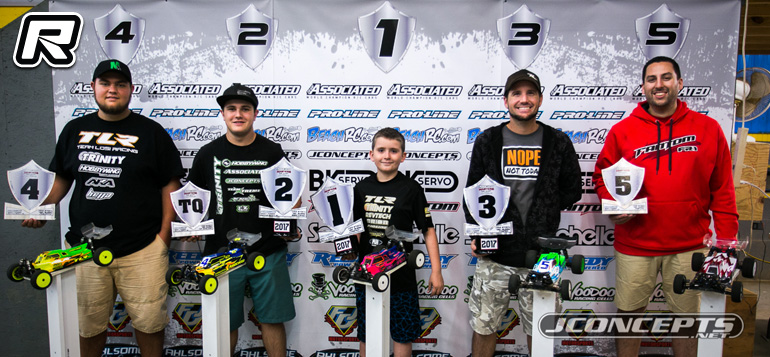 Tater Sontag didn't hold back in the 13.5 4WD class showcasing his speed to qualify 2nd and go on to take the win. AJ Marasco would finish 2nd, Patrick Rossiter Jr. 3rd, Ean Reilley 4th and Jacob Reth 5th.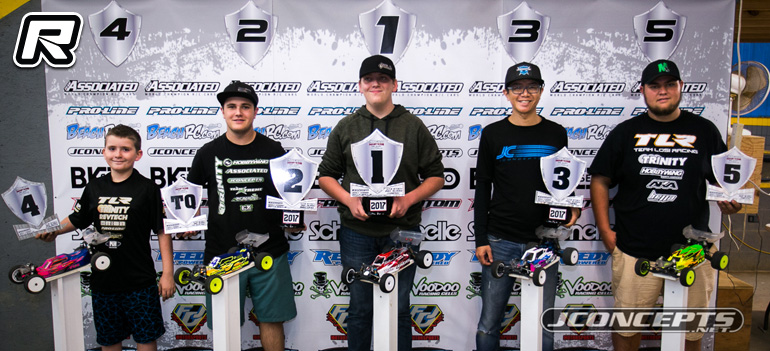 The battle in 17.5 2WD Buggy came down to the last lap after ten minutes of intense racing. AJ Marasco was looking unbeatable, but Ryan Millington would do all he can to contest for the win. The two leaders would share the lead with AJ having an unfortunate traction roll in the closing laps that gave Millington the win with AJ finishing 2nd by only 0.255 seconds. Thomas Tran would move up from 7th on the grid to finish 3rd with 17.5 National Champ, Tater Sontag 4th and Ean Reilley 5th.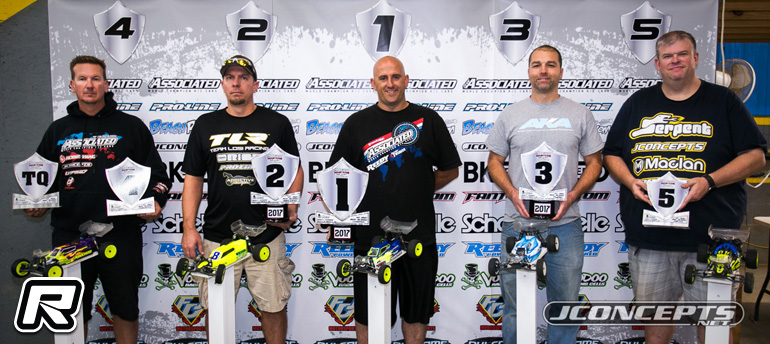 The 40+ Legends 2WD class saw Mark Moon work his way steadily to the front with a solid drive and go on to take a well-earned win. Mike Sontag just edged out Jerry West by 0.123 seconds to claim 2nd. Jerry West would narrowly finish in 3rd beating out class TQ Frank Deiny by 0.097 seconds. Dave McEwen and Monty Reeder would finish 4th and 5th on the podium.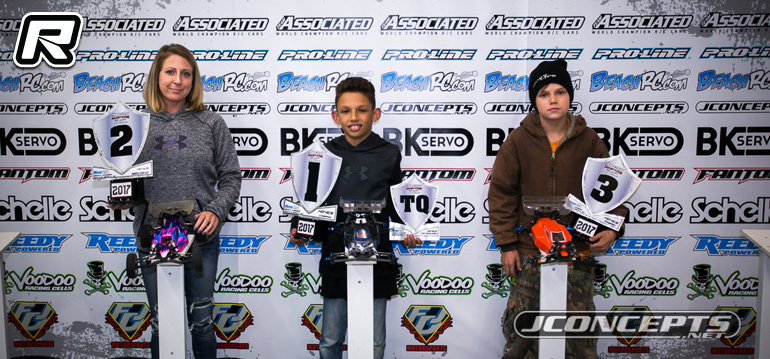 Three superstar Novice drivers came out and participated in the Masters of Dirt. Tyler Greenwalt took the win, Megan Desnford came in 2nd, and Tacoma Connor in 3rd.
Source: JConcepts [jconcepts.net]
---