November 27, 2017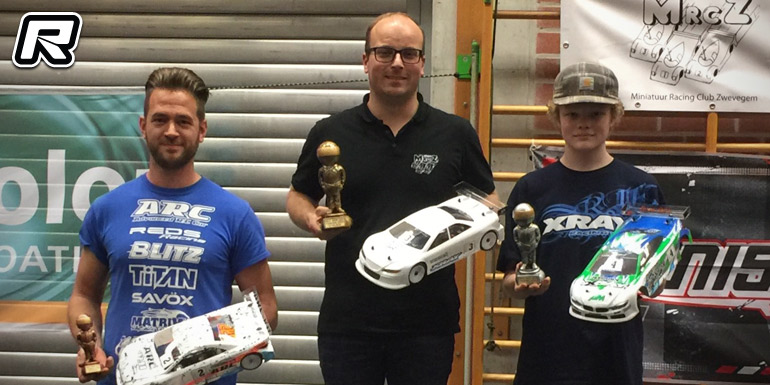 The annual MRCZ Open International race was held in Zwevegem this past weekend. The heated event hall and the 20x30m track laid out with ETS carpet made for perfect racing conditions and the event schedule saw two rounds of practice on Saturday followed by three round of qualifiers. On Sunday two additional qualifiers and triple finals were on the agenda. Classes run included Touring Modified, Touring Stock 13.5T, Formula 21.5T, 1/12th Spec 13.5T as well as Rookie 17.5T and also the two fun classes of Ladies and Juniors & Gentlemen to add to the excitement and to attract people to get into the hobby. Tyre-wise the Touring classes relied on the proven Volante 28 while the other classes used free tyres.
In the Touring Modified class Mitchell Van Ess (Awesomatix) was on fire during the qualifiers. The young Dutch driver claimed three TQ runs out of five, earning him the overall TQ spot. Former ENS winner John Ermen (ARC) proved his was in contention as well by claiming a Q5 with the fastest time of the day. Local matador Thomas Stockman put his Xray on P3 in front of fellow Xray driver Florian Joos and the Yokomo of young Liam Van de Wouwer who put in a couple of fast and consistent runs. Athan De Witte didn't have the best of qualifying runs, but a very strong Q5 proved he was keen to get his VBC on the podium.
The finals would prove a bit of a lottery, as the top drivers were sometimes 3 laps faster than the lower placed drivers, who off course also battled for their positions. In A1, Mitchell made a blistering start until he made a rare error, which ended his race on lap 8. In the meantime, John took over the lead, closely followed by Thomas who pushed John to the limit. When Thomas attempted to pass, the two cars collided and Thomas waited for John to regain his position. Florian took profit from this mishap and snatched the win in A1 in front of John, Thomas, Stefan Rommens (Team Magic) and Liam Van de Wouwer.
In A2, Mitchell again took the holeshot, but his time an encounter with a backmarker on lap 5 dropped him back down the field. John had a rough start as well, and this allowed Thomas into the lead which he maintained in front of Florian Joos and Athan De Witte, who stormed to P3, coming from P7. Liam Van de Wouwer and John Ermen rounded off the top 5.
A3 would yet again be the decider for the overall victory. Florian's hopes ended at the start when he got hit from the back and ended in a mid-pack collision of which Athan was the biggest victim. Liam also had to retire from this incident.
In the meantime, Mitchell, who was keen to end this race on a high, set again off in the lead. He held his lead till lap 8, when the race announcer asked a lapped car to let the leaders through. Unfortunately, when Mitchell passed, the backmarker accelerated and took Mitchell out of the race. Thomas inherited the lead with John in his slipstream and Athan and Florian not far behind. John was looking extremely racy behind Thomas and when Thomas ran just an inch too wide, John made a great move to take the lead, which he held till the end. While Athan was running in a solid P3, he had an electronic problem which forced him into a DNF. When the dust had settled the overall standings was Thomas Stockman (Xray) from Florian Joos (Xray), John Ermen (ARC), Athan De Witte (VBC) and Stefan Rommens (Team Magic).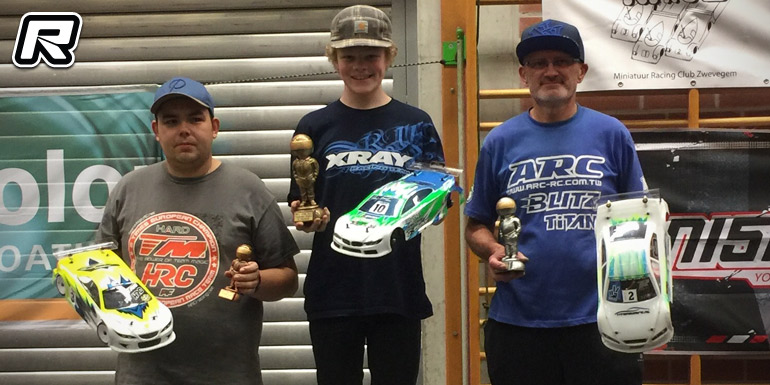 Touring Stock was the biggest class with 22 participants. Spec tyres were Volante and EFRA 13.5 motors were allowed. Florian Joos (Xray) was the only driver who could manage 27 laps and he took the overall TQ. The fight for second was won by Dutch driver Frank Baggen (ARC), in front of the Team Magic of Pasquinel Neys. Tokke Adams put his ARC on P4 in front of the Xray of Laurent Desperries. The finals were also won in convincing style by Florian. Despite being tied on points, Frank Baggen claimed the runner-up spot in front of Pasquinel Neys, Laurent Desperries and Thomas Hostyn (Xray).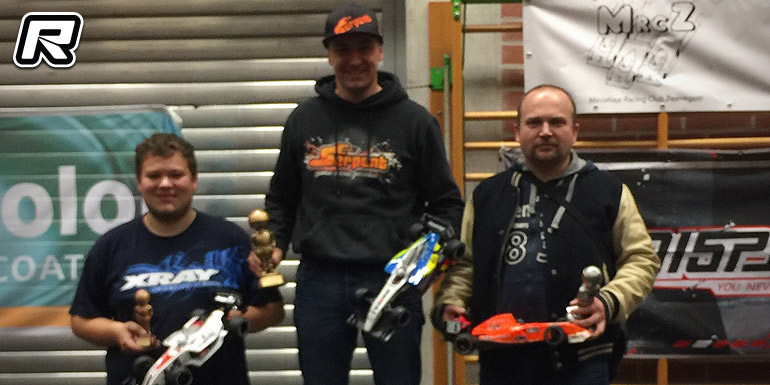 One of the Formula drivers currently on form is Steve Deblaere, so everyone expected him to claim the TQ spot in this class. However, two DNFs hampered his performance, so it was his Serpent teammate and French national champion Willy Voisangrin who claimed the TQ. Two Formula rookies made their first appearance at this race, and Vincent Van Gansen put his Xray on P3, followed by Ghislain Mantrand and the other newcomer, Liam Van de Wouwer (Xray). Both did a great job by being competitive from their first outing onwards. A1 and A2 were won by Willy and Steve respectively, so A3 would again decide the overall victor. Willy had a very rough start, so Steve took the lead and never looked back. Willy's downfall promoted Vincente to P2, but his run was cut short when he ran into a backmarker. Willy tried to come back, but he had to settle for P3, which gave him the overall runner-up spot. The Serpent duo of Steve Deblaere and Willy Voisangrin thus finished P1 and P2. Vincent Van Gansen took his Xray to a fine P3 in his first F1 race. Ghislain Mantrand and Fréderic Favier rounded off the top 5.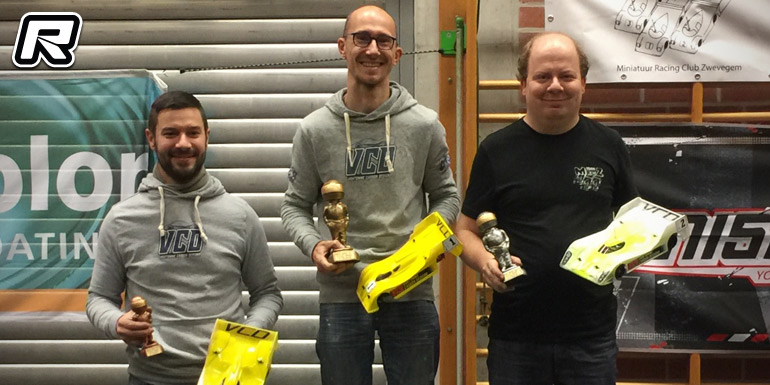 As the MRCZ is a club with many 1/12th scale drivers, this class was the second biggest with 16 entries. Benedict Vantomme but a car he designed himself (VCD) on pole in front of Rico Claeys (VCD), Kevin Degrendele (Roche), Kenny Almey (VCD) and Ian Bekaert (Schumacher). Benedict and Rico each took a win in A1 and A2, so A3 would decide the overall victory. After an intense fight for 8 minutes, Benedict held the upper hand and collected the most precious silverware. Rico Claeys claimed the runner-up spot while Kenny Almey completed the VCD podium. Young Ian Bekaert put his Schumacher on P4 in front of Kevin Degrendele (Roche).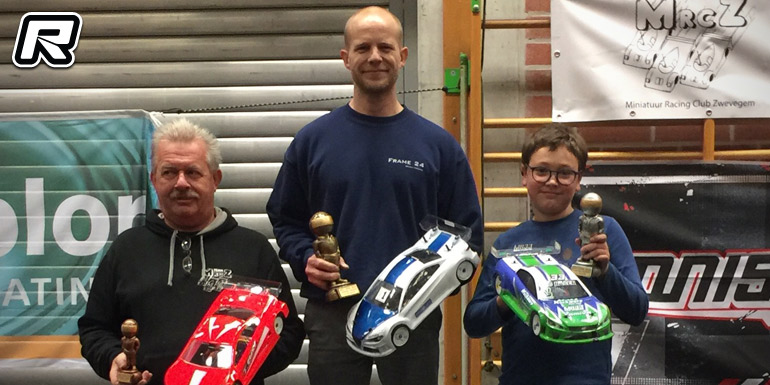 Jan Van der Heyden put his Xray on pole in the Rookie class, followed by the Tamiya of the young and talented Alexander Van Gansen. Rony Claeys put his Xray on P3 and he was followed by Herman Van Gansen (Tamiya) and Olivier Gesquire. In the first final, Jan ran off with the win in front of Alexander. In A2, Jan rolled his car at the start allowing Alexander to take the holeshot. Alexander kept his cool and scored a convincing win. In A3, Alexander took a great start and managed to squeeze his car in front of Jan. Because Alexander wasn't sure it was a clean move, he waited for Jan, but as they restarted Jan got collected by a backmarker. Young Alexander upped his game and managed to keep the race under control until the last lap. While lapping a backmarker, he got hit from behind, allowing Jan through and taking the overall win. The overall result was Jan Van der Heyden (Xray), Alexander Van Gansen (Tamiya), Rony Claeys (Xray), Herman Van Gansen (Tamiya) and Sven De Kraker.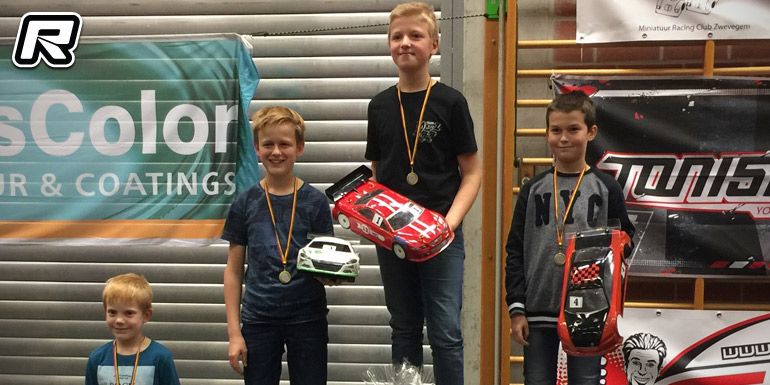 The Juniors and Gentlemen class proved that a young driver is much faster than an older one. Vic Dejaegere took a convincing pole by finishing first in all five runs. 8-years old Thomas Van der Heyden also did a stellar job by putting his car on P2. Yelten won the hard battle from his father Thierry Baekeland to claim P3 while Stijn Vermeersch rounded off the top 5. Vic carried on on his momentum and took the overall victory after the finals as well. He was followed by Lucio de Melio, Yelten Baekeland and Thomas who had two DNFs despite claiming a great P2 in the second final.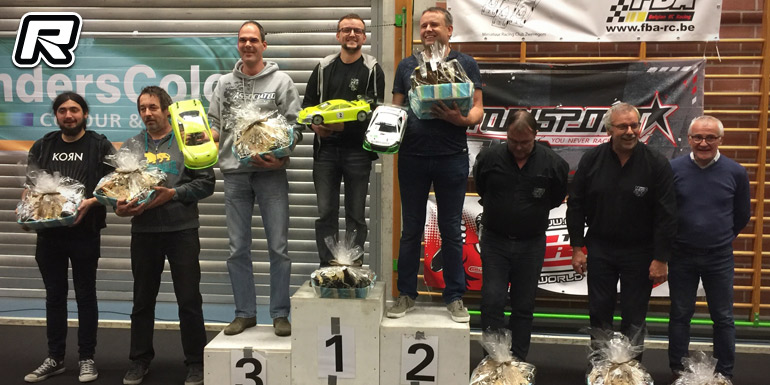 Finally in the Ladies class, Lies Azou took the TQ in front of Rebekka Masschelein and Severine Mispreuve. Lies and Rebekka putting in a solid 18 lap run. In the finals however, it was Rebekka who claimed 3 wins in a row to took the overall victory in front of Lies Azou, Severine Mispreuve, Katelijn Halsberghe and Emilie Vercruysse.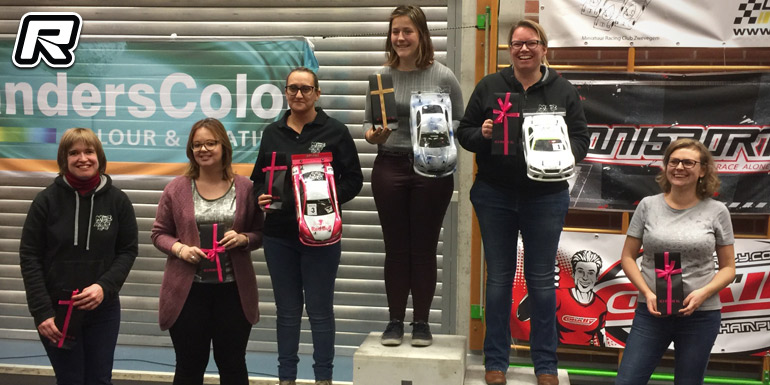 Thanks to David Joos for the report.
---