November 20, 2017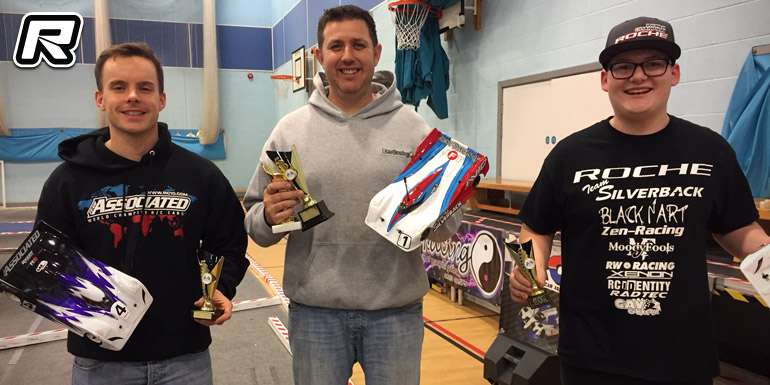 Round 2 of the British LMP National series took place at Birtley, just outside of Newcastle in the North East of England. Racing took place over two days, with Saturday seeing all drivers competing in the 13.5 fixed timings class. Sunday saw drivers split into 6.5, fixed timing, Modified and 13.5, fixed timing, Sports Modified. The Birtley team laid out a very challenging high-speed track, with a very narrow racing line and limited grip. Most drivers struggled to find a set-up that carried speed whilst also having the stability needed for the high speed direction changes.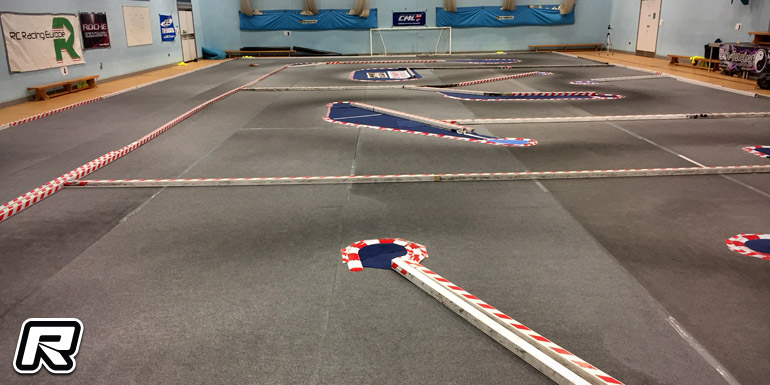 On Saturday the fast and flowing track, combined with the limited power of the 13.5 motors, meant that the field was incredibly close throughout qualifying, but two drivers seemed to have a slight advantage. In the end the Roche pairing of David Spashett and Ollie Payne lined up in first and second, nearly half a lap in front of third placed qualifier Matt White. The A-final saw the leading three drivers break away from the pack, with David and Ollie being hounded by Matt White's Team Associated over the opening minutes. As the race progressed Matt slipped back, and was eventually overtaken by his teammate Matthew Varrah for the final podium position. The battle for the win saw David defending from Ollie, who as the race progressed seemed to have the faster car. Although David clipped a couple of corner markers, there was just never a way for Ollie to make a clean pass, and in the end David took his second 13.5 win of the year by just under half a second from Ollie.
13.5T results:
1. David Spashett – Roche/Motiv
2. Ollie Payne – Roche/Motiv
3. Matthew Varrah – Team Associated/Motiv
4. Matt White – Team Associated/Motiv
5. Mark Stiles – Team Associated/Motiv
6. Adam Catchpole – Xray/Muchmore
7. Mick Farrell – CRC/Motiv
8. Mark Jewitt – Xray/Muchmore
9. Aaron Morley – Team Associated/Motiv
10.Matt Rice – Team Associated/Motiv
On Sunday the field in the Sports class was incredibly close, and for most of qualifying it looked like round one winner Mick Farrell (CRC) was going to claim his second pole position of the year. Great last rounds from both Ben Vincent (Schumacher) and Mark Jewitt (Xray) saw Mick demoted to third on the grid, but the leading drivers were split by under a second. Overall less than a lap separated the entire grid, so any driver who made the final stood a chance of claiming the win. The final got off to a clean start with Ben Vincent leading the field away. The first driver to hit trouble was Mick Farrell who had to retire early in the race, this left Ben, Mark and fast starting Matt Rice to fight for the win. Small errors from Ben saw him demoted to third, with Mark Jewitt claiming his first win of the season by just over a second from Matt Rice in second and Ben Vincent in third.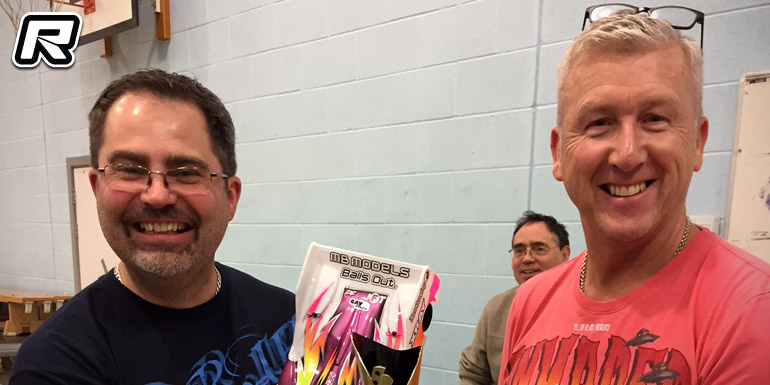 Sports Modified final results:
1. Mark Jewitt – Xray/Muchmore
2. Matt Rice – Team Associated/Motiv
3. Ben Vincent – Schumacher/Motiv
4. Gavin Clinch – Roche/Motiv
5. James Stewart – Team Associated/Motiv
6. Craig Binns – Roche/Muchmore
7. Neil Diver – Roche/Motiv
8. Luke Burley – Xray/Motiv
9. Mick Farrell – CRC/Motiv
10.Kieren Manders – Xray/Muchmore
Ollie Payne looked to be cruising to his second pole position of the year in the 6.5 Modified class, but a fantastic last round from the ever competitive David Spashett saw him sneak onto pole position by three hundredths of a second. The Roche pairing had such a pace advantage that Chris Kerswell in third position was nearly a lap back. The A-final saw a fantastic battle between David and Ollie, with Ollie putting immense pressure on David over the opening minutes. David looked to be struggling to run the same pace as Ollie, and eventually the small taps turned into a much larger mistake allowing Ollie to take control of the race and cruise to his first ever Modified A-final win. David kept his cool to take second, from Chris Kerswell's Associated in third.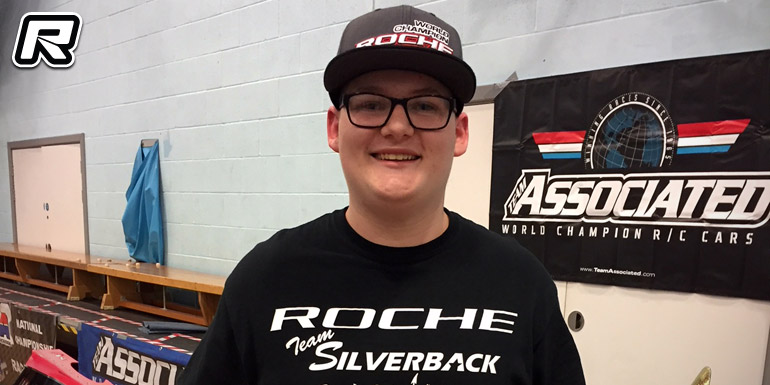 Modified final results:
1. Ollie Payne – Roche/Trinity
2. David Spashett – Roche/Trinity
3. Chris Kerswell – Team Associated/Reedy
4. Mark Stiles – Team Associated/Reedy
5. Andy Murray – Schumacher/Fantom
6. Matthew Varrah – Team Associated/Reedy
7. Louis Parker – Schumacher/Fantom
8. Matt White – Team Associated/Reedy
9. Adam Catchpole – Xray/Muchmore
Source: BRCA [brca.org]
---