November 14, 2017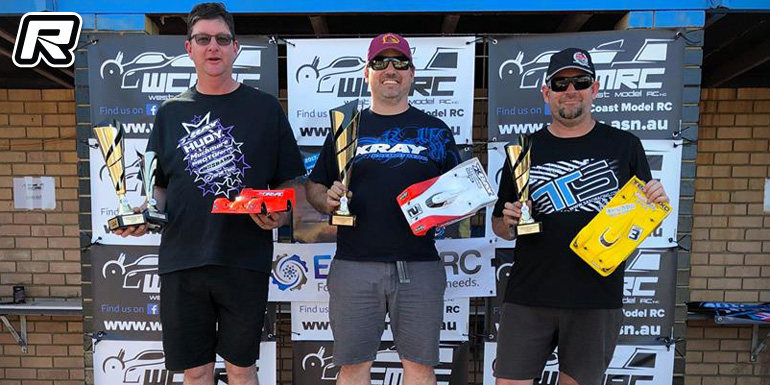 The West Coast Model RC track in Perth, Western Australia, played host to the 2017 Australian Electric On-road Nationals. The WCMRC track, located in the industrial suburb of Bayswater in Perth, was originally built for 235mm 2WD IC cars in the 1980's, with the track providing a challenging mix of flowing, high speed corners with a high grip undulating surface and an exciting banked corner at the end of the main straight. In 1/12th Modified Ed Clark set a fast pace during the early rounds of qualifying but suffered some reliability issues later in the day which allowed Mark Wallin to relegate him to 2nd on the grid for the finals. Paul Simms had to work hard to hold off Warren Buttriss for the 3rd place grid spot for the finals. Simms took advantage of errors made by both Wallin and Clark to take an early lead in leg one final. However he was not able to hold off Wallin or a recovering Clark who went on to take a victory in leg one. Clark followed up his win in leg one by taking the 2nd final after a race long dual with Wallin which gave Clark the title. Wallin secured 2nd and Simms finished 3rd.
1/12 Modified results:
1. Ed Clark – Xray
2. Mark Wallin – Xray
3. Paul Sims – Teamsaxo
4. Warren Buttriss – Teamsaxo
5. Chris Schmidt – Serpent
6. Graham Hayward – Teamsaxo
7. Luca Polizzi – VBC Racing
8. Gerard Elias – CRC
Graham Hayward (Roche) took the top qualifier spot in Formula by one point from Michael Clark (Xray) who qualified 2nd from Brian Stewart (VBC/Roche Hybrid) in 3rd. Hayward wasn't able to convert his TQ in the finals as Clark found some pace and won the 1st two legs and took the title. Hayward was able to hold on for 2nd overall by winning the last leg from Stewart.
Source: Xray [teamxray.com]
---