November 6, 2017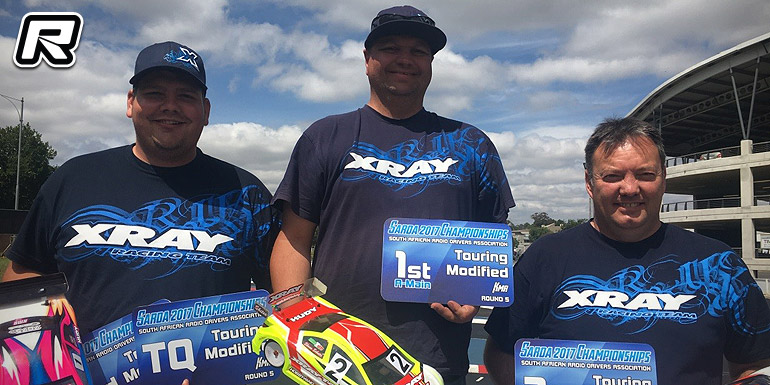 The fifth and final round of the 2017 South-African ORE national championship was hosted by the Krugersdorp Model Racers and held at the Key West Track. Controlled practise was held on Thursday and Friday in great spring weather and good track conditions ensured a fast pace for all drivers. On Friday night a cold front moved in over Gauteng and the temperature dropped to 13 degrees Celsius which had the drivers changing setups and rethinking strategies for the qualification rounds. The track however held its great characteristics and the pace remained fast throughout the weekend.
In the Touring Modified class the controlled practise showed that there were about 16 drivers competing for the A-main and it was all down to fast consistent runs to get into the top 10. Championship leader Hein Kotze dominated the qualification rounds securing a popular TQ for Sunday. He was closely followed by Xray team mates Shaun Schutte and round 4 winner Anderton Smith on the grid. In A1 Hein made a mistake in the first corner which allowed Shaun Schutte to take the lead and he drove a great race to win A1 followed by Anderton Smith and Antonio Caroli. In A2 Hein Kotze made no mistakes and took the win ahead of Shaun Schutte and again Anderton Smith in 3rd. In A3 Hein Kotze again made a small mistake which was enough for Shaun Schutte to take the lead and the win. This time he was followed by Conrad Liebenberg in 2nd and Hein Kotze in 3rd. The win in A3 gave Shaun Schutte his first win for the season with his team mates Hein Kotze and Anderton Smith completing the podium.
Modified Touring final results:
1. Shaun Schutte – Xray
2. Hein Kotze – Xray
3. Anderton Smith – Xray
4. Jacques Liebenberg – Capricorn
5. Antonio Caroli – Xray
6. Mike Wiseman – Serpent
7. Alex Ribeiro – Team Associated
8. Conrad Liebenberg – Capricorn
9. Andre Greeff – Xray
10.Deon Gove – Xray
The 13.5T Pro-Stock blinky class offered some great racing with Gunther Cornelius, Willie Noordman and the two youngsters Kevin Hatting and Jared Rabe fighting for the top qualifying spot. It was Gunther Cornelius who eventually managed to take the TQ followed by Willie Noordman and young Kevin Hatting. In A1 Gunter made a hash of things and struggled with his car and Kevin Hatting took a great win with his Tamiya followed by Tyronne Wilken and Willie Noordman. In A2 it was Willie Noordman who took the win followed closely by Kevin Hatting and Jared Rabe. A3 saw Willie Noordman securing the overall win with Andre du Plessis finishing second and Jared rabe 3rd in the race. This gave Willie Noordman the win followed by Kevin Hatting 2nd and Jared Rabe in 3rd place.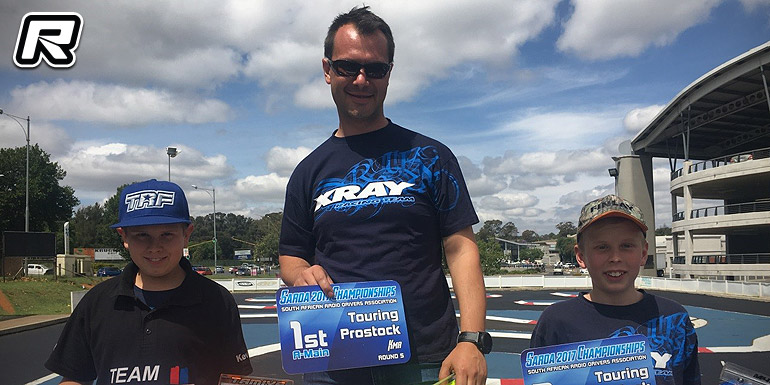 Pro-Stock 13.5T Touring final results:
1. Willie Noordman – Xray
2. Kevin Hatting – Tamiya
3. Jared Rabe – Xray
4. Andre du Plessis – Xray
5. Tyronne Wilken – Yokomo
6. John Fitzsimmons – Schumacher
7. Jean Wessels – Team Associated
8. Martin Visser – Tamiya
9. Christo Hitchins – Xray
10.Gunther Cornelius – Xray
The Formula 21.5T was hotly contested with Xray team mates Jonathan Wilken and Pedro de Gouveia arriving at the event tie on points for the championship. It was Pedro who drove consistent qualifying races to take TQ with Jonathan Wilken starting form the 2nd spot. Young Jared Rabe also drove well and managed to qualify in the 3rd position. After great racing in the three mains Pedro managed to end a perfect weekend by winning all three mains with Jonathan securing the 2nd place and Jared Rabe keeping his place on the podium.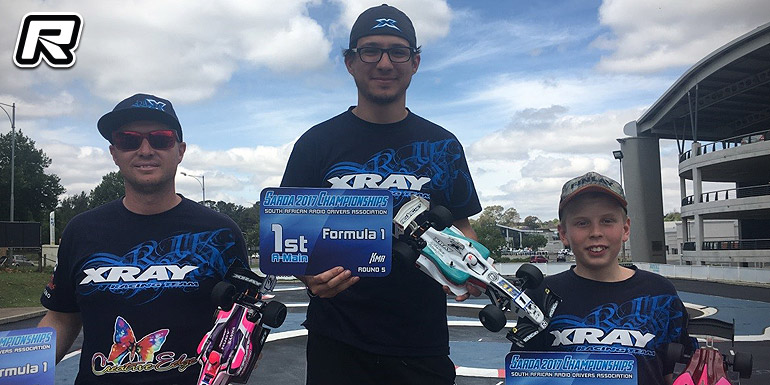 Formula 21.5T final results:
1. Pedro de Gouveia – Xray
2. Jonathan Wilken – Xray
3. Jared Rabe – Xray
4. Tyronne Wilken – Yokomo
5. Nico Kellerman – Xray
6. Wayde Solomon – Xray
7. Michael Rabe – Xray
8. Lance Constable – Tamiya
9. Piet du Plessis – Xray
10.Johan Knoesen – Xray
In the 13.5T FWD class it was again the young drivers who showed the way around the track with Hennie Viljoen securing TQ and Nico Kellerman starting from 2nd on the grid. This is also the order in which the drivers finished after the three main races with Eugene Wessels managing the final spot on the podium.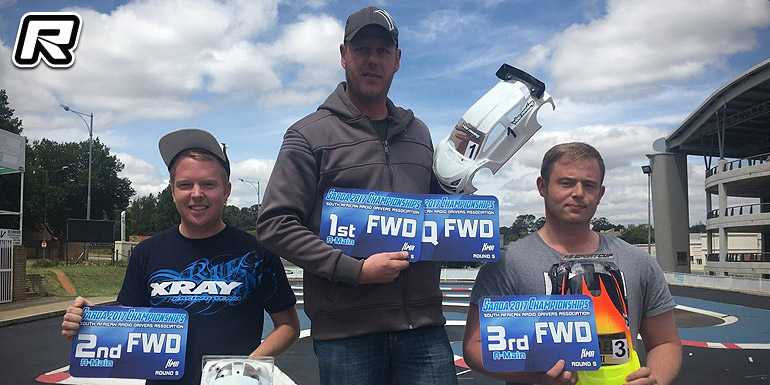 13.5 FWD Touring final results:
1. Hennie Viljoen – VBC Racing
2. Nico Kellerman – MTS
3. Eugene Wessels – TOP Racing
4. Fanie Viljoen Sr – VBC Racing
Source: Xray [teamxray.com]
---