November 17, 2017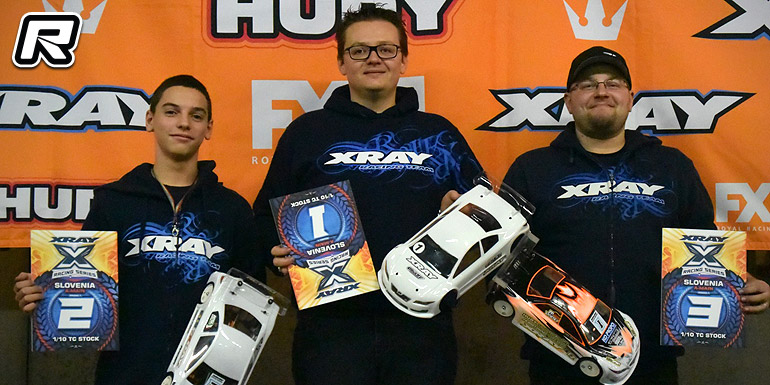 The Genius ring indoor track recently played host to round 1 of the Xray Racing Series Slovenia. Drivers from six different countries attended the event with some big names being present such as Jan Raitheisky, Andrea Ghilotti, B.A. Arnaldi and many others. The Touring Stock 13.5T class, run with XRS handout motors, was TQ'd by Jan Ratheisky from Andrea Ghilotti and B.A. Arnaldi. The 21.5T formula class, also run with handout motors, again went to Jan with Matej Dobnikar and Daniele Conte coming in 2nd and 3rd respectively. Finally in 1/12th scale Pan Car it was Valentin Mis with the TQ from Simone Bellin and Lorenzo Milanese.
The finals of the Touring Stock saw fierce battles between Jan, Andrea and B.A. In the first leg Jan had a contact with a back marker while leading the final as did Andrea, so both lost many places, allowing B.A. to take the win. In second final had Jan and Andrea making contact which again promoted B.A. into the lead and never looking back he would take the day's win from Andreas 2nd and Jan 3rd overall.
Touring Stock results:
1. B.A. Arnaldi – Xray
2. Andrea Ghilotti – Xray
3. Jan Ratheisky – Xray
4. Edoardo Repetti – Xray
5. Luca Giovannoni – Awesomatix
6. Viktor Bolšec – Xray
7. Rok Rudl – Xray
8. Jan Pernarčič – Xray
9. Alojzij Osvald – Xray
10.Matej Miklavec – Xray
In the Formula class TQ Jan would be able to convert the pole position into a win from Matej and Herfried.
Formula final results:
1. Jan Ratheisky – Xray
2. Matej Dobnikar – Xray
3. Herfried Pucher – Shepherd
4. Matevž Furlan – Xray
5. Luca Conte – Shepherd
6. Joshua Milanese – Yokomo
7. Luka Školaris – Xray
8. Lele Mazzolini – Xray
Finally in 1/12th Pan Car it was Valentin Mis with the win from Goran Vignjevič and Simone Bellin.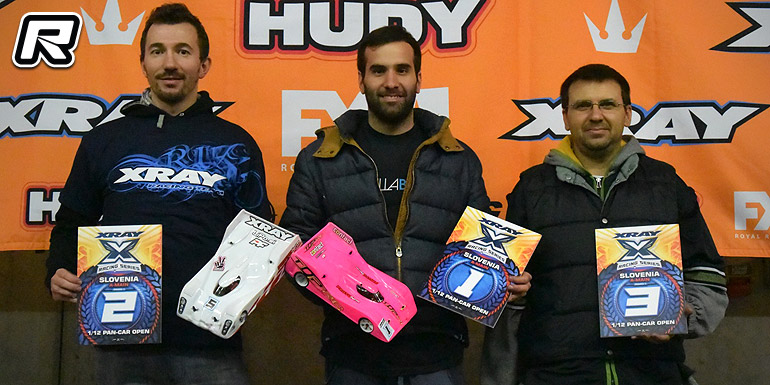 1/12 Pan Car results:
1. Valentin Mis – Serpent
2. Goran Vignjevič – Xray
3. Simone Bellin – Team Associated
4. Lorenzo Milanese – Yokomo
Source: Xray [teamxray.om]
---