December 4, 2017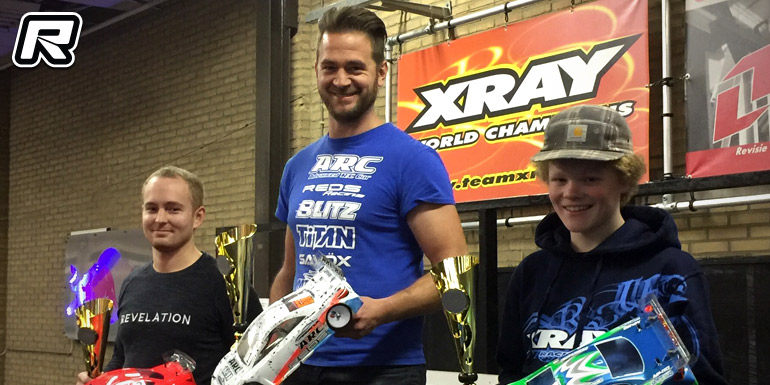 The Racing Arena Limburg in Sittard, Holland, played host to the opening round of the Dutch National Indoor Championship. This ETS carpet equipped indoor track offers extremely high grip and would prove a challenge for the drivers of the Touring Modified, Stock, Formula and 1/12th Stock classes. The the rubber tyre classes Volante tyres were used with the mandatory Stock motor being the old ETS type for touring and the current Scorpion combo for Formula as the 1/12th cars ran on 1S batteries and 13.5T motors with blinky speedos. In Touring Modified the man to bear was John Ermen. He put his ARC car on pole, in front of Florian Joos (Xray), Marcel Koch (Infinity) and the ARC duo of Robbin Hertong and current Dutch Modified champion Sidney Blokker.
John easily won A1 and A2 from Marcel Koch while Florian Joos had issues with backmarkers in both finals. In A3, after a small mistake from John, Florian took the lead and never looked back. This helped him to secure the overall P2 behind John. Marcel Koch (Infinity), Sidney Blokker (ARC) and Robbin Hertong (ARC) would round out the top 5 results.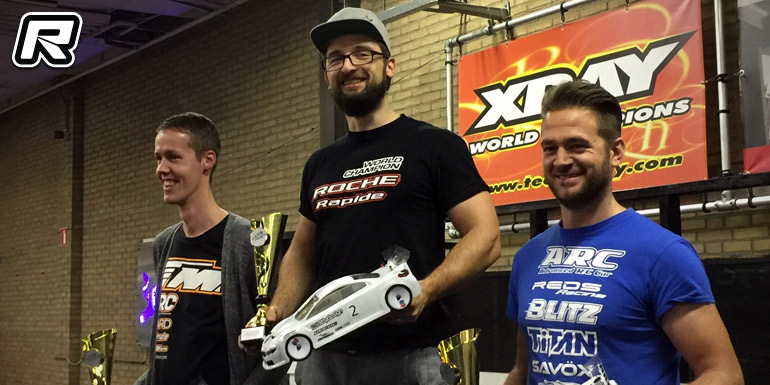 Touring Stock was yet once again the most popular Touring class with 20 entries. Multi-times Dutch national 1/8th scale champion John Ermen was the man to beat as he was in Modified. He put his ARC on pole in front of the Awesomatix of Nicolas Delisé, Dutch stock champion Rob Janssen (Team Magic), David Kottus (Xray) and Florian Joos (Xray), who struggled with his pace after missing Saturday's practice sessions. John won the first A-main in front of Nicolas and Rob. In A2, Nicolas upped his game and he won the final in great style from Rob and Florian. A3 would prove to be a thriller, and after a long 7-minutes battle, Nicolas won the last final and the event with a 0.4 seconds advantage over John. The final ranking was Nicolas Delisé (Awesomatix) from John Ermen (ARC), Rob Janssen (Team Magic), Florian Joos (Xray) and David Kottus (Xray).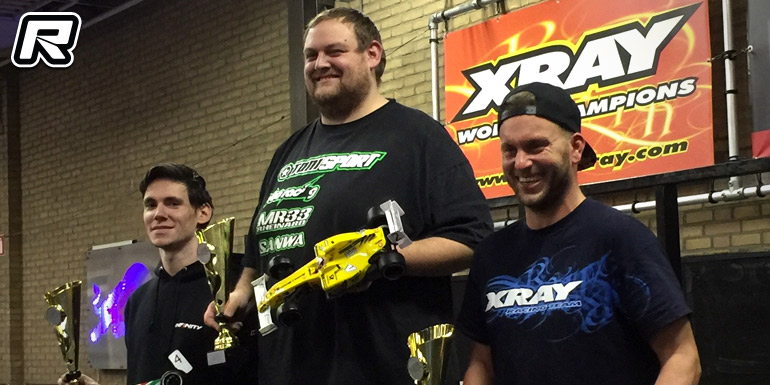 Tobias Flottau was the star of the Formula class qualifying. He won all three qualifiers and secured the pole position. Jacques Libar put his Project Godspeed on P3 in front of the Xray trio of Michael Schröder, Jitse Miedema and David Kottus. In the finals however, Tobias had some terrible luck, and a combination of traction rolls and backmarkers meant he finished the race in P4. The victory went to Jacques Libar, who claimed A1 and A2 in front of Michael Schröder (Xray), Jitse Miedema (Xray), Tobias Flottau and local star Bjorn Frederickx (Xray).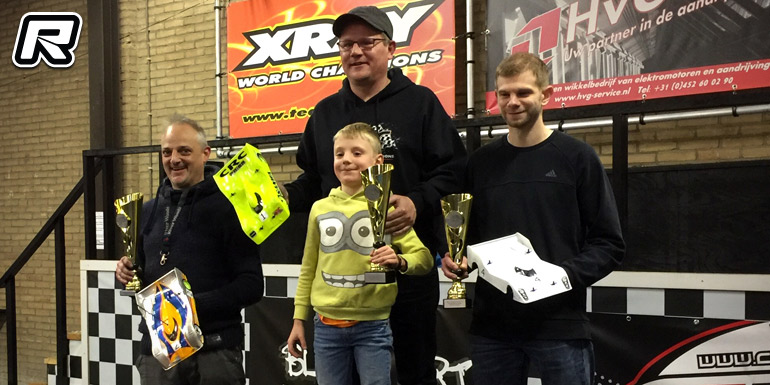 1/12th scale was by far the most popular class, probably because the Racing Arena Limburg will organize the 1/12th scale European championship for the 2nd year running. The driver to beat was of course Markus Mobers. Markus kept his cool and cemented his pole position with two solid 7-minutes qualifiers. However the biggest surprise was Belgian driver Dave Ceusters. Dave Beat the Altmann brothers Tim and Kai for the 2nd position. Robert Krens came in 5th with his Schumacher. Just like everyone expected, Markus Mobers' CRC was the car to beat in the finals. The battle for the runner-up spot would however go Kai Altmann's way. By winning A3 after a mishap from Markus, Kai secured P2 in front of Dave Ceusters. Tim Altmann finished in P4, in front of Robert Krens.
Thanks to David Joos for the report.
---