December 14, 2017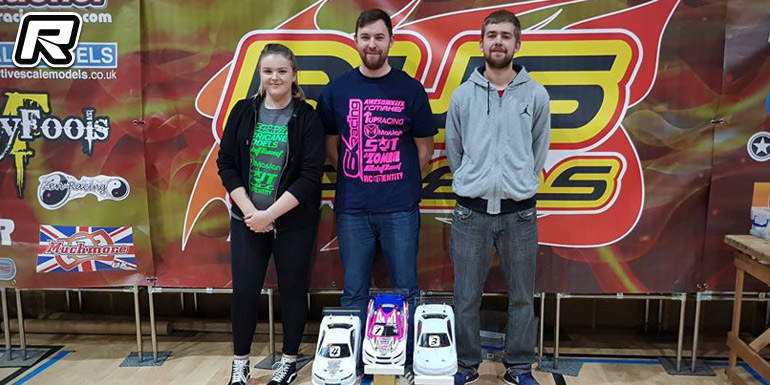 Last weekend saw round 3 of the RugRacers 2017/18 race series take place at Wodson Park. With severe weather warnings in place, some racers chose not to make the journey to a heavy snow covered Hertfordshire. The 44 drivers that braved the conditions were greeted by one of the best track layouts the RugRacer team have ever set out.
GT12 saw Mick Cook, James Vincent and the young gun Darcie Smith top the qualifying in heat 1. Heat 2 was business as usual for Owen Smith, taking top spot in all his qualifying runs, with Carl Beecroft snapping at his heels and Nick Upton lurking just behind. Heat three saw all 11 trucks together. There was a gentlemanly aura about the driving today, lots of laughing, and a fair amount of "fair" rubbing. Malc Hall and John Painter were running out in front, followed closely by Mark Burgess. TC blinky was split into three heats. Heat 4 saw GMCC's own Vasiliy Simonov take all four qualifiers with Richard Thorpe in 2nd and Andrew Dawson and Tom Meakin swapping 3rd spot. Heat 5 saw Jack Day take three out four runs, with Mark Young, Gareth Hollis and Jon Gray fighting behind. Heat 6 Billy Fletcher took three out of four top spots with Jakub Plechac taking one top spot and a mixture of drivers getting in on the higher places.
In leg 1 of the Touring Car A-main, Billy Fletcher took the win from pole with Dani Young moving up from 4th on the grid to take 2nd with 24/309.80 and Jacub Plenchac 3rd with 24/309.81. In leg 2 Billy Fletcher again took the win from pole but this time Jakub took 2nd from 3rd on the grid and Dani took 4th. Again another super close finish between 2nd and 3rd with 24/304.16 and 24/304.52 respectively. Ultimately it was Billy with t he win from Jakub and Dani.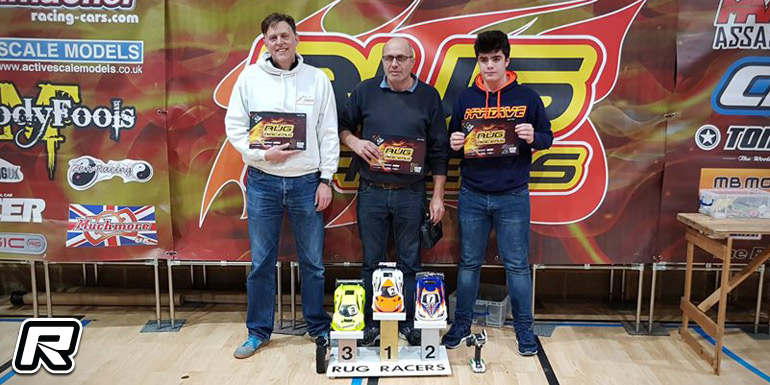 Having taken all four qualifying rounds of GT12, an unusual mistake saw Owen clip a marker and get collected by the cars behind. He still managed to finish 3rd with Carl Beecroft taking the win and Nick Upton cruising home in 2nd. The 2nd final was business as usual as Owen finishing in the top spot as Carl was followed closely by Nick. Overall it was Carl from Owen and Nick.
The Trucks final saw some close racing at the top with Malc finishing some 6 seconds in front of John, followed by The big Cheese albeit a lap down in the first leg. The second final was the same at the top but closer this time with the gap between Malc and John being under four seconds. Unfortunately for the Big Cheese, in lap 12 he was collected by a backmarker, Snippy managed to slip through into 3rd and stayed there. Tony Gomez was reeling him in and a nervous few laps saw him finish just 2 secs behind Snip. Overall it was Malc with the win from John and Snippy.
Source: The RC Racer [thercracer.com]
---