December 11, 2017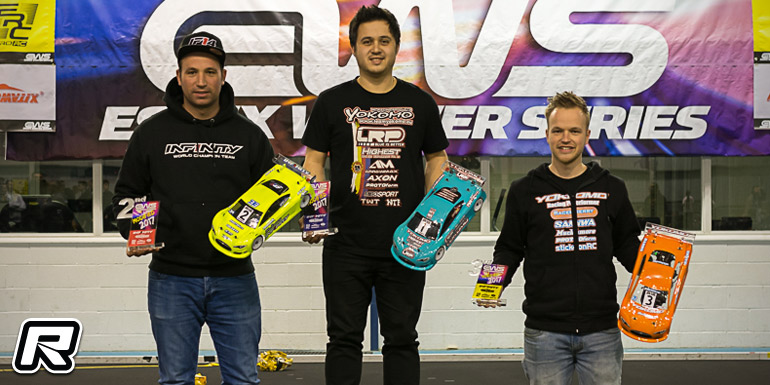 The fifth running of the EWS International saw Ronald Völker, Max Mächler and David Ehrbar take the overall victories respectively in the Modified, Super Stock and Formula classes. In the previous four editions, it had always been a British driver standing atop the podium in every class, but this time signalled a changing of the guard, as a strong international field prevented any UK drivers from taking victory this time out.
In the Modified class, Völker secured pole position on Saturday evening by topping the opening three qualifiers. However, the final qualifying round on Sunday morning saw a major upset for the Yokomo team, who were looking strong and even in with a chance of taking a clean sweep of the podium, as all three of their top drivers failed to finish. With Völker, Christopher Krapp and Yannic Prümper all suffering technical issues, it allowed Marc Rheinard to take his first TQ run of the event, and secure second on the grid for Infinity. Elliott Harper made the most of the Yokomo team's issues and set the second best time with his Schumacher, to move himself into fourth on the grid. Krapp's earlier scores were enough for him to sit third on the grid, with Prümper now pushed to fifth. Highlighting the international flavour of the event, the rest of the A-final grid was made up of former event winners Kyle Branson (Capricorn) and Olly Jefferies (Xray) in sixth and eighth, surrounded by French stars, VBC Racing's Lucas Urbain (seventh) and Yokomo's Loic Jasmin (ninth), with Brit Matthew White rounding out the A-final starters (after a 4-way tie on points) with his Team Associated, meaning seven manufacturers would be represented.
The first A-final saw excitement from the start, as Völker's Yokomo was clearly not as comfortable on the opening lap as he was expecting, causing him to run wide on a number of corners and allow Rheinard to attack from the start. The two World Champions battled hard for the first half of the race, running nose to tail as Rheinard tried all he could to pass his long-time rival. Described by announcer Oli Meggitt as "one of the best on-track touring car battles we've seen in ages", Rheinard couldn't ever find a way to pass Völker, and the race was effectively decided just after the half-distance point when Rheinard ran a little too much kerb coming onto the straight and gave Völker a half-second lead, from which he never looked back. Krapp, Harper and Prümper remained in contention, but never got quite close enough to challenge the top two however provided some more excellent, close racing.
Leg two saw Völker clearly more comfortable with his car, not giving up the pole position advantage this time as once again despite Rheinard's best efforts, the three-time Touring Car World Champion couldn't find his way past his compatriot. Therefore Völker ran out the winner by just over one second and secured the overall EWS International title.
Wanting to prove a point, Völker still elected to run A3, and the result was similar to A2 – a clean start saw him open a six-tenths gap which he extended to one-and-a-half seconds by the end of the five minutes. The best action was for third place, as Krapp and Harper fought hard over the position with some more fantastic racing. Both drivers having attended all five runnings of the event now established as the biggest on the UK calendar, they knew how they could attack the unique EWS kerbs and used this experience to complete a number of moments of side-by-side racing. However, Harper, desperate to prevent a German lock-out of the podium, took third place but was not able to make up the gap to Völker and Rheinard in front to snatch the extra point he needed.
Commenting on his overall victory, Völker again wanted to thank the "whole Yokomo team for a great weekend working together". He also noted that it was great for him to end the season "with three back-to-back wins" – him winning the AOC at Yatabe Arena and the Charity Race in Italy over the previous two weekends. He was also complimentary of the EWS organising team, saying how the small changes made since the previous event had really improved it for him. With the event using new ETS carpet, the ETS-spec Volante tyre and hand-out additive, it was "a great chance to test some more things in a real race, as well as take a final win for the year". Rheinard was obviously disappointed to end up second behind Völker, but also commented it had been a "nice race, and of course it's always good to have a podium result to finish 2017".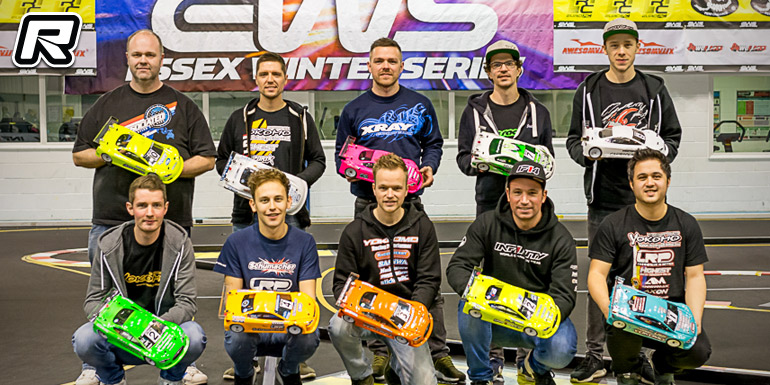 Touring Modified final results:
1. Ronald Völker – Yokomo/LRP
2. Marc Rheinard – Infinity/Muchmore
3. Christopher Krapp – Yokomo/Racing Performer
4. Elliott Harper – Schumacher/LRP
5. Kyle Branson – Capricorn/Tesla
6. Yannic Prümper – Yokomo/Muchmore
7. Olly Jefferies – Xray/Hobbywing
8. Lucas Urbain – VBC Racing/Muchmore
9. Loic Jasmin – Yokomo/LRP
10.Matt White – Team Associated/Reedy
In the Super Stock class, whilst Martin Hofer held the overnight TQ position, Max Mächler came good on the pace he showed early in Q1 until a technical failure put him on the back foot a little for the rest of the day, as he took his Awesomatix to the top of the sheets in the final qualifier and secured pole position, pushed the Yokomo driver into second on the grid. Defending race winner Zak Finlay would line up third with his Xray, ahead of Mächler's team-mate Marvin Schneider.
Leg one of the final saw Mächler take a victory, pushed hard by Hofer in the early stages, with Finlay making a mistake at the very first corner and dropping to the back of the field. Schneider and Jimmy Maddison, from fifth on the grid, moved up and were engaged in a battle for third, sometimes also closing enough on Hofer to keep him on his toes. As the timer expired, it was a German 1-2-3 as Mächler led home Hofer and Schneider, with Maddison having to settle for fourth.
Leg two saw Hofer run much closer to Mächler for the opening laps, and the two clashed on just the second lap. The incident, which was viewed as side-by-side racing by the race referee, moved Hofer into the lead as Mächler needed the services of a marshall and dropped down the order. This allowed Finlay to second, and as he put pressure on Hofer they allowed Schneider to close in. Hofer was given a small break as Finlay had to turn his attention to defending rather than attacking. Finlay later made a small mistake, allowing Schneider up to second and that was how they finished.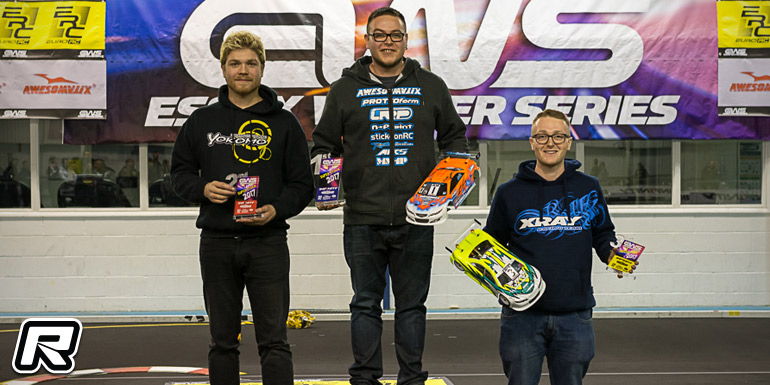 The third leg would see the title decided, with Mächler and Hofer set to battle it out, with Finlay and Schneider also in contention for second overall. This time, Mächler gave Hofer no chance to get close and led the field away. It was Hofer who made the mistake this time, allowing Finlay and Schneider through – which was the order they remained until the finish. However, this wasn't enough to get Schneider on the podium as he had to settle for fourth overall as Mächler, Hofer and Finlay would stand on the podium.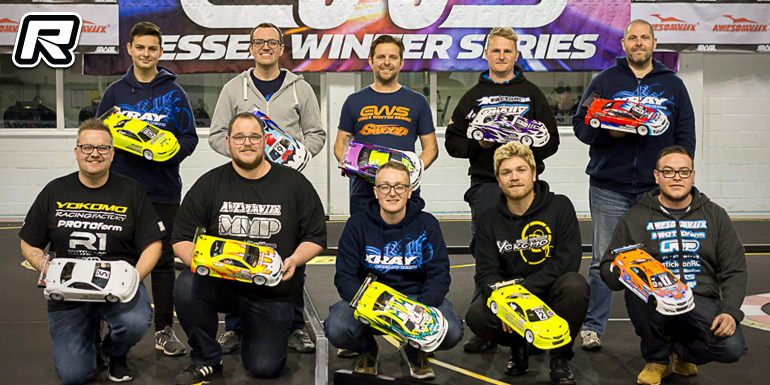 Touring Super Stock final results:
1. Max Mächler – Awesomatix
2. Martin Hofer – Yokomo
3. Zak Finlay – Xray
4. Marvin Schneider – Awesomatix
5. Jimmy Maddison – Yokomo
6. Marcus Askell – Xray
7. Ashley Wiffen – Awesomatix
8. Daniel Blake – Xray
9. Tony Broad – Xray
10.Richard King – Awesomatix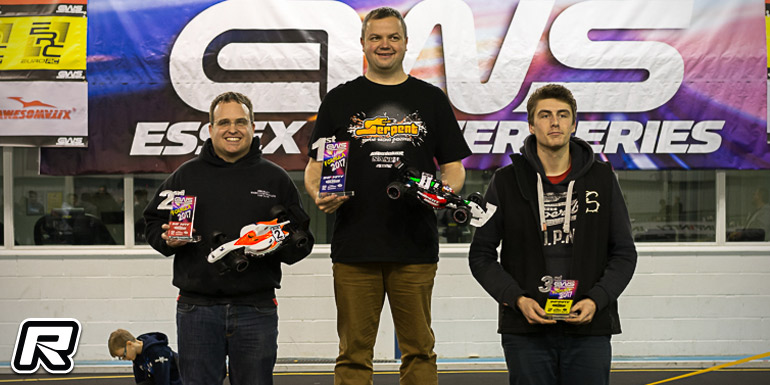 Finally, the Formula class saw Ben Cosgrove open qualifying with two wins, before David Ehrbar got into his stride and secured pole position with his Serpent after taking the third and fourth qualifier. The finals saw things go the same way, as Ehrbar took victory in all three legs and saw all three EWS International titles heading to Germany, with Cosgrove close but not able to challenge for the win and James Wright finishing third in every leg, the same position he qualified, to take third overall.
Source: EWS [ewsevents.co.uk]
---